If you were to close your eyes and envision the perfect home for you, what would you see? Is a cozy front porch in your dream home vision? Often times, we see a home, and we know we like certain aspects about it, and wed like to try to make our home look like that.
Have you ever looked at someones roof and thought youd like yours to look that way? While some people may think that a roof is just a standard roof, the opposite is quite true. When replacing a roof on a house, there are many styles and colors to choose from.
We offer two styles of shingle roofing for our Florida residents. Each style is offered in many different color options.
Architectural Style Shingles:
They are a premium grade of asphalt shingle roofing.
They are usually thicker.
They provide a distinctive textured appearance.
They give your roof a dimensional and upgraded look.
Cost more than 3 Tab Shingles
Typically have a longer lifespan than 3 Tab Shingles.
3 Tab Shingles:
They have 3 tabs (or flaps) with quarter-inch grooves between them in each panel.
The 3 Tab Shingles are aligned in flat and even rows.
They weigh less than an Architectural shingle.
Because 3 Tab Shingles are less expensive they are a great choice for smaller budgets.
Keep in mind when replacing a roof, upgrading to architectural shingles could require extra out of pocket expenses for upgrades in addition to the deductible. If or when its time to replace your roof, trust our experts at RoofClaim.com to help guide you through the process.
Warranties on your roof can be confusing, but the goal of them is to provide coverage from material defects or workmanship errors. However, different manufacturers and contractors have different variations of what kind of situations qualify for the warranty, how long it lasts, and whether or not you can get your roof warranty to transfer to the new homeowners if you move.
It's important to have a conversation with your roofing contractor that includes all the details about both your product warranty and the craftsmanship warranty so you understand all aspects of your roof replacement. It's also a great time to ask questions you have, such as "do roof warranties transfer if I move?"
Do Roofing Warranties Transfer to New Owners?
If you're wondering, "do roof warranties transfer" the answer depends on your situation. When you get your roof done, it's important to find out if you are getting a transferable warranty.
A transferable warranty is a type of warranty where if the object or structure covered by a longer warranty is sold, the warranty automatically transfers to the new owner once the sale is complete. Roofs are a little different from other product warranties because the warranties last for decades, usually between twenty and fifty years, and not everybody lives in the same house for that long.
Does a roof warranty transfer? This is a common question for people who are getting their roof replaced and luckily most roofing companies at least offer a one-time transfer so that if the homeowner sells their home within the warranty, the new homeowner can still receive the benefits of that warranty. However, if the new homeowner sells the home again during the span of the warranty, it isn't guaranteed that the next owner will still have access to that warranty.
When it comes to selling your home, having a transferable roof warranty is an attractive selling point for potential buyers. If it is transferable, make sure to save all your paperwork about a potential roof warranty transfer so you can give it to the new owners. That way, they will have a starting point on where to go if they ever need work done on the roof down the line.
RoofClaim.com Can Help You Find Out if Your Roof Warranty is Transferable to a New Owner
When you get a roof replacement done through RoofClaim.com, you get access to our nationwide network of expert contractors, our Million Dollar Guarantee, and a labor warranty packet with all the information about your warranty as well as useful links to the appropriate websites for general questions and information. We've got a great relationship with our network, and we understand their practices so we can always help walk you through questions about their work such as, "are roof warranties transferable?"
When homeowners are considering a tile roof replacement, one of the most common questions they ask us is, "Should I choose clay tiles or concrete tiles?" This article covers every part of the clay vs concrete roof tiles topic to help you answer that question.
The Difference Between Clay and Concrete Roof Tiles
The difference between clay and concrete roof tiles goes beyond the materials used to make them. Concrete tiles absorb more water, which means they are more prone to mold and mildew. Clay, on the other hand, has a low water absorption rate.
Concrete tiles weigh much more than clay, so structures with concrete tiles must be stronger to bear the weight.
Clay tiles are sensitive to heat and freezing temperatures. They crack and break due to weather much more often than concrete tiles do.
Although they are less sensitive, concrete tiles generally need more maintenance due to the rot that can be caused by collected moisture.
Clay tiles have natural coloring, so it takes much longer for them to fade or change hue. When clay tiles have a ceramic finish, they can maintain their color for a lifetime. Painted concrete tiles will fade over time.
Clay vs. Concrete Roof Tiles: Advantages and Strengths
When comparing clay vs. concrete roof tiles, advantages and disadvantages can best be determined by looking at a few different categories:
Appearance
A big difference between clay and concrete roof tiles is the way they look on a building. Concrete can be modified to have a lot of different appearances. It can be cut into different shapes and painted in whatever color you'd like. Clay can be altered in shape and size, but the terra-cotta coloring of clay roof tiles cannot be changed.
Price
Clay tiles almost always cost about 20% more than concrete tiles. But consider that they last significantly longer than concrete tiles, barring cracks and breaks. The value between the two of them is pretty comparable, with a few exceptions; high-end clay tiles can cost much more than concrete tiles.
Longevity
Clay tiles last longer in almost every respect. Their color will not fade. And concrete tiles can absorb a lot of water, leading to mildew and heaviness that causes strain on the structure. The only way that concrete may outlast clay tiles is that concrete is less fragile than clay, meaning it's less prone to cracks and breakage, especially in cold climates.
Which Is Better: Clay or Concrete Roof Tiles?
You'll have to consider your structure, climate, and personal preferences when deciding which is better; clay and concrete tiles both have their place.
Only a strong structure can support a concrete roof, but if you live in an area with a lot of snow and ice, clay might be too fragile and require too many repairs to be practical.
But no matter what style of roof you choose, RoofClaim.com can connect you with a professional you can trust to get the job done well. Make your roof replacement easy by contacting us today through email, phone, or chat!
Many places of business rely on the shelter provided by a commercial built-up roof. The security of a business starts with a reliable building, anda strong roofing system is an important part. This style of roof was designed for industrial use and holds strong for years. Even so, the strongest roofs still need regular maintenance or repair. If you're searching for a professional who can reliably work with your built-up roof system, contact RoofClaim.com. We'll match you witha local contractoryou can count on.
What Is a Built-Up Roof System?
A built-up roof system consists of several layers of material that bind together to form a strong surface that can withstand pressures like foot traffic or a large, heavy HVAC system. The multiple layers consist of adhesive, felt, andaggregate materialslike gravel or crushed stone. These are great roof choices for cool climates, as the materials are meant to cool the roof. The roof will last anywhere between ten and 30 years.
Materials Used in a Built-up Roof
There are a few styles and materials used in built-up roofing systems, like the modified bitumen roof. This style of roof has a base asphalt layer mixed with substances like synthetic rubber. The asphalt helps with the waterproofing process. Ply sheets layered with the asphalt can be made of polyester or fiberglass, and then an aggregate layer is added on top.
A ballasted built-up roof system separates the roof membrane from the roof deck. It's not anchored or adhered in any way; rather, it's ballasted with a layer of gravel. A ballasted roof system is fire-resistant and environmentally friendly.
Advantages to a Built-Up Roof
A commercial built-up roof has some unique advantages that make it a great choice for industrial buildings:
A Long Life:These roofs can last a long time without needing repairs or maintenance. In some cases, building owners may find that the roof can go up to 30 years without the need for repair.
Waterproof Materials:Any style of built-up roofing provides a seamless surface of continuous roofing that resists water damage and keeps out leaks.
Versatility:No matter what style of roof deck your building has, a built-up roof system can be installed on top of it.
Low-Maintenance Design:This durable roof type doesn't need frequent maintenance.
Protection from Ultraviolet Light:A built-up roof system is heat-resistant and provides protection from the damage of ultraviolet light.
Finding a Professional Contractor
The most common repairs needed to built-up roof systems are made to address small cracks that form or bubbles and blisters to the roof's surface. If you need a built-up roofing systemrepaired or installed, just contact RoofClaim.com. We'll match you with a local contractor from our trusted network of professionals. We make the process of finding a reliable contractor quick and easy. A commercial-grade roof requires the expertise of a professional, and you can count on us to find you one. Get Started today with a free inspection or contact usvia our online chat.
Metal is a unique, long-lastingroofing materialthat can enhance your home's curb appeal. Even though it's more durable than other roofing types, it's still vulnerable to wear and tear from harsh weather conditions and improper care. This ultimate guide to metal roofing can help you keep it in excellent condition throughout the year.
Metal Roof Maintenance Guide
Here are some ways you can regularly care for a metal roof.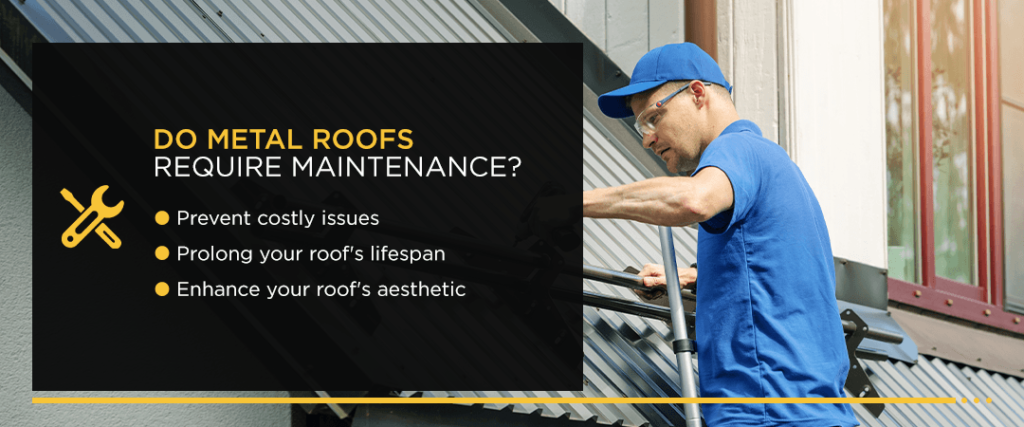 Do Metal Roofs Require Maintenance?
Yes, metal roofs need annual maintenance to perform and look their best. Consider these benefits of caring for your metal roof:
Prevent costly issues:Leaks, dents, scratching, degradation and corrosion could damage your property, resulting in expensive repairs. Scheduling aroof inspectionwith a professional roofing company can help prevent these issues by identifying problem areas and fixing them as necessary.
Prolong your roof's lifespan:Metal roofs can last a long time, but harsh weather conditions and other factors could cut your roof's lifespan short. When you take care of your metal roof, you can keep your roofing components in excellent condition. Inspecting your roof at least once a year can help yourepair problemsand prevent the need for a future replacement.
Enhance your roof's aesthetic:Besides making sure your metal roof can adequately protect your home, maintaining your roof allows your roof to look its best. Instead of letting dirt and dents pile on top of your house, you can clean your roof to improve your property's curb appeal. A metal roof is a significant investment, so you should take care of it to highlight this quality material.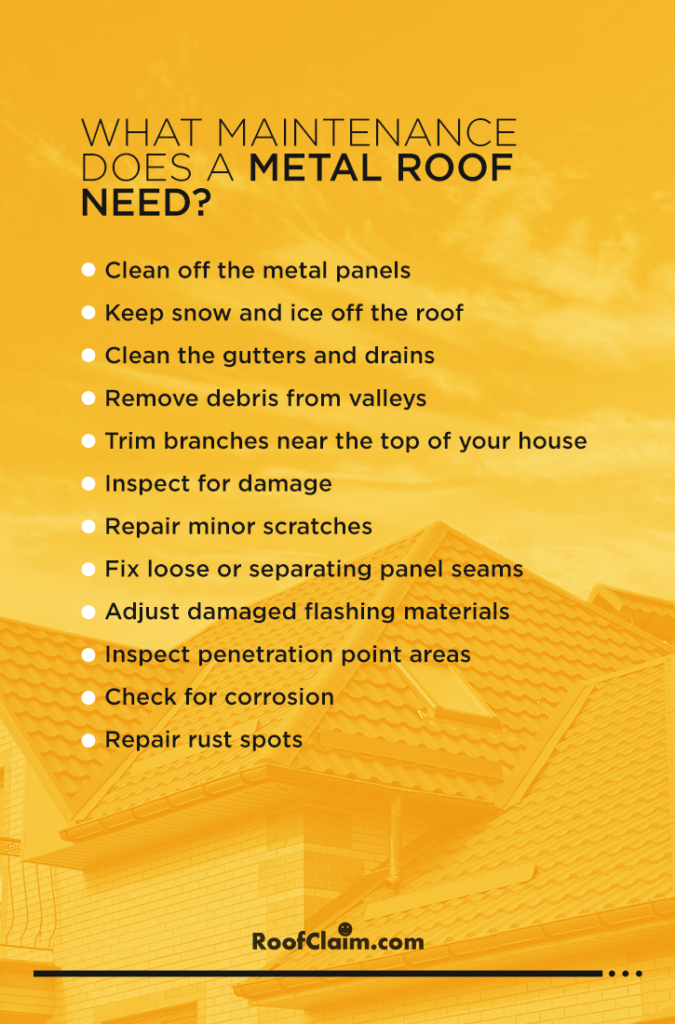 What Maintenance Does a Metal Roof Need?
For best results, you might want to inspect and clean a metal roof about once a year. Even though you can maintain a metal roof on your own, it may be helpful to hire a professional so you don't have to climb onto your roof. Follow these metal roof maintenance tips to make it last forever:
Clean off the metal panels:You can wash your metal roof with dish soap and a bucket of water. Wet a clean microfiber cloth in the bucket and gently wipe the metal panels, rinsing the soap off with a garden hose. A professional in the roofing industry could clean your metal panels to prevent damaging your roof by walking on it incorrectly.
Keep snow and ice off the roof:After a winter storm, you can sweep the snow off the top of your house with a brush or long-handled broom. Try to avoid using metal tools that could scrape the roof's protective coating when cleaning your roof.
Clean the gutters and drains:Leaves, sticks and other debris can get stuck in your gutters, causing them to clog and fill with water. Excess moisture could corrode your metal roofing and invite pests near your property. If you don't feel comfortable going on a ladder and removing the debris from your gutters with a trowel, you can consult a roofing contractor to clean them. It may also help to install gutter guards that prevent future debris buildup.
Remove debris from valleys:Inspect your property for leaves and branches that can get stuck in those hard-to-reach areas of your metal roof panels. During a professional cleaning, the contractor can dispose of any debris they find on your roof to prevent scratching the paint and ruining your roof's curb appeal.
Trim branches near the top of your house:Nearby trees could scratch your metal roof surface and deposit leaves, scuffing your roof's paint and leaving it vulnerable to damage. If you have branches near your property, you may want to hire a professional to trim the ones that could rub against your roof.
Inspect for damage:Check your metal roofing paint for scratches, scuffs, flaking or fading. If you notice any major blemishes, you may want to consult a professional to replace your roof.
Repair minor scratches:You can apply mineral spirits with a clean cloth to buff minor scratches. Wipe the mineral spirits over the scratched area, rinse with water and allow the panel to dry. You may also want to touch it up with a little paint.
Fix loose or separating panel seams:If the seams that connect the panels become loose or out of place, moisture could leak between the gaps and into your home. When you call a professional to inspect your roof, they'll check the panel seams and repair any damage.
Adjust damaged flashing materials:The flashing controls water flow away from vulnerable parts of the roof. If your roof leaks, you probably have broken or missing flashing. During a professional inspection, the roofing contractor will check your flashing's seal and condition to prevent water damage inside your home.
Inspect penetration point areas:The materials around chimneys, solar panels, air vents and skylights can degrade due to sunlight exposure. Besides checking your flashing, the roofing contractor will also check the paint and metal for exposure to chemicals and other substances that could degrade them. They'll also probably make sure fallen debris didn't create any holes in the panels.
Check for corrosion:During your roof inspection, a roofing specialist will examine the parts of your roof around your HVAC system and ventilation areas. Vented appliances such as your range hood release chemicals, steam and heat that can degrade your metal roof's paint and eventually corrode its panels. To prevent corrosion, it helps to keep different metals from touching each other.
Repair rust spots:If you notice rust spots, apply a gentle scrubbing cleanser with a clean cloth. Get rid of as much of the rust as possible and use a garden hose to rinse off the debris. Avoid using a wire brush that could corrode the roofing panels. If you notice corrosion from the rust, lightly sand the rust spot and apply a metal primer to prevent future rusting. If you want, you can paint the area according to the manufacturer's instructions.
Can You Pressure Wash a Metal Roof?
Yes, you can pressure wash a metal roof with light pressure and hot water. A roofing contractor probably has the equipment to pressure wash your roof if you don't feel comfortable climbing on top of your house.
If you want to pressure wash your metal roof, keep the following in mind:
Figure out what type of roof you have:Knowing what kind of roof you have can help you wash it properly. You can walk on a flat metal roof, but be careful of slippery areas. On the other hand, you might want to clean your high-pitched metal roof on a ladder because it's challenging to walk on it.
Be safe:Follow metal roof safety tips when you're working on the top of your house. You may want to invest in a harness, fall arrest protection and ladder with stabilizers to prevent slipping off your property. It helps to have a friend or family member spotting you on the ground in case of an emergency.
Use the appropriate pressure washer:You probably want to use a hot pressure washer with a 40-degree tip, especially if you have a flat roof. The hot water and precise angle can remove debris buildup and grime.
Avoid using too much pressure:Even though a pressure washer is safe to use for a metal roof, too much pressure could damage it.
Do Metal Roofs Need to Be Repainted?
The paint system on new metal roofs can protect and enhance your property for several decades. However, if you recently bought a house with old or damaged metal roofing, you may want to consult a roofing professional about getting your roof repainted.
Here are some of the ways a paint metal roof treatment can add value to your home:
Repair damage:A fresh coat of paint can fix the visible blemishes your roof suffered from a storm or old age. You can repair minor issues such as surface corrosion, chips and small holes with a new paint job. However, you might want to consider replacing your roof if it has significant damage.
Protect your roof from wear and tear:A high-quality metal roof most likely won't need a new paint job for at least a decade, but you may want to touch it up if you notice paint chips on the surface. Applying acrylic or oil-based paint can help protect it from weather and moisture damage.
Save money and gain resale value:A fresh coat of paint on your metal roof can attract potential homebuyers. Even if you don't want to sell your property soon, repainting the top of your house reduces the number of times you'll need to replace your roof, saving you money over the years.
Enhance curb appeal:Since your roof makes up such a significant part of your exterior property, its quality affects your guests' first impression of your house. You can improve your home's curb appeal and highlight your investment by applying a new coat of paint.
Caring for Metal Roof Screws
Metal panels connect through high-quality, long-lasting screws. As part of the roof maintenance process, you might want to consider how to care for and replace these screws over your property's lifespan.
What Causes Screws to Back Out of a Metal Roof?
The screws could loosen from your metal roof because of:
Thermal expansion:During theroof installation, the roofing contractor should make sure there's enough space between the panels for them to expand and contract as the temperature changes throughout the year. Your panels' change in size could strain and loosen the screws holding the roof to the building.
Compression:Metal roof screws could become loose from the compression process. Heavy snow or ice could crush the metal roof and make it sink lower than the screws, leaving them exposed. After the snow and ice melt, the roof material usually goes back in place on its own.
Gasket deterioration:Roof screws feature a rubber gasket between the head and the roof panel. The gasket prevents water from coming into the hole, but it can deteriorate and loosen the screw over time.
Water damage:If moisture leaks under the metal roof panels, the underlayment could become damaged. The screws may become loose when the underlayment has rotted or corroded because they might not hold down the roof structure anymore.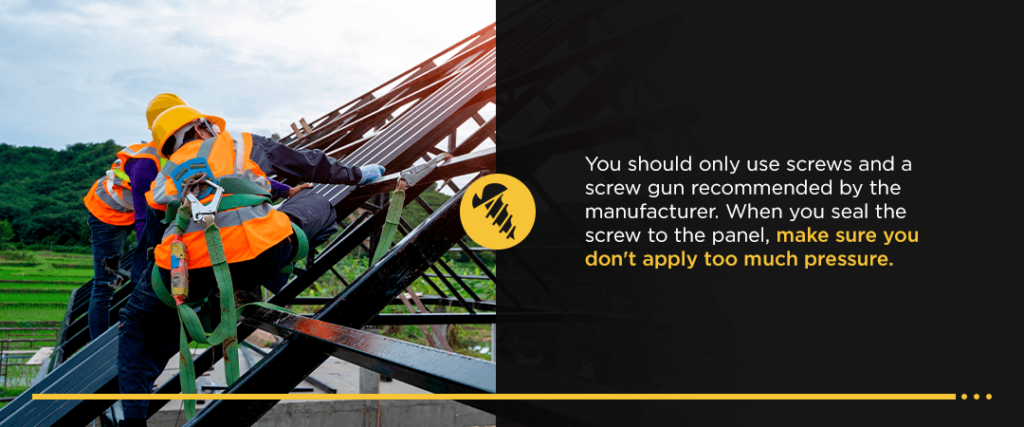 How Often Should You Replace Screws on a Metal Roof?
Lifetime metal roofing screws last as long as your metal roof panels. The screws' exact lifespan depends on how the contractor installed them and your local weather conditions throughout the year. When you inspect your roof, check the screws for corrosion and other signs of wear and tear.
If you think you need to replace your roof screws, you might want to examine your current metal roof screw pattern, look for potential problems and contact a professional if you see major damage. You should only use screws and a screw gun recommended by the manufacturer. When you seal the screw to the panel, make sure you don't apply too much pressure.
Metal Roof Longevity
Once you install a metal roof, you can expect it to last as long as you stay in the house. Consider what factors affect how long your roof will last and when to replace it.
How Long Do Metal Roofs Last?
A metal roof has the potential to last about half a century or more with the proper maintenance. Here are some factors that may influence your metal roof's lifespan before you need to replace it:
Installation:The fastening of your metal roof to your house can affect how long it lasts. A standing seam metal roof can last longer than a screw-down panel one because it allows the panels to expand and contract as the temperature changes. If the roofing contractor installed your metal roof incorrectly, you could expect to find damage on your roof soon.
Paint finish:The coat of paint protects your metal roofing panels from the elements, but if you find any paint chips or damage on the coating, your metal roof's lifespan might be cut short.
Local weather conditions:Even though metal roofs can withstand the elements, they're not entirely resistant to harsh weather conditions. Metal panels can dent from the impact of hail and snow, and fluctuating temperatures could cause the metal to expand and contract.
How Often Do Metal Roofs Need to Be Replaced?
When maintained correctly, your metal roof shouldn't need replacing for at least half a century. During your annual roof inspection, the roofing contractor mayrecommend a roof replacementif they notice these signs:
Gaps or cracks in the metal panels
Movement or shifting that created openings on the roof
Severe weather damage
Damaged or missing flashing
Discoloration, rust or corrosion on one or more of the panels
Loosened metal roof screws
Damaged paint finish
Contact Us to Replace or Repair Your Metal Roof
If you want a long-lasting, durable roof, consider investing in residential metal roofing services with Roofclaim.com. We work witha team of specialized roofing contractorswho know how to care for a metal roof so you can extend its lifespan. If you own a business, we also offercommercial metal roofingto enhance your clients' first impression of your company. You may contact us toget a roof inspectionor discover more metal roofing maintenance methods.
Metal roofs are an attractive and long-lasting option for homes, but many homeowners worry these roofs can interfere with Wi-Fi and even cell phone signals, affecting how they use technology in the home.
In reality, the connection between a metal roof and wireless signals is complex. While a metal roof can interfere with a wireless connection, it is unlikely to be the only culprit. In most cases, it is a combination of factors that can impact the quality of your internet browsing and your cell phone reception. After all, you probably get Wi-Fi in many commercial buildings with metal roofs, such as schools, hospitals, clinics, coffee shops and other businesses that often select metal roofs.
If you live in a home with a metal roof, the roofing material may matter less than you think. And if youre considering a metal roof as a replacement for your current roof, you dont have to give up on that idea. It is unlikely to have a noticeable effect on your signal.
What's Interfering With My Signal?
There are many things which can impact your Wi-Fi signal, including:
Surrounding buildings.
Metal objects near your router or modem.
Localized poor coverage.
The service provided by your ISP.
The software and devices, including the router, you are using.
Construction materials in your home, including brick and metal.
How You Can Boost Your Wireless Signal
You may notice signal problems if there are dead zones in your home where you cant browse or if you notice slow internet speeds in some parts of your home. If you can get a great signal just outside your home but experience lags and problems once indoors, you may have an issue. There are a few things you can do:
Get a long-range wireless router:Look for one with the longest range possible and pair it with a wireless repeater to further extend the range of your signal. If its been some time since you last updated your router, your router may be outdated anyway. Choosing a modern one with a wider range can have a big impact.
Position your router correctly:Keep your router away from metal objects and keep it off the ground. You may wish to test a few spots in your home to see which one provides the best signal.
Get your devices closer:You can get a better signal if your computer is close to the router. Try using your devices in the same room as your router, if possible, and within sightlines of the router.
Are You Considering a Metal Roof?
If youre considering a roof repair or roof replacement and want to talk about metal roofs,contact RoofClaim to discuss your optionsorschedule a drone inspection to get a detailed reportabout what roof services might make sense for your home. Our network of contractor professionals have many years of combined experience and bring their extensive knowledge of roofs to help you get the beautiful, lasting roof your home deserves.
If you are exploring different roofing materials for your home, you're probably going to consider metal roofing as one of your options. The material offers impressive energy efficiency as well as outstanding durability, but there's a big question related to cell phone reception that you need to answer before getting a metal roof replacement.
What's making you reconsider metal? You may have heard that metal roofs can interfere with your cell phone signal. This misconception has continued for years, but is there credible research to back this claim?
Do Metal Roofs Disrupt Cell Service?
Despite what you may have heard, metal roofs do not disrupt cell service. That said, this misinformation probably comes from the fact that your metal roof can worsen existing service problems.
If a utility tower sits close to a home or business with a metal roof, then you may experience interruptions to your service. A cell phone's radio frequency can be suspended when this occurs, but the real issue is with the tower, not the metal roof.
What Causes a Poor Cell Phone Signal?
Lots of factors can cause a weak cell phone signal, and you can't address all of them directly. The two most common causes are:
Poor localized coverage: Cell towers conduct the communication needed for cell phones. If your carrier has too few cell towers or they are too far apart, then your coverage will suffer.
Geographic reception barriers: Something that gets in the way of your cell phone reception, such as a mountain, can make it challenging to get a signal in your home. For example, if you live on one side of the mountain, and your carrier's cell tower sits on the other side, you may have trouble with dropped calls or dead service areas.
How Can I Boost My Cell Phone Signal With a Metal Roof?
If you have a metal roof and have noticed problems with your cell service, you may need to consider creative solutions. One way to boost your service is to install a repeater system, or signal booster. It includes an antenna placed outside, a signal amplifier and an inside antenna. A cable connects all of the parts.
The outside antenna picks up the cell tower's signal and sends it to the amplifier, which boosts the signal. Then the second antenna broadcasts that signal to the surrounding area, giving you a strong connection your phone can pick up. If you have a usable signal within range, the repeater should fix your problem quickly.
Do Metal Roofs Cause Bad Connections?
Metal roofs may make bad connections worse, but they do not cause bad connections by themselves. Most often, there is already a reason for the poor connection, and the metal roof amplifies it. Repeaters are a simple and affordable solution that can remedy the problem and allow you to use your cell phone without a second thought in a home with a metal roof.
Are you searching for the right material for your new roof? Metal is a smart choice, with the durability and dependability you want. Contact us today to learn more about our roofing options.
If you're thinking of replacing the roof of your commercial building with a greener option, you might think that choosing to go eco-friendly would give you limited options, but that isn't the case. There are plenty of ways to get a great-looking and reliable roof replacement while still looking out for the environment. Let the experts at RoofClaim.com walk you through your options, then let us match you with a skilled contractor who can get the job done.
Metal Roofs
One popular choice for an eco-friendly roof is metal. From aluminum to zinc, metal makes a great choice for green roof construction. Metals roofs are made primarily from recycled materials and can even be repurposed later on down the line. The inherent strength of metal also makes for a durable and reliable roof replacement that can last up to 60 years.
The reflective surface of a metal roof also helps keep a building cool by diverting sunlight off of the building. This can help further your eco-friendly efforts by cutting down on energy costs.
Cool Roofs
"Cool" roofs are another go-to option for installing a green roof. The benefits come from their design: Cool roofs are made with materials that reflect more light, keeping solar heat away from the inside of the building. This helps keep the interior cool and allows for less dependence on air conditioning and electricity.
When you're considering this type of green roof, installation cost should be considered. On average, the cost may range from $0.75 to $3 per square foot. Those numbers may not seem substantial on their own, but for a 1,500-square-foot roof, the cost after factoring in labor could add up to nearly $6,500.
Wood Shingles
While woodshinglesare nothing new in the world of roofing, this doesn't mean they aren't a great choice for a green roof. Companies and homeowners alike can be more environmentally conscious by choosing to go with green roof shingles made from wood.
What makes wood shingles so eco-friendly is their ability to be constructed from reclaimed or recycled wood that can even be reused after the roof has lived out its useful life. A roof replacement with wood shingles will generally last 15 to 20 years.
Solar Roofs
Solar roofs are a relatively new option offered by green roof companies. There are a couple of different ways to approach a solar roofing project. One method is to havesolar panelsplaced on your current roof, and another is to use solar tiles to construct an entirely new one. Both options help cut back on energy costs by converting sunlight into a usable form of electricity for your home.
The downside to a solar roof is the installation cost. When choosing to install solar panels on your roof, you can expect to pay somewhere between $16,000 and $31,000.
Clay Tiles
A common roofing option in areas with a desert-like climate is clay tiles. Clay tiles are 100% recyclable, and choosing them for your green roof benefits you in other ways as well. Due to their design, clay tiles work as a great insulator, which can help lower your electric bill.
Living Roofs
When it comes to choosing green roof systems, commercial buildings can't go much more green thanliving roofs. Where normally, a roof would consist of tiles or shingles, a living roof instead transforms the space into a garden. Apart from the unique aesthetic appeal, living roofs provide plenty of other eco-friendly benefits. A big one is that a living roof actually has the capability of improving the air quality of the surrounding area.
Living roofs aren't without a couple of downsides, however. The initial cost can be on the high side for a roof installation. Also, you'll need to think about the strength of your roof, as the soil and water will put a lot more weight onto the structure. And you'll need to factor in the cost of planting and maintaining the garden itself.
Make Your Project Easier With RoofClaim.com
Whatever option you're thinking of going with for your new green roof, RoofClaim.com can help to make your project go as smoothly as possible. Our drone-poweredinspectionscan deliver a full evaluation of your roofing requirements with maximum convenience: You won't need to talk to a sales rep or even be home at the time. Then, we'll use our sophisticated AI solutions and years of experience to match you with an eco-roof service in our nationwide network that's right for the job. We work with fully licensed professionals across the country who have experience with a wide variety of roof materials, so you'll get a contractor you can count on to do the job right.
After a storm, it is common for you to contact your insurance to understand your coverage. Depending on the homeowner insurance you bought, there may be a few variations of what is and is not covered. No matter what, if your roof is leaking, your first step should be to determine where the leak is and to read over your homeowners insurance documentation so you know before you call whether or not your damage is covered.
Does Homeowners Insurance Cover Roof Leaks?
When it comes to homeowners insurance for a roof leak, how the roof incurred damage is usually what insurance adjusters are looking at. If the roof is coming to the end of its lifespan and the shingles are starting to dissipate, curl, or break off due to natural wear and tear, that is a situation where your homeowners' insurance most likely will not cover the leak. However, if the leak originated due to a natural disaster, such as rain or a tree branch knocked onto the roof by strong wind, then insurance is more apt to consider covering the repair costs.
When you conduct regular roof inspections on your home, it is easier to spot some of the unresolved maintenance issues that could eventually lead to a leak down the line. That way if you experience a leak after a severe storm, you can feel confident knowing that it wasn't the result of an aging roof, but because of a natural disaster, and it will be up to your homeowners' insurance to pay for the repair.
What Kind of Roof Damage Does Homeowners Insurance Cover?
Homeowners' insurance policies typically exist to help protect the overall structure of your home from certain environmental perils that can cause damage to the structure of your home. Your homeowner's insurance will cover damage brought on by strong winds, heavy rain, fire, and hail. For example, if after a severe storm, your roof is damaged due to a tree falling on it and piercing the shingles, or strong winds knocked your shingles out of place, you can file a roof leak insurance claim to get the damage fixed.
It is important to keep in mind that even with homeowner?s insurance, you will still need to pay a deductible and there is usually a limit to the amount of coverage you receive. If the damage goes above what your roof leak insurance will cover, it is possible that you will have to pay for the rest of your roof repair of pocket, even if overall, the damage is from something covered by your insurance.
RoofClaim.com Can Help
If you have questions about whether your homeowners' insurance will cover roof leaks, you can always get in touch with the team of experts at RoofClaim.com. We have worked with owners of residential and commercial property for years and can help walk you through any confusion and help communicate with your homeowners insurance. If you have questions or would like to request more information, contact us via email or convenient online chat.? If you are ready to get started, you can schedule a free inspection to determine the source of? the leak.
Every year, hailstorms cause billions of dollars of property damage. Since hail can range insizefrom pea-sized to softball-shaped, it has the ability to cause real damage to residential and commercial properties, and in some cases after hail damage, a roof replacement could become an unfortunate necessity.
Sometimes, it can be easy to see thedamage, but homeowners aren't always aware of what hail has done to their roof because it can't always be seen from the ground. Unfortunately, even if it can't be seen easily, that doesn't mean it doesn't exist and when your roof is an important barrier to the elements, not getting a hail damage roof inspection creates a risk of roof damage going unnoticed until it's too late.
What is Hail? How Does it Cause Roof Damage?
Hail is formed when drops of water are carried up by thunderstorm updrafts and subjected to cold areas of the atmosphere where they freeze. In some cases, thesehailstonesgrow when they collide with other droplets that end up freezing on the hails' surface. When they're single droplets, they are less likely to cause damage but when it collides with other droplets and grows, that can change. In some climates the hail can end up growing several inches and when a softball size hunk of frozen water lands on a large barrier, like a roof over and over again, then damage is an unfortunate likelihood.
Luckily, since it is a force of nature, if your home suffers from hail damage, a roof insurance claim isn't too difficult to obtain and once you have that claim, a contractor can help repair the damage.
Signs of Hail Damage
When you are trying to assess the hail damage, roof repair inspections conducted from the ground can be a tricky endeavor. We have compiled a few telltale signs that you may need to file a hail damage roof insurance claim.
Dented gutters and downspouts, especially if the roof has significant hail damage.
Damage to the siding and windowsills as well as damage to any other exposed metal surfaces even if it looks like a faint ding.
Damage to outdoor items such as air conditioners and decks.
If you get up on the roof, you'll find more obvious signs of hail impact such as:
Dented chimney covers.
Surface granules on shingles are knocked off. This one can be hard to spot sometimes without an inspection, but it's an important thing to notice because it requires a lot of force to knock granules off a shingle and it can create a leak over time.
On wooden shingles, hail damage presents itself when the shingle is cracked or split down the middle.
Clay and slate roofs will crack, or there will be gouges if they are severely affected by hail.
Metal roofs are the easiest roof type to spot damage because you will be able to see clear dents and white residue leftover from the storm.
Let RoofClaim.com Match You to Hail Damage Roofing Contractors
If your roof suffered from hail damage, a roof repair or replacement isn't as difficult as you think it may be. When you contact our team, we will help you communicate your hail damage with your insurance adjuster and schedule an easy and convenient inspection to assess your roof. Once we know the extent of the damage, we'll match you to one of the nationwide contractors in our network to do the repair. We strive to make sure that your work is done by a business that is local to you, that way your service is handled by somebody who understands what kind of wear and tear you'll be dealing with.
Get Started today with a free inspection or contact us via our convenient online chat.