When it comes to time to replace your roof, you'll want to consider something long-lasting. It's best to choose something that can protect your home for decades to come with no cost to your peace of mind. For that, look no further than slate shingles.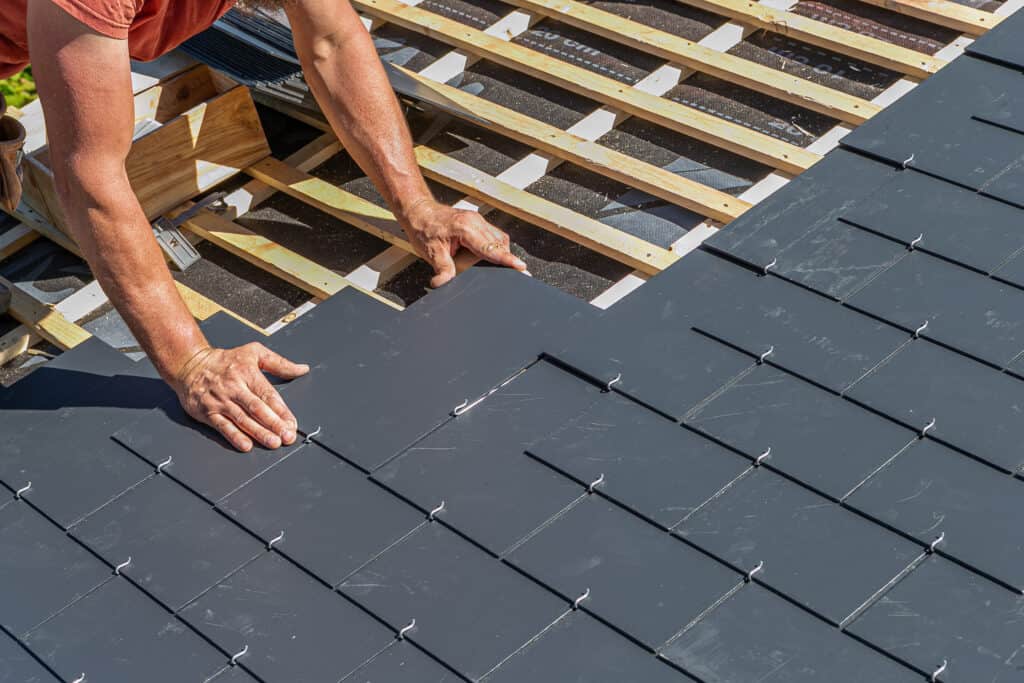 What Are Slate Shingles?
Slate roof shingles can be traced all the way back to Conwy Castle in the year 1283 and are still a popular roofing choice today. Made from metamorphic rock, slate roof shingles have lasted as a building material for centuries due to the longevity and dependability they provide. Coupled with their natural aesthetic, these incredibly resilient shingles are a top pick for many who are installing a new roof.
Each slate shingle is split by hand at a quarry into a wide array of various sizes and thickness for customers to choose from. The variety of these cuts make them a great choice for any home and give homeowners a chance to make their new roof completely unique and their own.
Durable and Long Lasting
Since slate shingles are cut from dense rock, the strength that they provide is unmatched. The material won't absorb water from any heavy snow or rainfall which in turn helps prevent them from warping or cracking as easily as many other choices. This also allows them to stand up to frequent temperature changes in even the harshest climates.
In addition to this, slate is non-combustible. If you're thinking of installing slate shingles, it should comfort you to know that doing so also provides an extra layer of fire protection for your home and family.
All these factors add up to a new roof that will last you well over 100 years.? Mold and fungus also have no effect on a slate shingle. Repair and maintenance costs are virtually non-existent, allowing you to focus on how happy you are with your new roof instead of wondering how much you'll have to invest in order to maintain it.
Aesthetic Aspect
While strength is an important factor, homeowners also want their new roof to be pleasing to the eye. Slate style shingles provide your home with a natural beauty that never goes out of style. The nearly eight centuries of slate roofing are a testament to that.
Slate tile shingles come in a variety of different colors, such as black, red, green, and purple, and can be custom cut to fit any home. With such an expansive selection to choose from, you can be sure that you'll be able to find that perfect match for your home's aesthetic.
When combined with its durability, the attractive look of a slate shingle roof can also add a tremendous amount to your home's resale value.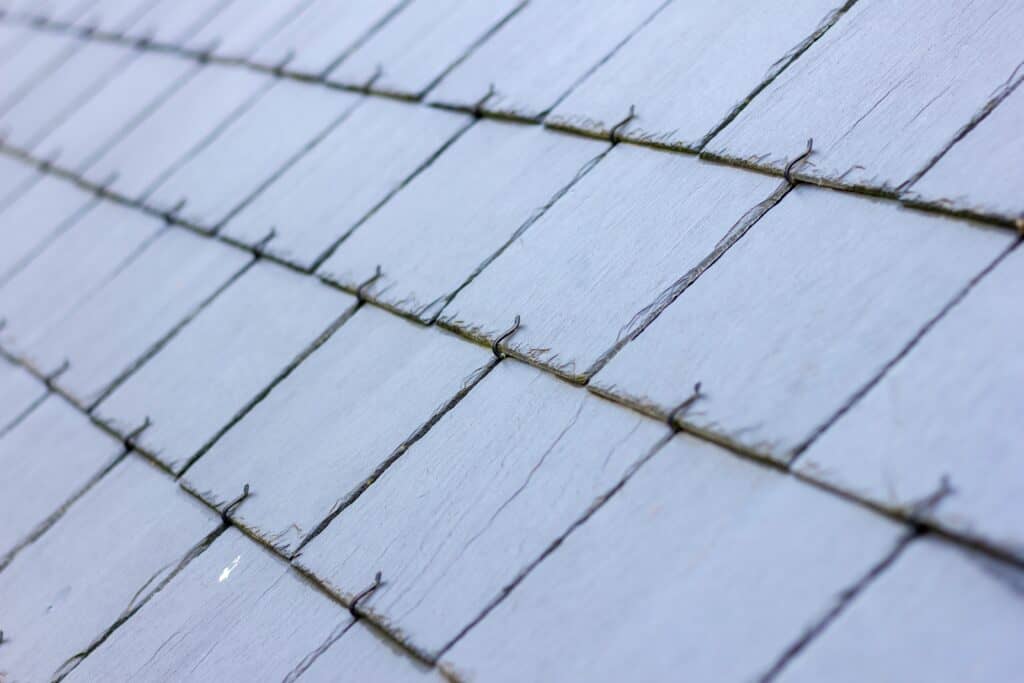 Slate Shingles Cost
Slate shingles price is often a major factor when homeowners decide against using slate shingles to replace their roofs. Between the materials and cost of labor, you may be looking at $12-$25 per square foot for the cost of your new roof.
While this may seem like a high price, consider that you'll likely only have to pay for the roof once. For example, the cost of three-tab asphalt shingles is considerably lower, but so is their lifespan. Three-tab asphalt shingles are only expected to last for about 20 years, meaning they would have to be replaced five times to compare to the longevity of a slate shingle roof.
How Do You Them?
Cleaning slate shingles can be a delicate task as slate is a relatively soft and porous material that can be easily damaged if not cleaned properly. Here are the steps you can follow to clean slate shingles:
Safety first: Wear protective gloves, goggles, and non-slip shoes to prevent accidents.
Remove debris: Use a soft-bristled brush or broom to sweep away any loose debris like leaves, twigs, and dirt.
Mix cleaning solution: Combine warm water and mild detergent in a bucket. Avoid using harsh chemicals, bleach, or acidic cleaners, as they can damage the slate and discolor the surface.
Apply solution: Dip a soft-bristled brush or sponge into the cleaning solution and apply it to the slate shingles. Work in small sections to prevent the solution from drying out before it can be rinsed off.
Scrub: Use the brush or sponge to gently scrub the slate shingles, paying attention to areas with stains or discoloration.
Rinse: Use a garden hose or pressure washer on a low setting to rinse the slate shingles thoroughly. Make sure to remove all the cleaning solution residue.
Allow to dry: Let the slate shingles air dry naturally. Avoid using heat or fans, as they can cause the slate to crack or warp.
Choosing roofclaim.com for Your Roof Replacement
Whether you decide to go with slate shingles or another option, when it comes time to replace an old leaky roof, be sure to head over to roofclaim.com. Our experts have helped install over 50,000 roofs and will be with you every step of the way.
Throughout the duration of our transparent roof inspection process, we will do everything we can to make your roof replacement as easy and hassle-free as possible. There's no need to worry about meeting with any sales reps; our convenient AI solutions will match you with the right contractor in your area for your job.
Get Started today with a free inspection or contact us via our convenient online chat.