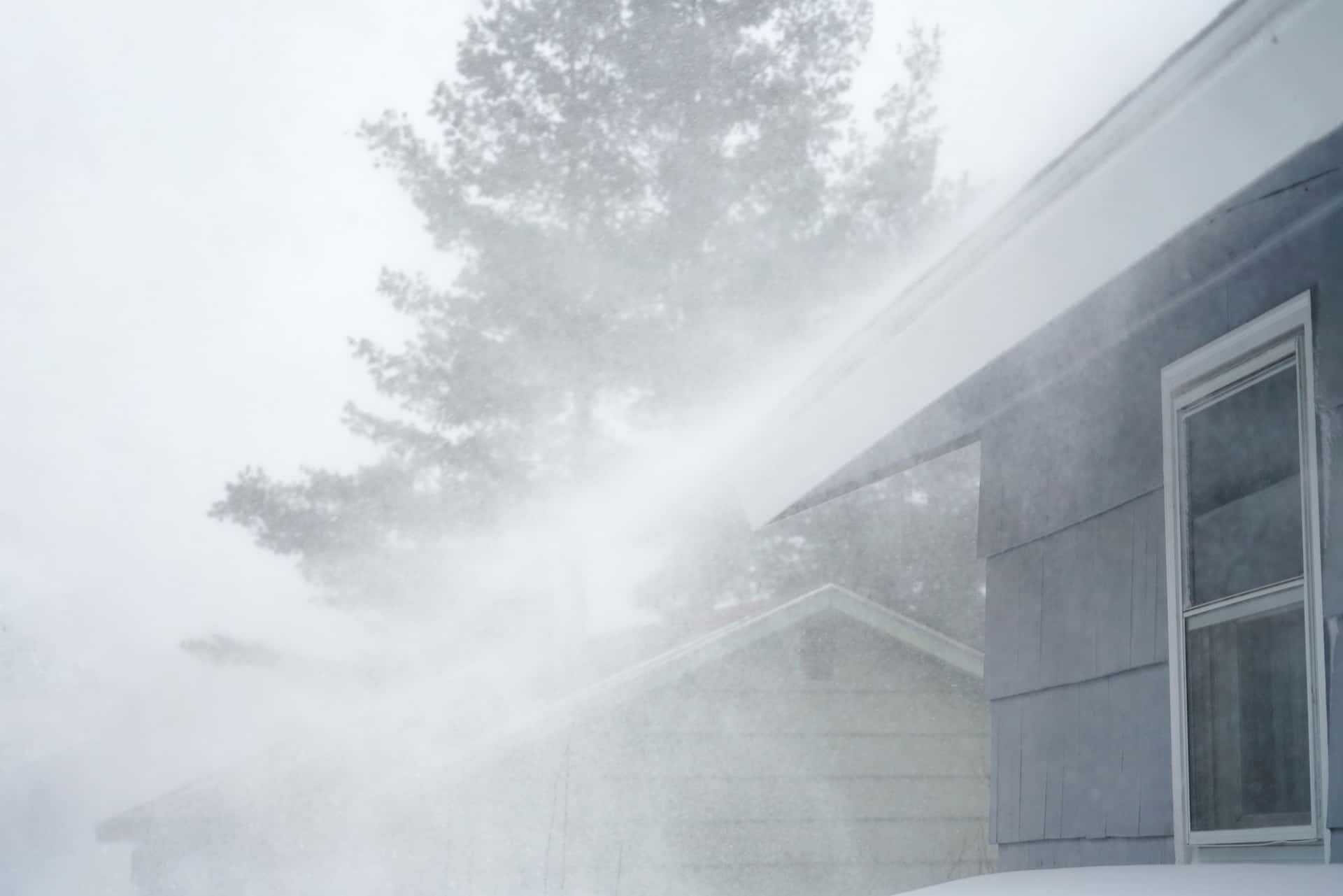 Your roof is designed to withstand strong winds, but if high wind speed is sustained or your home is subject to abnormally strong wind gusts, damage often occurs. Let's discuss what you should do when your roof has wind damage.
First, it's important to note that your roof may have wind damage even if it's not obvious from the street level. When we do drone roof inspections, we commonly find wind damage that the homeowner didn't know about.
If your area has experienced strong storms with wind gusts at any point in the last 2 years, it's a good idea to schedule a free roof inspection to check for wind damage.
In some cases, wind damage to your roof is obvious and easily noticeable from your yard or the street. In these cases, you'll want to schedule a roof inspection as quickly as possible for a full assessment.
How Does Wind Damage Your Roof?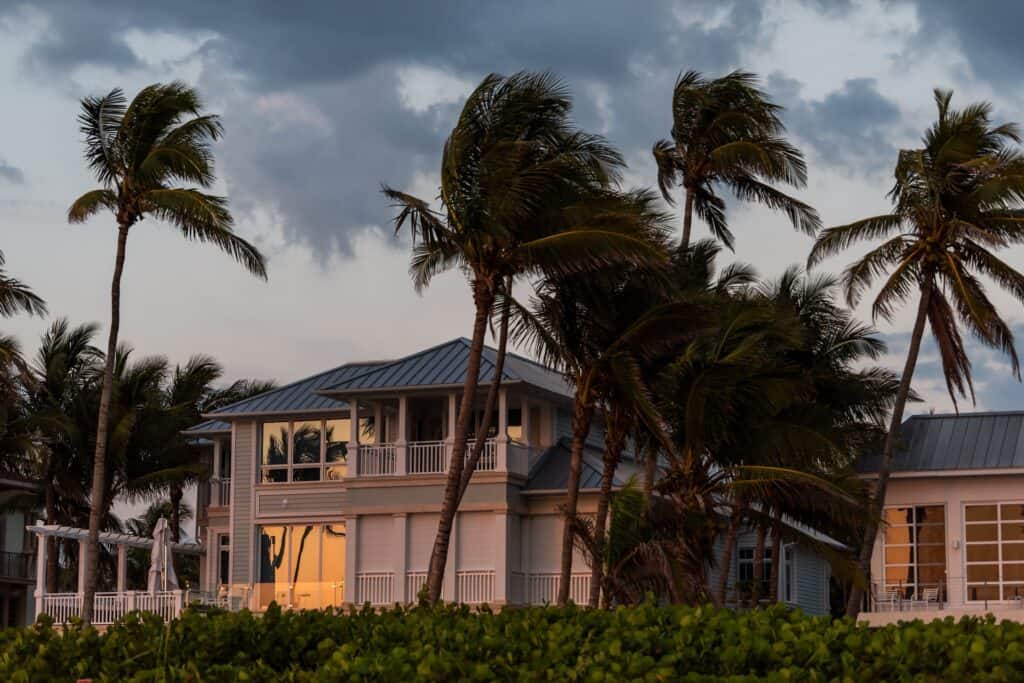 There are two primary ways that the wind can cause damage to your roof.
Damage Due to Wind Intensity
Winds that are below the 74 mph range often won't do any damage to your roof. If your home is in the path of a Category 1 to 5 hurricane, or is subject to very strong gusts during a bad storm or tornado event, damage becomes likely.
According to the National Hurricane Center (NHC), a Category 1 (74 to 95 mph) hurricane can cause damage to the shingles and siding. You can imagine the damage a Category 5 (more than 157 mph) hurricane can do.
According to the EF Scale, tornadoes with winds of 73 to 112 mph (considered "Moderate Damage") can peel off your roof's surface, as well.
Damage Due to Debris
During natural disasters, the wind isn't the only thing you should be worried about. Wind can also carry debris such as branches, light outdoor furniture, and other objects.
While your roof may be able to withstand the wind, handling impact from debris is another story. If your roof is hit by flying debris carried by strong winds, it's very likely to suffer damage.
What Areas in the US Are More Prone to Wind Damage?
Data from the National Oceanic and Atmospheric Administration (NOAA) shows that these ten states have been hit the hardest by various types of storms and high winds:
Florida
Texas
Louisiana
North Carolina
South Carolina
Alabama
Georgia
New York
Mississippi
Virginia
RoofClaim has a heavy presence in many of these areas, so you can count on us if you ever need roof repair or roof replacement services. We continue to expand our service area to provide full-service roof repairs to more homeowners and more properties in the U.S.
What Does Wind Damage Look Like?
Here are a few surefire signs that your roof was damaged by the wind:
Lifted or Curling Shingles. If individual shingles on your roof appear upturned, lifted, or curled, that's a sign of damage.
Flapping Shingles. If you notice that shingles are flapping when wind or breeze is present, that's another sign your roof needs to be inspected.
Water Leakage. Has water started to leak into your property? This is a more serious sign of a roofing issue and demands immediate inspection.
Missing Shingles. If the shingles have gone missing, that's an obvious sign that your shingles have been blown off by the wind.
What Should You Do if Your Roof Is Damaged Due to Wind?
To mitigate the damage done by wind, you need to act fast. If you fail to act fast, the damage will gradually spread to the rest of the shingles, and eventually, impact your roof's underlying structure. Here's what you need to do in case your roof is damaged due to the wind.
Note: It's important not to attempt to repair a roof yourself. The repair work should be done by professionals who know what to do, and who can do it safely.
Contact a Professional Roofer
Contact a professional roofer to schedule a free roof inspection.
At RoofClaim, we go to great lengths to perform a thorough inspection and produce a detailed inspection report. If you end up filing an insurance claim, this detailed inspection report is critical in helping you get your claim approved.
Document the Damage Yourself
If any damage is visible from the ground level, you should document this damage yourself (in addition to what your roofer will document). Having two sources of documentation will help you in the insurance claim process.
Take photos of the damage as well as video if possible. Just make sure to stay safe. If there is debris or fallen trees on your roof, stay clear of that area. And don't attempt to climb onto your roof to document any damage.
File an Insurance Claim
Can't afford a new roof? Fortunately, if you have home insurance you can file a roof insurance claim to cover the costs of repairs or replacement. In general, roof damage due to nature is a covered peril. Consult your insurance company to check if roof repairs or replacements are covered by your policy.
At roofclaim.com, we've written a variety of informative articles on how to file insurance claims for your roof repair or replacement.
Schedule Your Roof Repair
You're free to decide when you want your roofers to start the repairs, but it would be best to do it as soon as possible. If you fail to repair your roof, your property will be vulnerable to pest infestations, mold, and more.
If you urgently need repairs, find a contractor that offers emergency roof repair. 
How to Protect Your Roof From Wind Damage
When it comes to protecting your roof from the consequences of wind damage, you can do more than crossing your fingers and hoping for the best. Here's what you can do to protect your property (particularly your roof) from the wind:
Trim the trees. Trim weak branches off of nearby trees. Strong winds may cause the branches to break into two and fall onto your roof or get blown onto your roof.
Move outdoor furniture & items indoors when storms are coming. Outdoor furniture shouldn't stay outdoors in strong winds. The wind can carry them away or worse – dump them onto your roof.
Perform regular roof maintenance. The better condition your roof is in when storms and wind arrive, the better the chance you'll avoid damage.
Need a Free Roof Inspection?
If your roof has been damaged due to the wind, or you suspect that recent storms may have caused damage, it's time to call a professional roofer.
RoofClaim is ready to perform a free inspection and we're well-equipped to perform any necessary repairs or replacement based on what we find. We'll also offer you guidance with the roof replacement/repair process, and communicate with your insurance company from start to finish