Shingle Roof Repair
Most roofing companies can handle shingle roof repair jobs, but not all roofing companies are created equal. Homeowners trust roofclaim.com for their roof repairs because of our quality roofers, above-and-beyond service, and Million Dollar Guarantee.
Have Shingle Damage That Needs a Roof Repair?
We're well versed in inspecting shingle roofs for damage and doing necessary roof repairs or a roof replacement (if needed).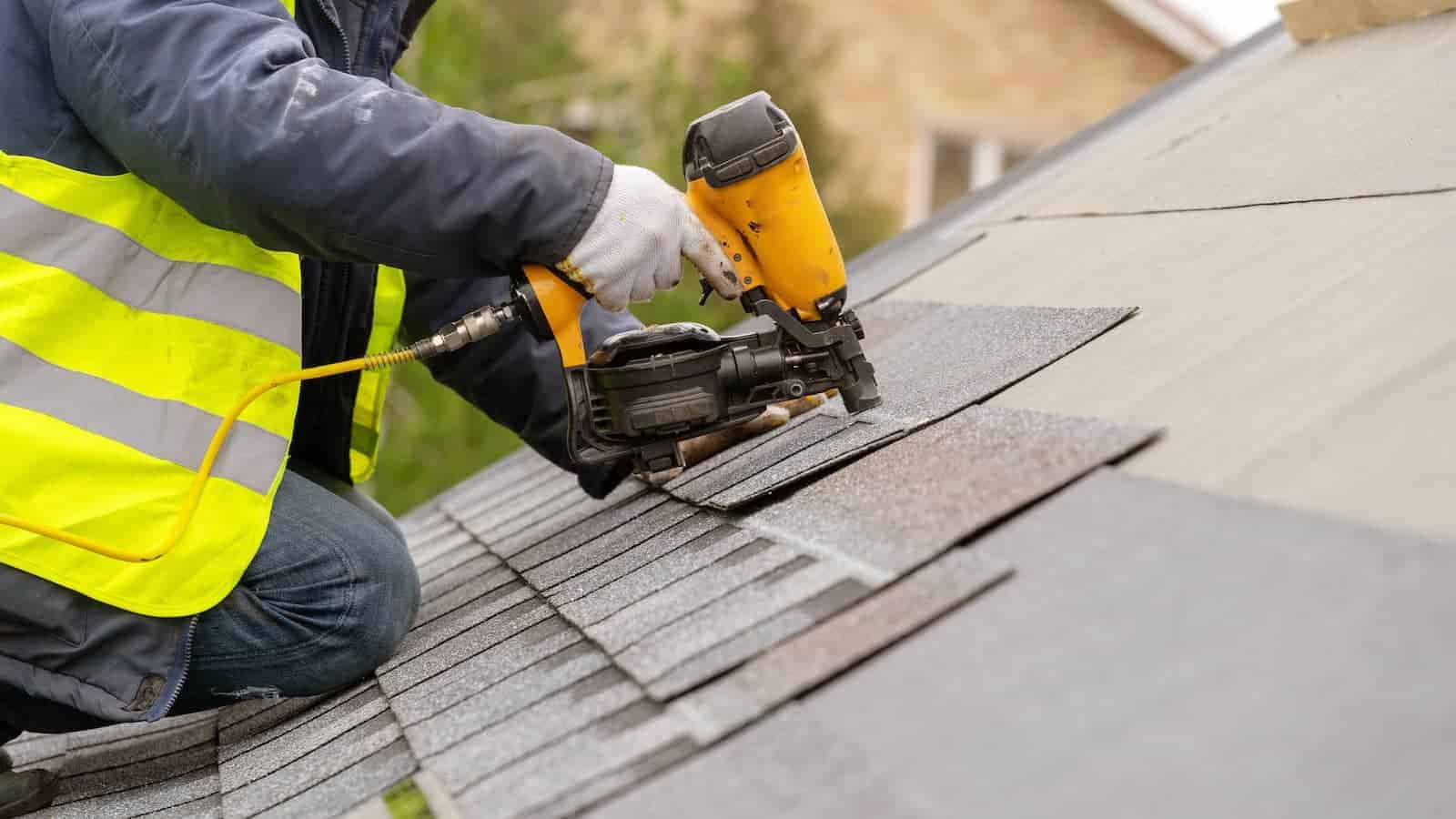 Asphalt Shingle Roof Repair
Asphalt shingles are made of asphalt reinforced by fiberglass or organic materials like wood or cellulose. This is the most common type of roofing shingle and we're experts in asphalt shingle roof repair.
Wood Shingle Roof Repair
Wood shingles are machine-cut from cedar, spruce, or pine to offer a trim yet natural-looking and environmentally-friendly option. While repairs may be possible, wood shingles typically need roof replacement.
Metal Shingle Roof Repair
Metal shingles are typically made from aluminum, steel, copper, or an alloy. They offer superior protection and durability, but not every roofing company is experienced at metal shingle roof repair. We are.
Slate Shingle Repair
Synthetic slate shingles are made from a mixture of fiberglass, hemp fibers, post industrial plastic, recycled paper products, polymers, and many other materials. Contact us today if you need slate shingle roof repair.
Does Your Home Have a Shingle Roof? Here's What You Need to Know About Shingle Roof Repair
Water damage and missing shingles are just a few things that might indicate that you need a roof repair. It is impossible to predict exactly when you are going to need a repair but it is important to know a few things about the process in case it does happen.
roofclaim.com is the best and most trusted when it comes to keeping you and your family safe under your roof. If you have signs of wear and tear on your roof do not ignore it. Call roofclaim.com for a roof no-obligation roof inspection so your minor roof problems do not turn into big roof problems.
What Type of Shingle Roof Do You Have?
Depending on the type of shingle that you have, there are certain considerations that will need to be made when getting a roof repair. There are three main types of asphalt shingles.
3 Tab Shingles
Architectural Shingles
Luxury Shingles
3 tab shingles are extremely popular because they are affordable and can last a long time. However, they do not have as many aesthetic options. Architectural shingles are sometimes called dimensional shingles and are two layers of shingles fused together.
Architectural shingles are stronger than your normal 3 tab shingle and can deliver a unique 3-Dimensional look that cannot be achieved with other options.
Luxury shingles are more expensive than your other shingle options. They are primarily made to replicate the look of other roofing material options.
While luxury shingles are more expensive than the other options they are cheaper than the materials that they replicate.
Common Problems With Shingle Roofing (Things to Look Out For)
While shingles are very durable in normal weather conditions, they sometimes do have problems that occur. Added moisture, sunlight, weather, and age can all be complicating factors when it comes to your shingle.
Stains
Blistering
Curling
Cracking
A lot of the above problems can be prevented through good roof maintenance. If your shingles are beginning to show signs of wear do not ignore it! Call us today and schedule a roof inspection.
How Long Does Shingle Roof Repair Take?
The time it takes to get your roof fixed depends entirely on the experience of your roofer. roofclaim.com is your local roofing expert and can handle all roof repairs big or small. No matter your roofing issue we can have your roof fixed in as little as a day!
Do You Have a Shingle Roof Repair Emergency?
Do you have noticeable signs of damage to your roof? Do not wait to call. If your roof is already leaking inside of your home then you have a roofing emergency! Water damage is very costly to repair and can spread very quickly. If your roof has noticeable damage it might be unsafe to be inside of your home.
A Roof Inspection Will Tell You Whether You Need Roof Repair or Roof Replacement
Before we can repair your roof we will have to evaluate the current condition of your shingles. Depending on the type of damage and how much there is, you could qualify for a roof insurance claim and have your entire roof replacement covered by your insurance provider! We can't do anything until the inspection is done, though, so get your inspection scheduled as soon as possible.
How Shingle Roof Repair Works Through roofclaim.com
We've done shingle roof repair for thousands of homes. We have our process down to a science and have an industry-leading service reputation.
01
SHINGLE ROOF INSPECTION
02
insurance claim
We'll handle any necessary insurance claims from beginning to end.
03
SHINGLE ROOF INSTALLATION
Our expert shingle roofing installers will work their magic – typically in one day.
04
$1,000,000 guarantee
Every shingle roof is backed by our industry-leading Million Dollar Guarantee.
We're Getting Rave Reviews From Our Roofing Customers
We're working hard to build the best reputation in the roofing industry with a focus on quality craftsmanship, A+ customer service, & an unbeatable guarantee.
Communication was great - roofclaim.com responded to calls and emails very quickly, everything was documented with pictures, the roof was done in one day, and the details were paid attention to (caulking in the right places, old metal parts painted, flashing just right). From initial inspection to roof completion was two and a half weeks. Easiest home project yet.
Excellent roofing company. I would recommend roofclaim.com to anyone needing roofing service. roofclaim.com and team provide excellent communication throughout the entire roof installation process for my home.
I worked with roofclaim.com. They took the time to explain the process to me, communicate with my insurance company, and made sure the entire process ran smoothly. They are extremely professional and made an overwhelming task easy, alleviating any concerns I had. I highly recommend Roofclaim for roof replacement.
Should You Choose roofclaim.com for Shingle Roof Repair?
It's great to compare a few different roofing companies when you need shingle roof repair. We ask that you keep the following points in mind:
roofclaim.com provides free shingle roof inspections
We help facilitate the insurance claim process

roofclaim.com is a trusted brand name in roofing

roofclaim.com employs the best shingle repair experts in the industry

roofclaim.com protects every new roof with a Million Dollar Guarantee
A+ Quality
roofclaim.com only hires the top 5% of roofing installers in the U.S.
We're Currently Doing Shingle Roof Repair Jobs for Residents in the Following Areas
shingle roof repair services in...