Shingle Roof Replacement
Shingle roofs are the most common type of roofs in the United States. While most roofing companies handle shingle roof replacement, homeowners trust roofclaim.com because of our expert roofers, A+ customer service, and our Million Dollar Guarantee.
We're Quickly Becoming the #1 Choice for Shingle Roof Replacement
If you want a roofing company that's going to go the extra mile when it comes to service and quality, then choose roofclaim.com.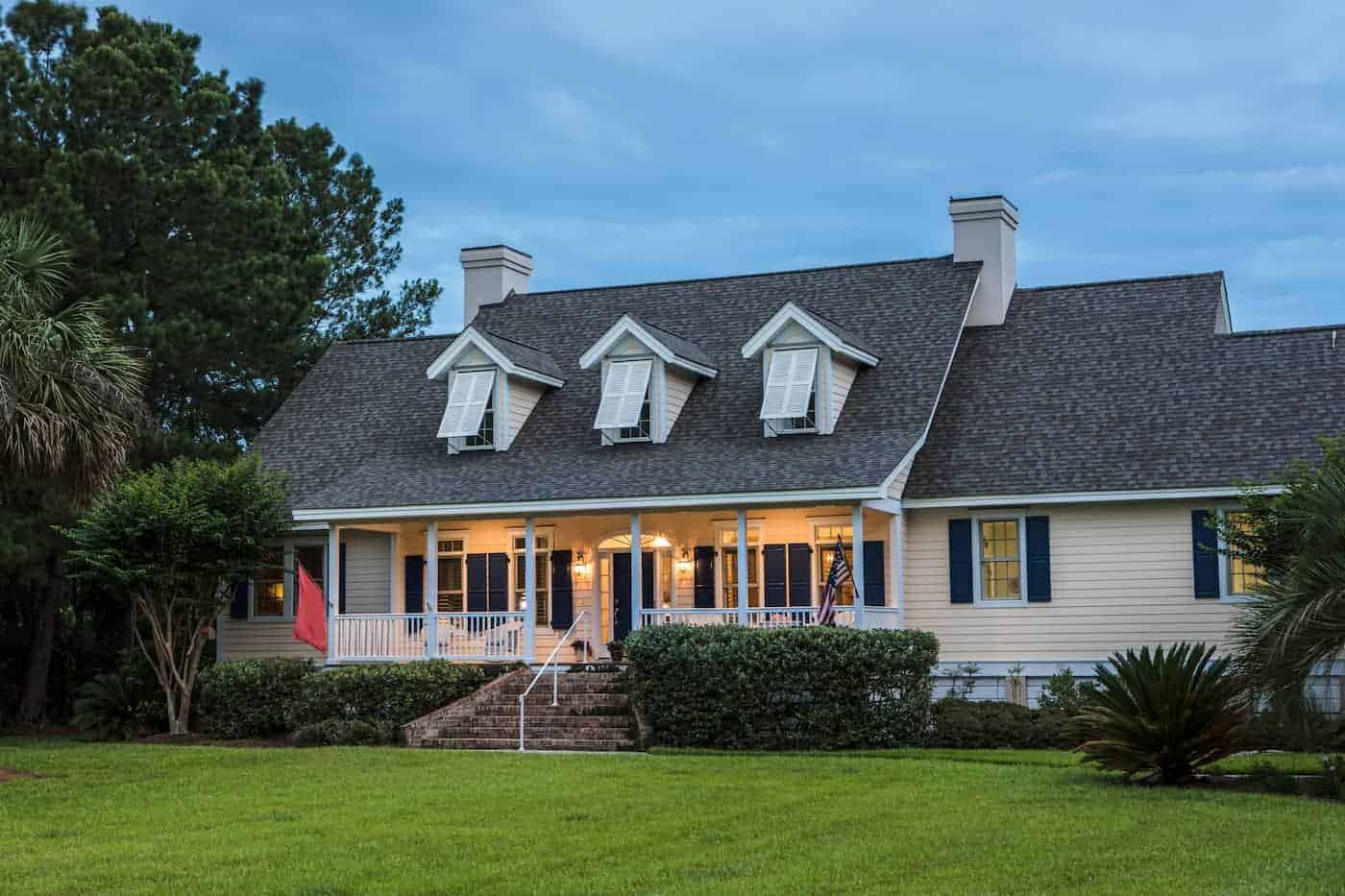 Asphalt Shingle Roof Replacement
The vast majority of homes in the United States have asphalt shingles, which makes asphalt shingle roof replacement the leading type of roof replacement. roofclaim.com handles roof replacement day in and day out.
Wood Shingle Roof Replacement
Wood shingles are machine-cut from cedar, spruce, or pine. While a wood shingle roof will give your home a unique and rustic look, it's going to require more of an investment than asphalt shingles.
Metal Shingle Roof Replacement
Metal shingles are typically made from aluminum, steel, copper, or an alloy. Homeowners choose metal shingles when they want superior durability and a sleek look (depending on the type of home).
Slate Shingle Roof Replacement
Slate shingles are durable and elegant looking, but much like tile they require a specific type of roof for installation. They're typically seen on Colonial, European, and French chateau style homes.

What You Need to Know About Shingle Roof Replacement
A roof replacement is an important home update, so it's crucial to put the job in capable hands. Whether you need responsive storm restoration services or it's just time to replace your existing roof, you can always count on the expertise of a highly-skilled local roof replacement contractor when you work with roofclaim.com
The idea of replacing your roof can be overwhelming, especially when the damage is storm-related and therefore unexpected. With this in mind, we make every effort to simplify the process and reduce the stress for homeowners. roofclaim.com communications with your insurance adjuster to be sure that the damage is properly identified and documented.
How Shingle Roofing Works
When thinking about shingles on your roof it's better to think of them as an entire roofing system. They are laid precisely so that your shingles can work together in protecting your roof. Not only are your shingles nailed to your roof but they are also nailed to each other, making them a cohesive roofing system!
Which Type of Shingle Roofing Should You Choose?
There are three main types of roof shingles that are used residentially for homes. Each of them come with their own pros cons and even types of colors they can come in.
3-Tab Shingles: This is the most common kind of shingle found on homes. They are very affordable and come in a lot of different color options. This allows homeowners to easily match their shingles to just about any colored home.
Dimensional Shingles: These feature two layers of shingles that are bonded together to create a stronger roof and also allows for more unique designs. Because of the added strength dimensional shingles are made to last a very long time.
Luxury Shingles: Another popular shingle option is the luxury shingle. They are made to mimic the design and texture of other roofing materials like cedar shakes but for a fraction of the cost. These are also stronger than the previously mentioned shingles meaning you will be better protected against impacts.
How Long Does Shingle Roof Replacement Take?
A shingle roof replacement should only be done by an experienced roofer who knows your area and is familiar with the climate. Experienced roofers, like roofclaim.com, will have your roof fully replaced in a day. Our roofing contractors take great care when replacing your shingles because even a small misplacement can cause future damage to your roof.
Does Insurance Cover Shingle Roof Replacement?
Your insurance provider can cover your shingle replacement if you file a roof insurance claim. Your claim will be approved by your provider if there is evidence of damage that is covered by your policy. Some common forms of roof damage covered by homeowners insurance are wind and hail. In order to find out if you have wind or hail damage, you will need to have a roof inspection done on your home.
roofclaim.com is is local roofing expert and we are experienced in identifying all kinds of roof damage and helping homeowners navigate the roof insurance claims process.
How Do I Schedule Shingle Roof Replacement with roofclaim.com?
Before you can scedule a roof replacement you will need a roof inspection to make sure that you have enough damage to require a replacement.
Getting started is easy! To schedule a roof inspection fill our any of our easily accessible online forms or give us a call. One of our account representatives will handle the rest of the process.
How Shingle Roof Replacement Works With roofclaim.com
It's never fun to have a roof that needs repair. Thankfully, you have roofclaim.com to make the repair process as painless as possible.
01
current roof inspection
Prior to doing any type of roof replacement, we need to inspect your current shingles & your roof's underlying structure.
02
insurance claim
If your insurance needs to be involved in the roof replacement process, we'll manage your claim so you don't have to.
03
shingle roof replacement
We'll send our expert shingle roof installation crew to your property – you'll have a brand new shingle roof in no time.
04
$1,000,000 guarantee
Every shingle roofing job completed by roofclaim.com is backed by our industry-leading Million Dollar Guarantee
We're Getting Rave Reviews From Our Roofing Customers
We're working hard to build the best reputation in the roofing industry with a focus on quality craftsmanship, A+ customer service, & an unbeatable guarantee.
Communication was great - roofclaim.com responded to calls and emails very quickly, everything was documented with pictures, the roof was done in one day, and the details were paid attention to (caulking in the right places, old metal parts painted, flashing just right). From initial inspection to roof completion was two and a half weeks. Easiest home project yet.
Everything was quick and easy. All the paperwork - including interacting with the insurance company and local building permits - was handled by roofclaim.com. The team was very fast and they did a good job of cleaning up after themselves. I saw little if anything to dislike, frankly.
roofclaim.com helped my mother replace the roof on her home. She could not have been more pleased with the customer service that they provided. She was well informed and the process was seamless. She said that the only reason she gave them a 5 star is because Google wouldn't let her give them 10! Thank you so much for taking care of my mother. The roof is beautiful Job well done roofclaim.com
Learn More About Roof Inspections, Roof Repair, & Roof Replacement
Have more questions about roof inspections, the roof inspection process, or insurance claims? Review the helpful articles below.
Is roofclaim.com the Best Option for Shingle Roof Replacement?
It's not just about finding a capable roofing company that's experienced in shingle roof replacement. Make sure you take the whole service experience into consideration...
roofclaim.com doesn't charge for your shingle roof inspection
We communicate with your insurance company throughout the process

roofclaim.com brings honesty & transparency to roofing

We employ the best shingle roofing installers in the industry

roofclaim.com backs your roof replacement with our Million Dollar Guarantee

A+ Quality
roofclaim.com only hires the top 5% of shingle roofing installers in the U.S.
We're Currently Doing Shingle Roof Replacements in the Following Cities Across the U.S.
shingle roof replacements in...