Most homeowners know the importance of good roofing in the construction of their homes. Not only does it protect your interior from the elements such as rain, snow, hail, and debris, a good roof enhances the aesthetic appeal of your home. Additionally, a properly ventilated and structurally sound roof is energy-efficient and saves you money from lower heating and air conditioning bills. This is where tile roofing comes in.
Tile roofing is a popular option available in the market today. What's remarkable about tile roofing is that it is often chosen for its durability and strength–aside from its aesthetic appeal. This article includes a comprehensive review of tile roofing, its pros and cons, the different types, and the average cost.
If you're in the market for tile roof installation, you can schedule a free inspection and we can guide you through the entire process. Regardless of your roofing concerns, we have you covered.

What is Tile Roofing?
Tile roofing has been around since as early as 10000 B.C when clay tiles were used for roofing in China. The practice later spread to the Middle East and throughout the other parts of the world.
Roof tiles are made from different materials, including fired clay or terra cotta products, ceramic, and slate. Still, technology advancements have allowed manufacturers to produce tile roofing from various materials such as metal, tinted concrete, bitumen, and polymer sand.
A tile roofing system is a specific type of roof installation that requires a specific skill set and significant experience. Tile roofs are installed by starting at the bottom part of the roof, securing a row of tiles to the roof deck, and overlapping the next row of tiles over the first until the roof is fully covered.
How Long Does a Tile Roof Last?
Perhaps the most significant upside of tile roofing is its lifespan. It exceeds all other roof materials when it comes to its durability and longevity. Some buildings in Europe have tile roofs that lasted for centuries. To be more conservative in our approach, a well-cared-for and well-maintained modern tile roofing can last an average of 50 years.
Regardless of the type of tile roofing used, whether it's cement, terra cotta, concrete, slate, or fiber-reinforced tiles, this type of roofing material can withstand the test of time. The key is to keep it well-maintained and ensure it is properly installed.
7 Benefits of Tile Roofing
Here are ways that tile roofing can add value to your home, as well as the benefits it brings to your home:
1. Tile Roofing is Long-Lasting
When installed properly, a tile roof can last for a lifetime. You won't need to install any other type of roofing when you opt for tile roofing. It will easily outlast any other roofing materials in the market. As proof of its longevity, most tile roof manufacturers offer a 50-year warranty.
At roofclaim.com, we offer a million-dollar guarantee, where all projects done through our contractor network are guaranteed up to a million dollars. This is hands-down the most customer-focused warranty you'll find in the roofing industry.
2. Tile Roofing is Durable
Tile roofs are inherently durable, as evidenced by old buildings with tile roofing that have weathered the test of time. Clay and concrete tiles are known to withstand hail and high winds. Terra cotta tiles get stronger with age and are more durable than concrete tiles.
3. Tile Roofing is Fire-Resistant
Tile roofs are non-combustible. Clay and concrete tiles have the highest fire-retardant rating, making them the ideal roofing option in bushfire-prone areas. Most tiles in the market carry a Class A fire-resistant rating, both as a product and a tile roofing system.
4. Tile Roofing is Weather-Resistant
Tiles are designed to withstand wind speeds of up to 150 MPH. It is likewise tested to withstand hail as large as a golf ball. Advanced manufacturing processes likewise ensure that tile roofs passed and exceeded the seismic load requirements for building materials.
5. Tile Roofing is Low-Maintenance
Due to its durability and damage-resistant characteristics, tile roofing requires minimal maintenance. Tiles are not known to cause leaks, and repairs are uncommon unless the tiles are damaged due to heavy impact.
To ensure you do not have roof damage, contact roofclaim.com today for a free inspection. Our certified roofing inspections complete a thorough roofing inspection with photos, recommended next steps, and provide guidance to help you achieve the best results.
6. Tile Roofing is Environment-Friendly
Most tiles are made from earth minerals, like clay and concrete, making them recyclable and environment-friendly. They do not deplete any limited natural resources, come from sustainable resources, and no chemical preservatives are used in their production.
7. Tile Roofing is Energy-Efficient
The gap under the tiles creates natural air ventilation that prevents heat transfer, which reduces the need for cooling devices and ultimately saves energy. Tile roofing gives you the benefit of a cool house in the sweltering summer and a warm home in the winter.

Potential Downsides to Tile Roofing
While the advantages of tile roofing are many, just like any other roofing material, it may have some drawbacks depending on your needs. Here are some of the potential disadvantages of tile roofing you should be aware of:
1. Price
A tile roofing system can be heavy on the pocket– it typically costs twice as much as asphalt shingles.
A concrete tile roof costs an average of $400 - $450 per 100 SF, and clay tile can go between $675 - $1400 per square. Slate tile is the most expensive, averaging around $1000 - $4000 per square.
Keep in mind that prices can vary depending on the market, demand, and supply. Of course, these costs are offset by the durability and longevity of the finished product.
2. Heavy Material
Tiles are heavy, so you must have proper structural reinforcement that safely supports the tile roofing system. Clay tiles can weigh as much as 12 pounds each. We highly recommend scheduling a free inspection so we can come out and ensure that your home can support a new tile roof.
At roofclaim.com, we are experts in the industry and offer tile roofing solutions by licensed, bonded, and insured roofing contractors. Learn more about the simple process you can expect when you choose us as your roofing professionals.
3. Certain Types of Tiles Can Be Described As Brittle
Despite their durability and longevity, some types of roofing tiles are capable of being damaged. If they are brittle, they can break or crack under heavy impact or even under the weight of being walked on. For this reason, we highly recommend scheduling a drone roof inspection for your tile roof instead of a traditional roof inspection.
4. Difficult to Install
Tile roofing is not your ordinary DIY project. Be sure to use a professional roofing contractor with plenty of experience in installing a tile roof (hey, that's us!).
When installed properly, tiles are carefully measured, laid out in a specific pattern, and thoroughly checked for quality assurance.
At roofclaim.com, we hire only the best roofing installers in the industry. Our contractors are in the top five percent of roofing installers in the U.S–and we have over 10,000 satisfied customers and counting.
Most Popular Types of Tile Roofing
Roof tiles come in different types, colors, sizes, and shapes. They vary in appearance, weight, durability, and cost. We will break down the nine popular types of tile roofing to help you understand their characteristics and what sets them apart from each other.
Slate & Stone Tile Roofing
Slate or stone tiles are one of the popular tile types in the market due to their unique and exquisite appearance. Slate tiles have dramatic color variations that only nature can provide. It is considered one of the classiest roofing materials in existence. Upsides of slate include its durability, long lifespan, and is also fire-resistant.
The drawback of slate tiles is their weight. It is quite heavy and may require structural reinforcement to support its weight. It is also one of the more expensive types of tile roofs so budget may be an issue.
Best for: Buyers with more room in their budget who are looking for a custom, elegant appearance or buyers replacing an existing slate and stone tile roof with insurance coverage.
Pros
Durability
Fire-resistant
Low-maintenance
Cons
Heavy
May require structural reinforcements
More costly
Metal Tile Roofing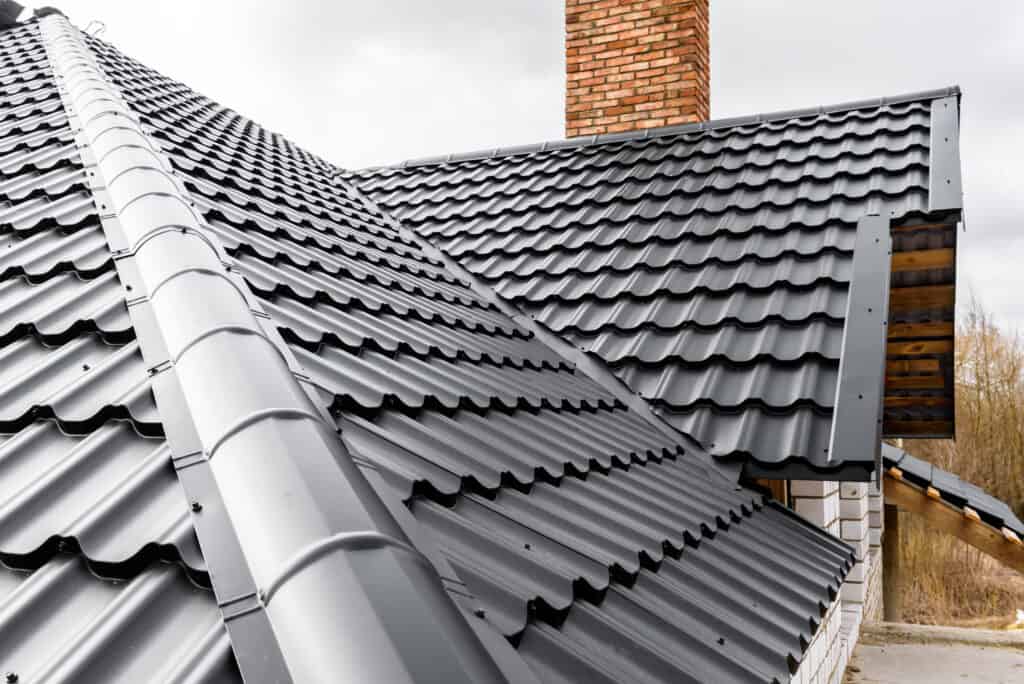 The popularity of metal roofing systems made way for metals to be used as material to produce roof tiles. The most common metals used in making tiles are copper, steel, zinc, and aluminum. Metal tiles come in all sorts of shapes and color options. It is often used to imitate other tile types such as Spanish tiles, wood shake tiles, slate tiles, even shingle patterns.
The benefit of metal tiles is that they're lightweight, so if your home structure couldn't support the weight of the heavier tile products, then metal tiles would be your best option. Some disadvantages of metal tiles are they easily dent, making them difficult to repair. It is also a conductor of exterior temperature and doesn't have any insulation capabilities. It is extremely dangerous to walk on metal tiles especially when the roof is wet.
Best for: Budget-conscious buyers
Pros
Lightweight
Range of shape and color patterns
Affordable
Cons
Lack of insulation
Susceptible to dents
Dangerous to walk on
Concrete Tile Roofing
Another popular tile option is concrete tiles. Its basic components are cement, sand, water, and dye. The materials used in concrete tiles are inexpensive and sustainable which makes them environmentally friendly, and recyclable. It is also one of the least expensive tiles available in the market, but its weight can be a disadvantage since reinforcements may be needed to support the weight of concrete tiles.
Installation of concrete tiles requires the expertise and experience of roofing contractors that are familiar with the proper procedures of installing concrete tiles.
Best for: Environmentally-conscious buyers
Pros
Environment friendly
Affordable
Made from sustainable and readily accessible materials
Cons
Composite Tile Roofing
Composite roof tiles are made from a mixture of man-made and natural materials. They are made from sustainable materials. The advantage of composite roof tiles is their ability to replicate the look of any tile roof product and can be available in different custom colors.
Composite tiles provide great mildew and mold protection since they are non-porous. The gravel layer, however, causes dirt build-up and requires occasional cleaning.
Best for: Buyers looking for customizable roof colors and designs
Pros
Diverse color patterns
Sustainable materials
Ability to replicate other tile roofs
Cons
Needs regular cleaning
Easily builds up dirt
Clay Roof Tiles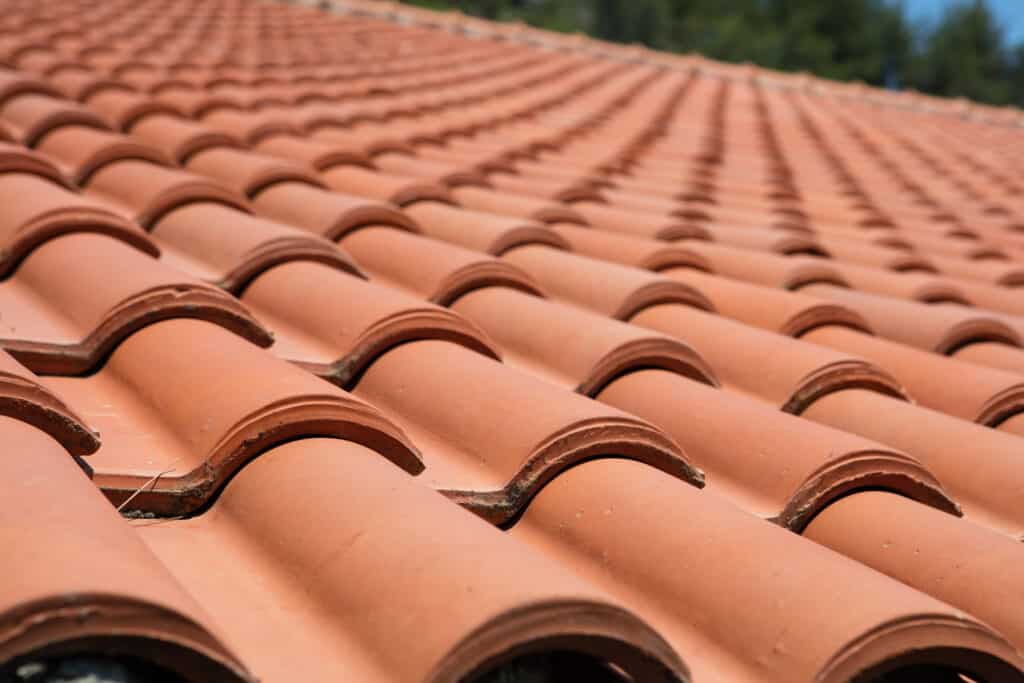 Clay roof tiles have a rich history. It has been used for centuries simply because the material is readily available. In the olden days, the tiles were shaped by hand, dried, and used on the roof. Today, most tiles are machine-made, but the finished products are equally elegant.
These terra cotta tiles are excellent in high-salt areas, unlike metal tiles which easily corrode. However, like concrete and slate, clay tiles are heavy and may require additional reinforcements. It is likewise breakable if not installed properly.
Best for: Buyers who like the traditional look of tile roofs
Pros
Elegant design
Traditional tile roof
Long-lasting
Cons
Heavy
Breakable
Additional reinforcement needed
Bituminous Tile Roofing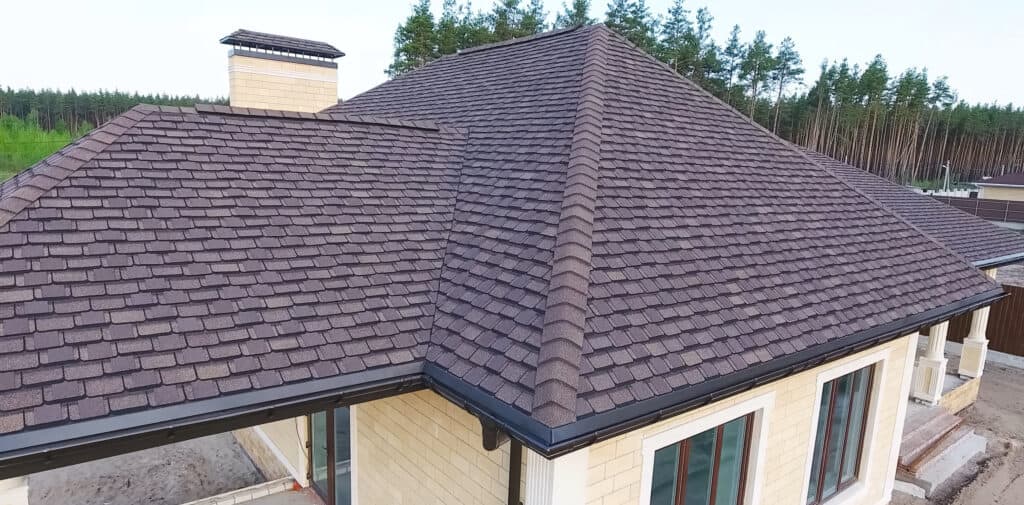 Made from either cellulose fiber or fiberglass imprinted with bitumen, this roof tile is flexible and lightweight. They are often covered with basalt or granite chips on top and can provide variation and texture to your roof. They can be easily installed using adhesives, no fasteners or screws are needed, which make them less likely to leak.
One of the drawbacks of using bituminous tiles is if your roof gathers puddles of water after a rainstorm, or your roof is likely to hold water, it will prematurely damage the bituminous tiles.
Best for: buyers who want lightweight tile roofs
Pros
Easy installation
Leak-proof
Lightweight
Cons
Expensive
Can be damaged by frequent exposure to water
Polymer-Sand Tile Roofing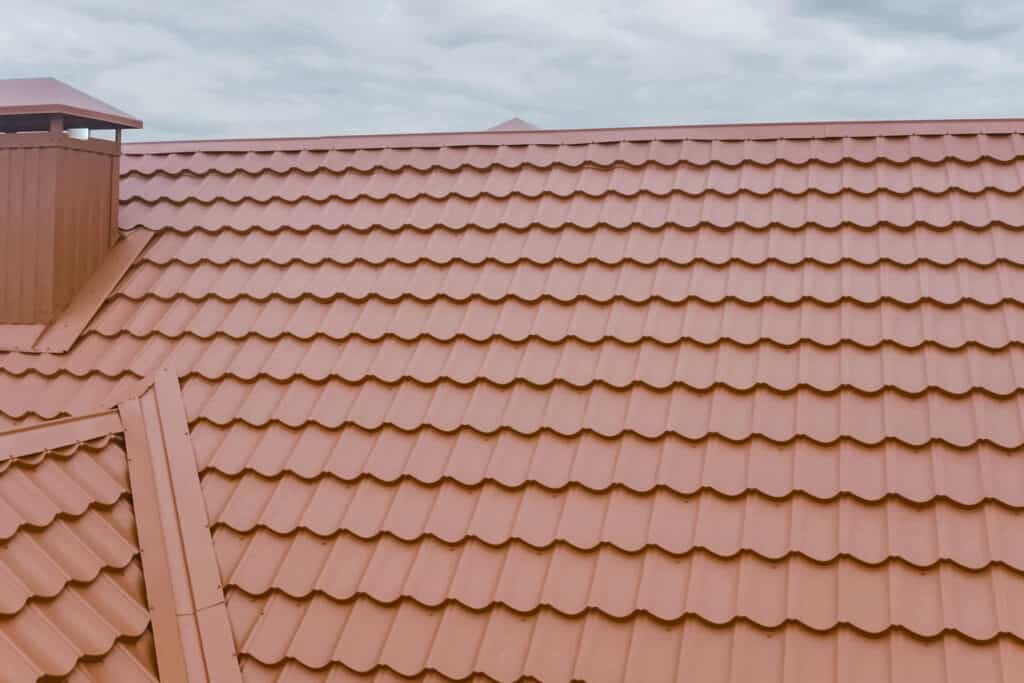 This type of tile is produced by a mixture of sand bound together by polymers. They are molded into stiff, durable tiles that offer the feel and the look of ceramic tiles. The advantage of polymer-sand tile compared to ceramic tile is that it is less likely to break, lightweight, and is easy to install.
Best for: Buyers who like the look of ceramic tiles but want more durability
Pros
Durable
Easy to install
Lightweight
Cons
Few color options
Expensive
Copper Tile Roofing
Copper tiles are one of the most durable and long-lasting tiles you'll ever encounter. Its lifespan is said to be over a hundred years before any replacements are necessary. What sets it apart from other roof tiles is its beauty. When newly installed, copper tiles shine brilliantly and as the tiles age, they will darken and reveal the stunning turquoise green color of aged copper.
One of the disadvantages of copper tiles is their cost. It is one of the pricier tiles in the market today. Additionally, the installation can be tricky especially for those who haven't worked with copper tiles before.
Best for: Buyers who put a premium on beauty over cost
Pros
Long-lasting
Exquisite colors as they age
Cons
Expensive
Can be more difficult to install
Solar Roof Tiles
One of the newest concepts in the market, solar roof tiles replace your standard roof tiles with electricity-producing tiles that are connected to a battery assembly inside your house. It gets power from the sun. If your solar roof tiles are sufficient enough to carry your home's electricity requirement, they can provide a lot of savings on your electric bill.
Naturally, solar roof tiles come at a premium cost, and it requires a special group of professionals to install them properly. It likewise needs regular maintenance to keep it in top working condition. If your goal is to go green, this is the best option for you.
Best for: Buyers looking to save money long-term with environment-friendly tiles
Pros
Energy efficient
Environment friendly
Alternative energy
Cons
Expensive
Regular maintenance needed
Special installation
Tile Roofing Color Options
Keep in mind that the color of your tile roofing should complement the color or the architectural design of your house. Otherwise, the aesthetic value of your home may depreciate. When choosing the right roof tile colors, remember which roof tiles have a wide variety of color options. Clay tile colors are limited, but synthetic and concrete tiles offer various colors to choose from.
Average Cost of Tile Roofing in the U.S.
Since tile roofing is one of the most durable and aesthetically-pleasing looks in the market, it typically comes with a higher price tag. It is no secret that tile roofs are more expensive than asphalt shingles and metal roofs–but they offer a beautiful look, are durable, and often save money in the long run.
The table below shows the average cost of tile roofing in the U.S. in 2022. Prices will vary depending on market, supply, and demand.
If you're interested in seeing roof replacement costs, see: Tile Roof Replacement Costs in the U.S.
Aside from the material cost of tile roofs, other factors can affect the pricing of tile roofing. Additional pricing factors include:
Roof pitch: The steeper the roof, the higher the installation cost. This is because a higher roof pitch may require particular types of equipment.
Structural considerations: Tile roofing is heavy and may require additional structural support and reinforcement.
Installation: Roofing contractors charge installation and labor fees. roofclaim.com offers financing options to fit a wide range of budgets.
Freight charges: The location of your home and its proximity to the material's location may affect the shipping and handling costs.
Asphalt vs Tile
Asphalt roofing is generally less expensive than tile roofing, and it is easier to install. It also requires less maintenance and is more resistant to damage from harsh weather conditions. However, asphalt shingles have a shorter lifespan than tile roofing and may need to be replaced more frequently.
Tile roofing, on the other hand, is more durable and has a longer lifespan than asphalt roofing. It is also more aesthetically pleasing, with a variety of styles and colors available to choose from. However, tile roofing is typically more expensive than asphalt roofing, and it can be more difficult to install. It also requires more maintenance and may be more susceptible to damage from extreme weather conditions.
The Bottom Line: Tile Roofing
In making your decision on a tile roof, keep in mind the key factors you need to consider. The style of your home should dictate what type of roofing tiles to use–your roof should match your home's aesthetics and structure. Next, the roof type you choose should be guided by its durability. It might be a bit expensive, but it will save you the cost of maintenance.
If you are interested in purchasing a new tile roof or if you're having trouble deciding on which type of tile roof to choose for your home contact us today to get a free inspection and explore your options.