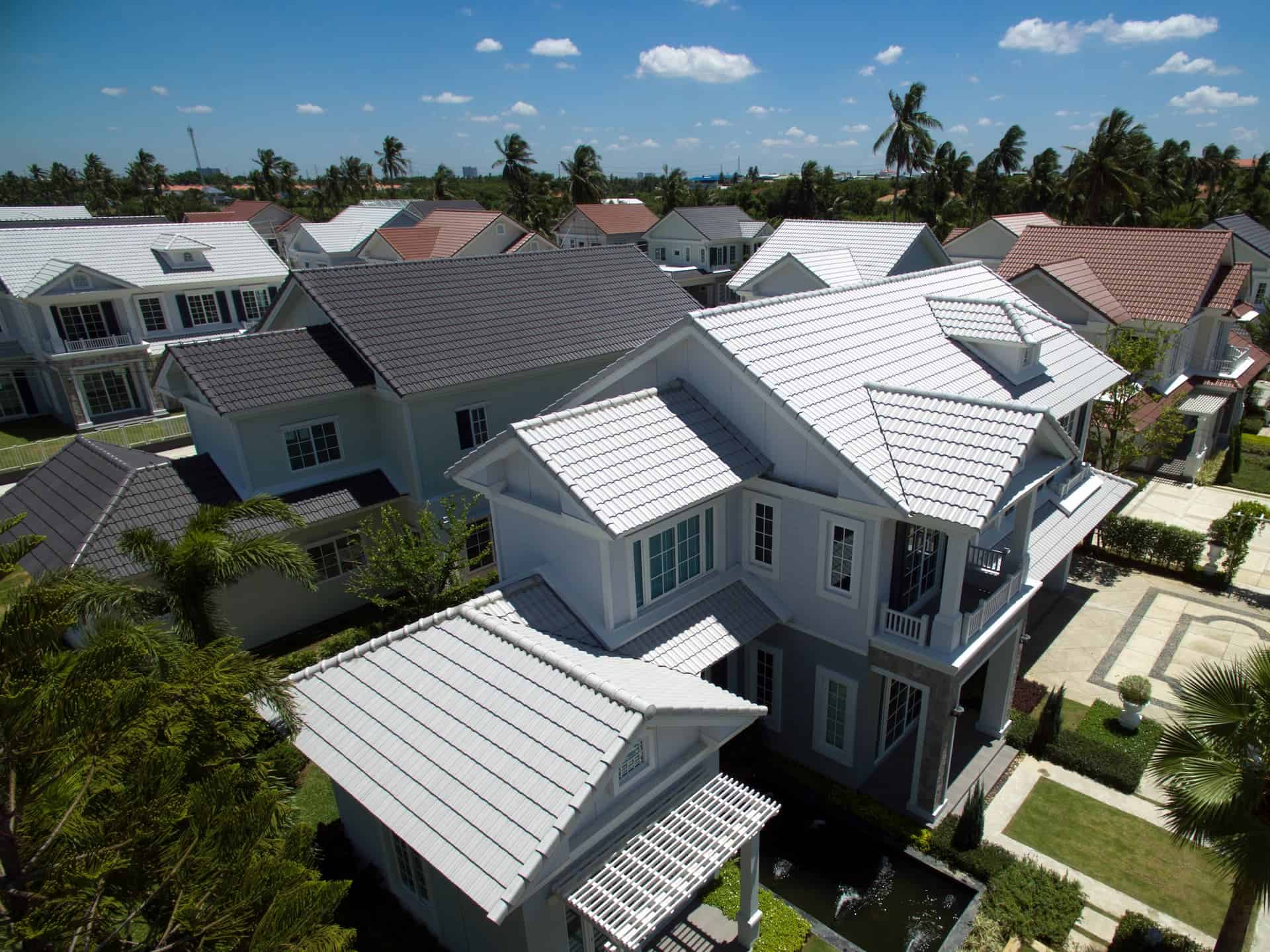 Is your roof getting older? Maybe you've experienced some damage or have leaks and are concerned about replacement costs? In this article, we'll give you clear guidance on how much a new roof costs given your circumstances and location.
The average cost of a new roof in the United States is around $8000. The typical range is from $5100 to $11,000, for a basic 2000 square roof but there are multiple factors that determine the cost for any given property.
It's important to keep in mind that the cost of a new roof doesn't always fall on the property owner. For example, RoofClaim clients almost always get their roof replacement covered by insurance. So, while it's good to know what your new roof costs in full, that's not necessarily the number you'll pay out of pocket.
If you want to see if your roof qualifies for a roof replacement covered by insurance, schedule a free inspection today.
The Average Cost of a New Roof in the U.S.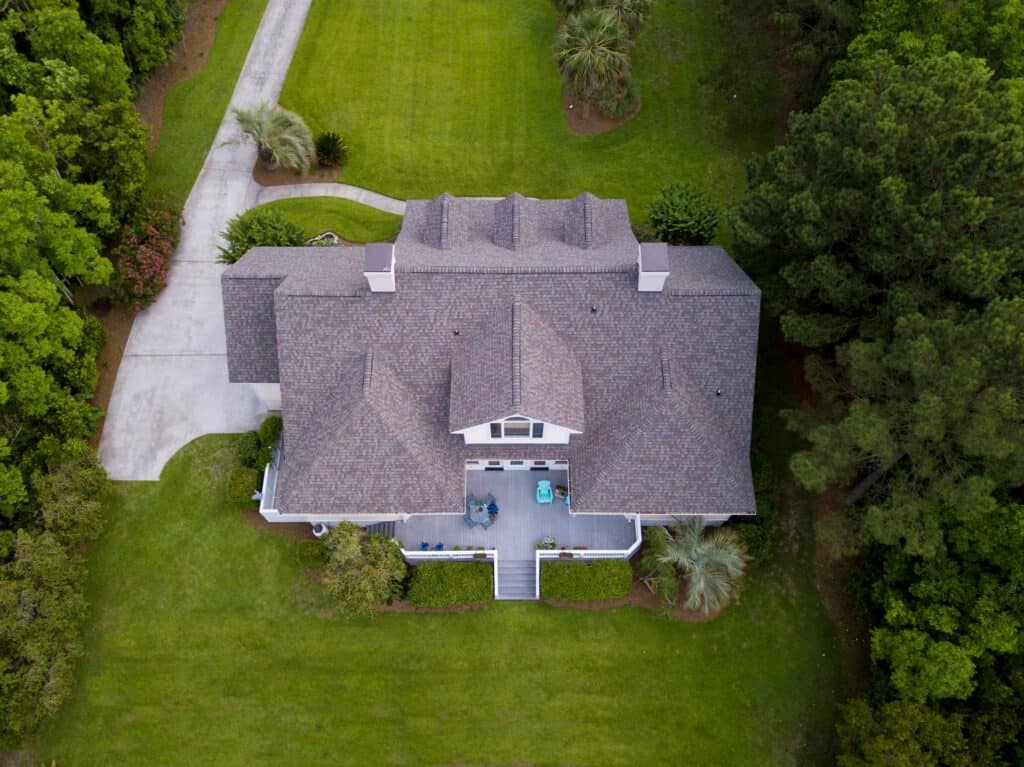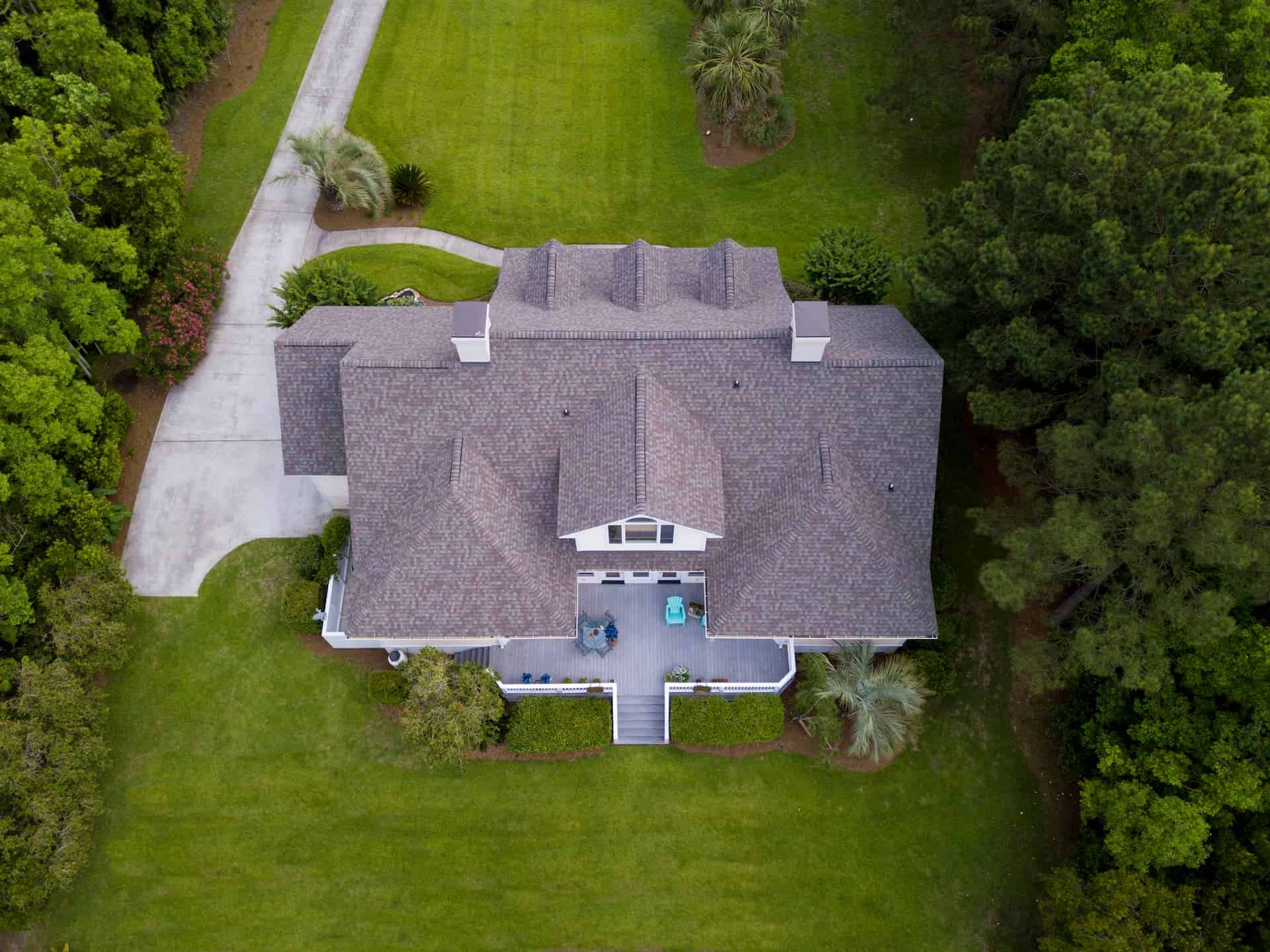 Getting a new roof is one of the biggest investments you'll make. A high-quality roof will keep your home structurally sound and can protect you for decades. It also becomes a good selling point and can get you higher offers when you sell your house.
So how much does a new roof in the US cost?
Installing or replacing a new roof across the country will cost you an average of $8,000. But most homeowners spend between the range of $5,100 to $11,000. They can even pay as low as $1,200 and as high as $30,000.
For tile roof replacements specifically, see our breakdown on tile roof replacement costs by state.
How about the price of roofs in different states?
The price of roof installations and replacements varies across states. In states like California, it may cost you an average of $15,000 to get a new roof. However, you can spend as low as $5,000 for a roof installation or replacement in Nevada and around $8,000 in Florida.
| State | Average Cost |
| --- | --- |
| Alabama | $8,000 |
| Alaska | $8,100 |
| Arizona | $15,000 |
| Arkansas | $6,900 |
| California | $11,200 |
| Colorado | $7,211 |
| Connecticut | $8,750 |
| Delaware | $7,550 |
| Florida | $7,211 |
| Georgia | $8,000 |
| Hawaii | $11,800 |
| Idaho | $7,250 |
| Illinois | $8,000 |
| Indiana | $6,250 |
| Iowa | $6,900 |
| Kansas | $6,800 |
| Kentucky | $6,350 |
| Louisiana | $6,900 |
| Maine | $5,500 |
| Maryland | $6,800 |
| Massachusetts | $7,000 |
| Michigan | $6,550 |
| Minnesota | $8,000 |
| Mississippi | $6,900 |
| Missouri | $6,450 |
| Montana | $7,150 |
| Nebraska | $6,400 |
| Nevada | $7,300 |
| New Hampshire | $8,350 |
| New Jersey | $6,000 |
| New Mexico | $7,900 |
| New York | $7,400 |
| North Carolina | $6,750 |
| North Dakota | $6,600 |
| Ohio | $8,000 |
| Oklahoma | $6,550 |
| Oregon | $8,000 |
| Pennsylvania | $6,857.00 |
| Rhode Island | $7,300 |
| South Carolina | $7,150 |
| South Dakota | $6,700 |
| Tennessee | $12,000 |
| Texas | $8,000 |
| Utah | $10,000 |
| Vermont | $6,994.00 |
| Virginia | $6,100 |
| Washington | $6,900 |
| West Virginia | $6,600 |
| Wisconsin | $8,000 |
| Wyoming | $7,150 |
Regardless of the state you're in, your roof's quote would still depend on two main things - your home's square footage and the roofing material you want. Other factors can also affect your overall roof replacement estimate.
What goes into the cost of getting a new roof?
As with most construction work, the two big things you're paying for are the cost of materials plus labor. Typically, the roofing materials will comprise 40% of your roof's overall estimate, while the other 60% goes to how much work and time is put into your roof.
Doing a high-quality roof replacement isn't easy and requires an experienced team. There's also a lot of logistics work. For example, when you choose RoofClaim for your roof replacement, you're getting all the extra support we provide, a free inspection, and any necessary communication with your insurance company.
Roofing Cost Per Square Foot
One of the main things that increases costs of both labor and materials is the square footage of the roof. The bigger your home is, the more you'll need to pay to get a new roof.
A 1,000 square foot roof will generally cost around $4,000 to $5,500 (but remember, this can vary widely depending on location and cost of materials).
If your roof is 2,000 square feet, the average cost is between $8,700 and $12,000. A 3,000 square foot home has an estimated cost ranging from $11,200 to $16,000.
Again, keep in mind that this isn't what most homeowners are paying, it's just the average cost. Even if the cost to replace your roof is $15,000, you could end up paying as little as $500.
Pro Tip: Some roofing contractors use the term "square" instead of square foot. This sometimes causes confusion because one "square" is equivalent to 100 square feet. So $500 per square corresponds to $5 per square.
Roofing Cost by Type
The other major thing affecting the cost of your new roof is the roofing material you choose. When picking out a roofing system, you can choose from asphalt shingles, wood shakes, metal roofs, and tile roofing.
Asphalt shingles are the most common roofing materials with an average cost around $2,500 per 2,000 square feet. This is followed by concrete tiles, metal roofs, and clay tiles. The most expensive roofing material is slate shingles, amounting to an average of $20,000 for the same size roof.
If you're replacing your roof via an insurance claim, you'll need to choose the same material you had previously if you want the full cost covered. However, you can always opt to pay more out of pocket for an upgrade in materials.
Other Factors That May Affect Roof Cost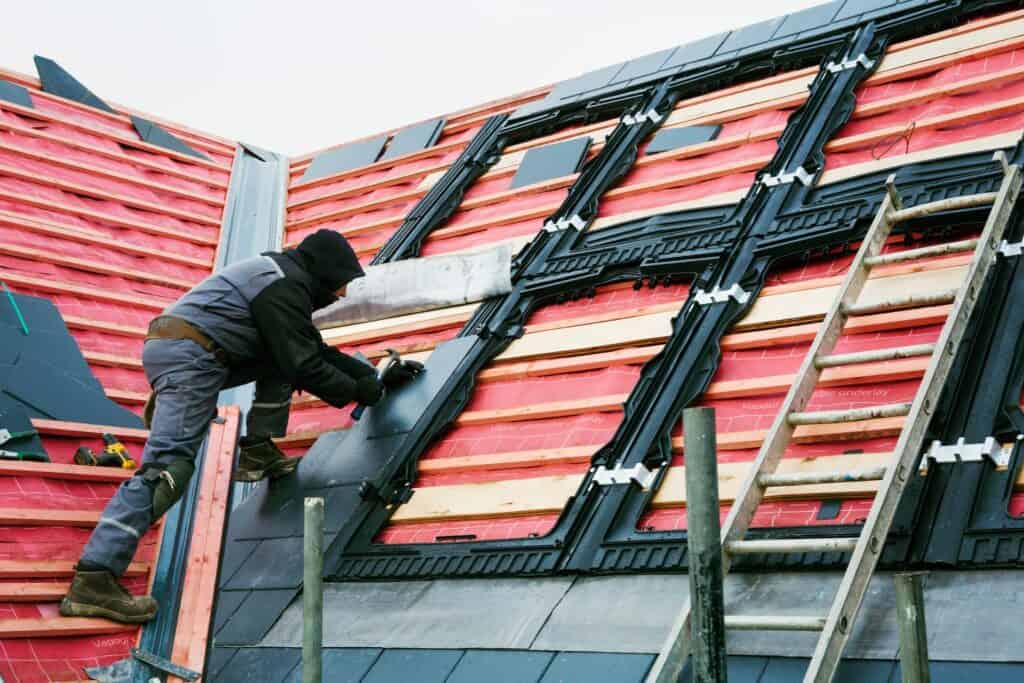 Apart from the roofing material you've chosen, there are other factors you'll need to consider when calculating your total roof replacement estimate.
Number of Stories and Roof Accessibility
Generally, you'll be paying less if your house is more unrestricted and has an uncomplicated design. Since one-story homes are easily accessible, they'll cost less than two-story homes. They're also typically less complex because they'll have fewer valleys.
To give you an example of cost differences, it'll cost an average of $4 per square foot for a one-story house if you're using asphalt shingles, but it'll cost $5 to $7.50 per square foot for a two-story house.
Roof Size and Pitch
The size and pitch of your roof are other factors affecting your roof's overall estimate. Many homes require different slopes depending on the weather and climate of their area. However, each type has its pros and cons and unique costs.
While it seems like lower sloped roofs would be cheaper, it's not always the case. Low slope roofs can cost $4.50 to $7 per square foot. But conventional sloped roofs could be as low as $3.50 per square foot to $9 per square foot. One thing that impacts that low end cost difference is the wider range of materials you have to choose from for a conventional sloped roof.
Steep slopes, on the other hand, cost the most. These roofs are most common in areas that experience snow. Steep slope roofs cost from $5 to $12 per square foot. That's mainly because steep-sloped roofs require additional labor, equipment, experience, and time to finish.
Roof Shape
Typically, most homeowners have gable, hipped, and Dutch gable roofs. But more modern homes across the country are now using butterfly roofs.
On average, butterfly roofs cost $3.50 to $9 per square foot to finish.
Meanwhile, older homes would need Mansard roofs that cost $8.50 to $25 per square foot.
The most affordable among these roof types are flat roofs priced at $4.50 to $7 per square foot.
Other Material & Labor Costs
Apart from your roof's shingle type, there are other materials involved in a roof replacement like fasteners, nails, flashing, and roof underlayment.
There are also material delivery costs, cleanup costs, and debris removal. Our goal when you choose RoofClaim for a roof replacement is to leave your property better than we found it. Roofing can be a messy job so a lot of care is taken to protect your property and make sure every single piece of debris is cleaned up, down to the last little nail or fastener.
What is the Cheapest Way to Replace a Roof?
Going for the cheapest roofing system and the cheapest roofing contractor isn't something we'd recommend. Poor-quality materials and inexperienced contractors can reduce your roof's lifespan, result in constant roofing problems, and call for a full replacement sooner than expected.
The benefits of investing in highly qualified roofing contractors will go a long way. When you choose RoofClaim, you can be confident that we're using the proper equipment, materials, and tools to maximize your roof's life expectancy and durability. We're also fully licensed and insured so there's never any unexpected financial risk to you.
With that said, we know that sometimes finances are tight. Here are your options if you need a new roof and can't afford it.
Is A New Roof Tax Deductible?
Generally, the cost of a new roof is not tax-deductible as a home improvement expense. The Internal Revenue Service (IRS) considers a new roof to be a capital expense, which means it is not deductible as a regular home maintenance or repair expense.
However, there are some situations in which a new roof may be tax-deductible. For example, if you install a new roof as part of a home improvement project that qualifies for a home energy tax credit, you may be able to deduct a portion of the cost on your tax return. Additionally, if you own a rental property and install a new roof as a necessary repair, you may be able to deduct the cost as a rental property expense.
It's always a good idea to consult with a tax professional or accountant to determine whether your specific situation qualifies for a deduction. They can help you understand the tax laws and regulations related to home improvements and provide advice on how to minimize your tax liability.
Get Started With a Free Inspection
RoofClaim is a nationwide roofing company with a stellar reputation and decades of experience. We're specialists at getting roof replacements covered by insurance, so if you're needing a new roof it's best to start with a free inspection from a RoofClaim expert. We can typically replace a roof in just a single day, so it's very low hassle.