The Ultimate Guide to Tile Roofing (Pros & Cons)
Tile roofs are famous for their aesthetic appeal, durability and strength. This roofing style is available in various types to complement your home's aesthetic and protect your property against the elements. This guide features tile roof advantages and disadvantages to help you discover if a tile roof replacement is right for you.
What Tile Roof Types Are Available?
Consider the characteristics of the following common types of tile roofing:
Clay tile roof:?Tiles molded from clay are relatively cheap and easy to maintain. When you take care of them properly, they tend to last nearly a century. You may choose from a variety of styles to enhance your property's design aesthetic.
Concrete tile roof:?Roofing made from concrete tends to be more affordable than clay roofing, and it can last almost as long with the proper maintenance. Since the tiles aren't as heavy, installation is easy and safe for your home's structure. Since concrete contains various materials, manufacturers can dye or mold the tiles to mimic wood, slate or clay.
Slate roofing tiles:?As a natural stone, slate is eco-friendly, aesthetically pleasing and durable. This material is entirely resistant to harsh weather conditions, and it has the potential to last more than 150 years.
Solar roofing tiles:?These modern roofing tiles convert sunlight to electrical power stored in a battery system inside your home. Whether you replace your whole roof with these tiles, you can potentially save money on your electricity bill each month. There are a few different styles available, but their performance is more important than their aesthetic appeal.
Metal roof tiles:?Lightweight metal roof tiles don't need additional support structures like other roofing tile options. Even though most metal roof tiles are steel, you can also find aluminum or copper tiles, along with various color options that complement your home's exterior design.
Composite roof tiles:?This material contains a combination of natural and human-made components to give your tiles the appearance of concrete, stone, metal, wood or clay roofing. Composite roof tiles provide custom color options to complement your style preferences, and they're easy to install because of their light weight.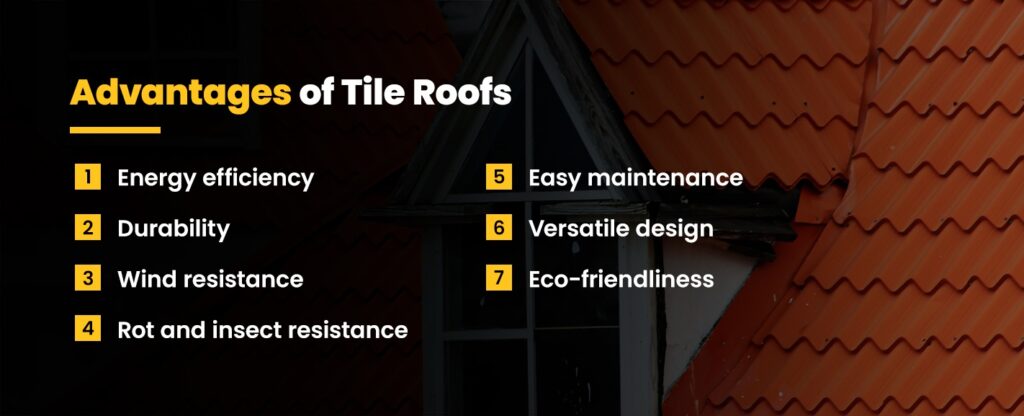 What Are the Advantages of Tile Roofs?
Here are some of the ways that tile roofs can add value to your home:
Energy efficiency:?Since tiles usually don't absorb much heat from the sun, they can help maintain a pleasant indoor temperature in the summer. As a result, you can put less wear and tear on your HVAC system and save money on your utility expenses.
Durability:?Most roof tile materials can last up to a century or more when you install and maintain them properly.
Wind resistance:?Most roof tiles can withstand heavy winds instead of ripping off your property like other roofing materials.
Rot and insect resistance:?Unlike wood shingles, tile roofs aren't vulnerable to moisture damage, rot or insects.
Easy maintenance:?Since tile roofs contain durable materials and rarely leak, you won't need to repair or replace them that often.
Versatile design:?The various roof tiles offer a wide selection of color and style options to enhance your property's visual appeal.
Eco-friendliness:?Instead of containing chemicals or products made in a factory, the recyclable materials within tile roofs are from the earth.
What Are the Disadvantages of Tile Roofs?
On the other hand, you may also want to consider the drawbacks of installing tile roofs:
High cost:?Even though you can probably find a tile roof material within your budget, roof tiles are often much more expensive than purchasing and installing asphalt shingles.
Complicated installation:?To prolong your roof's lifespan, you need to hire a professional roofing contractor who has experience installing roof tiles. The installation process usually involves precise measurements and laying out the pieces in a specific pattern to prevent leaks and other damage.
Heavy weight:?Due to their heaviness, roof tiles often need an additional roofing structure underneath them to maintain the integrity of the home's framing. You may want to consult your roofing contractor about whether your home can support the weight of this tile.
Fragility:?Even though they're very durable, certain tile roof types can break if a tree falls on them or someone walks on them improperly.
What Is the Life Expectancy of a Tile Roof?
A tile roof can last a century or more, depending on the following factors:
Material:?The durability and longevity of your tile roof depend on the material you install. Ceramic roof tiles, for example, can last about 50 years, but slate roofing can have an even longer lifespan.
Maintenance:?To take care of your roof tiles and increase their lifespan, it helps to remove leaves and debris from the top of your house. You may also want to clean your gutters at least once a year and trim the vegetation around your property. If you notice any cracks on your roof, you can seal them with mortar or cement.
Weather:?Harsh storms can damage your roof and cut its lifespan short, especially if your roof doesn't have adequate ventilation. You may want to have your roof inspected for damage after a storm and call a roofing specialist if you see any significant cracks or gaps.
Damage to your tiles:?Fallen debris or walking on the top of your house can crack your roofing material and reduce its lifespan.
How Often Do Tile Roofs Need to Be Replaced?
In most cases, you can keep your new tile roof for the rest of your life, especially if you follow these tips:
Add roof insulation:?The materials you use on the top of your house can keep your interior living space comfortable throughout the year. Insulating your roof can help retain the temperature and enhance your roof's durability by preventing heat loss.
Choose a reliable roofing specialist:?To make sure your roof lasts a long time, hire a roofing professional who has experience working with tiles. If they don't install it correctly, the roofing components could get worn out and need a replacement soon.
Use high-quality materials:?Since tiles often contain a mix of various materials, you might want to consult with a roofing specialist about what's in your roof components. If the manufacturer uses high-quality products, the roof tiles will likely last much longer.
Install durable underlayment:?When you have your roof tiles installed, the contractor should use high-quality materials underneath them. This protection keeps moisture and snow from leaking into your roof and prevents the tiles from ripping off due to heavy winds.
Have it inspected often:?A professional in the roofing industry should examine your roof about twice a year for damage. You may also want to check your roof after a storm.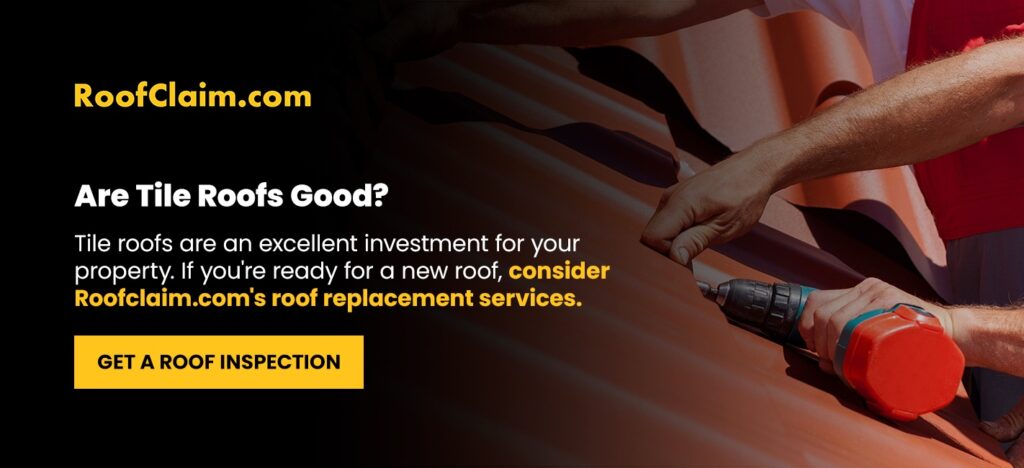 Are Tile Roofs Good?
Tile roofs are an excellent investment for your property. If you're ready for a new roof, consider RoofClaim.com's?roof replacement services. We have an extensive network of contractors who have the experience necessary to ensure your roof installation is a success. You may contact us online or call 855-560-3765 to schedule a roof inspection.
you may also like these articles
Want to Discuss Your Roof?
We handle everything from start to finish

We handle insurance claims so you don't have to

We only hire the top 5% of roofing installers in the industry

We back every project with our Million Dollar Guarantee

Schedule a Free Roof Inspection
Ready to discuss your commercial roofing project? Please fill out the form below and we'll contact you within 24 hours.