Drone Roof Inspections

You got a minute? Of course not! There's no need to adjust your busy schedule. Simply schedule one of our FREE state-of-the-art drone inspections. It's quick, thorough, and no one needs to hop on your roof!
order a drone roof inspection
Get a Professional Drone Roof Inspection from roofclaim.com
A drone roof inspection provides all the necessary insight and photo documentation to move forward with a roof insurance claim.
Contactless
A drone roof inspection provides you peace of mind, without needing a person to come into your home or climb your roof for the inspection.
Full Inspection Report
After your inspection, one of our drone specialists will schedule a virtual meeting to go over your report with photos and our recommendations for the next steps.
Guidance

Our goal is to be your trusted roofing advisor; with a dedicated team to guide you so that you can make your full roof replacement decisions with confidence.
RoofClaim Handles Your Entire Roofing Project From Start to Finish
We handle your roof replacement from start to finish and back every job with our Million Dollar Guarantee.
01
order drone inspection
We'll schedule your professional drone roof inspection as quickly as possible.
02
WE INSPECT YOUR ROOF
A licensed Drone Pilot will complete the drone inspection process.
03
drone inspection report
We'll review the drone inspection report with you to reveal our findings.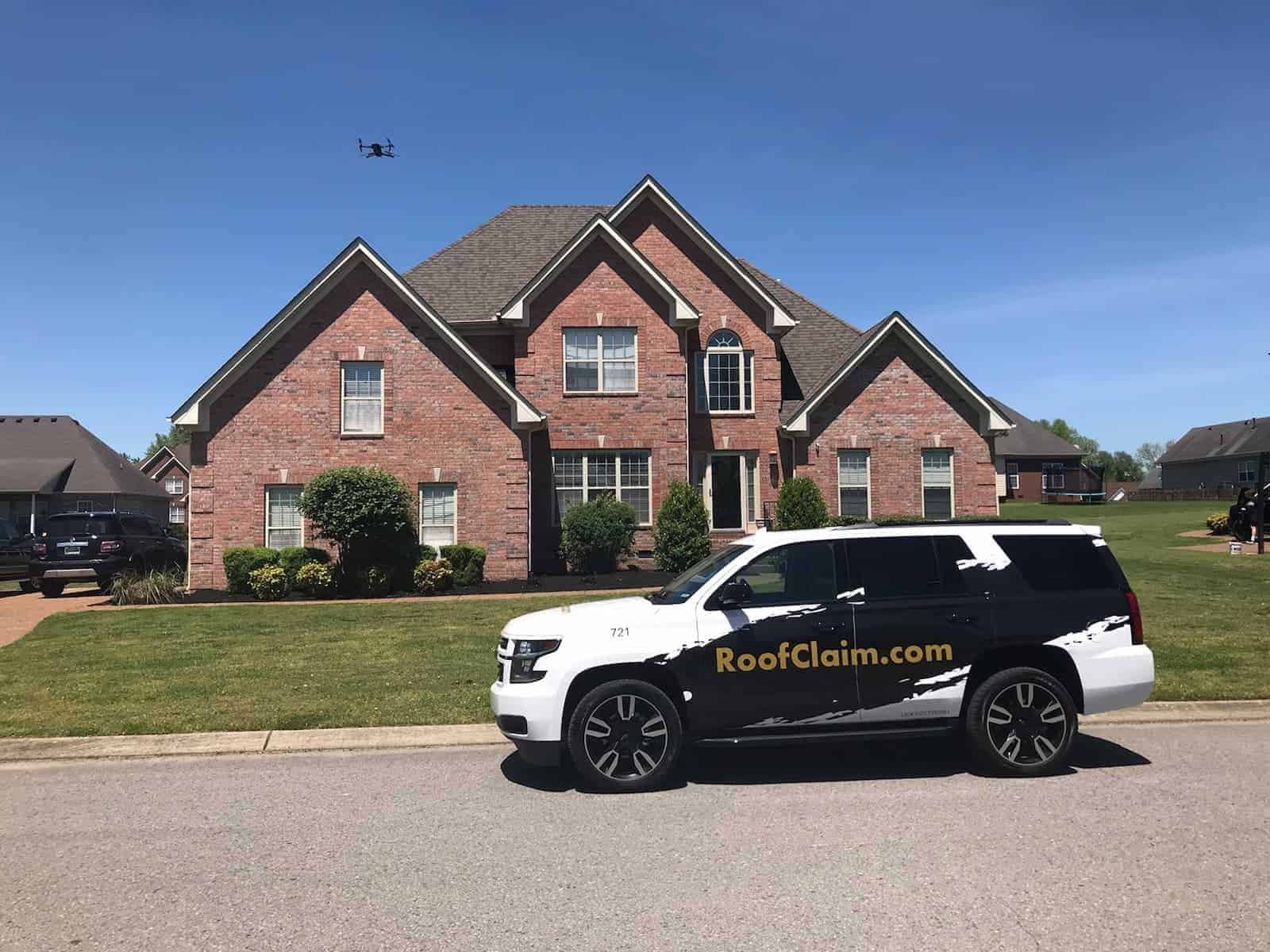 Why Choose RoofClaim for Your Drone Roof Inspection?
We're setting the standard when it comes to drone roof inspections and roof replacement.
Fast drone roof inspections from licensed professionals

We have years of experience working with insurance agencies

We bring honesty & transparency to roofing

We only employ the best roofing specialists in the industry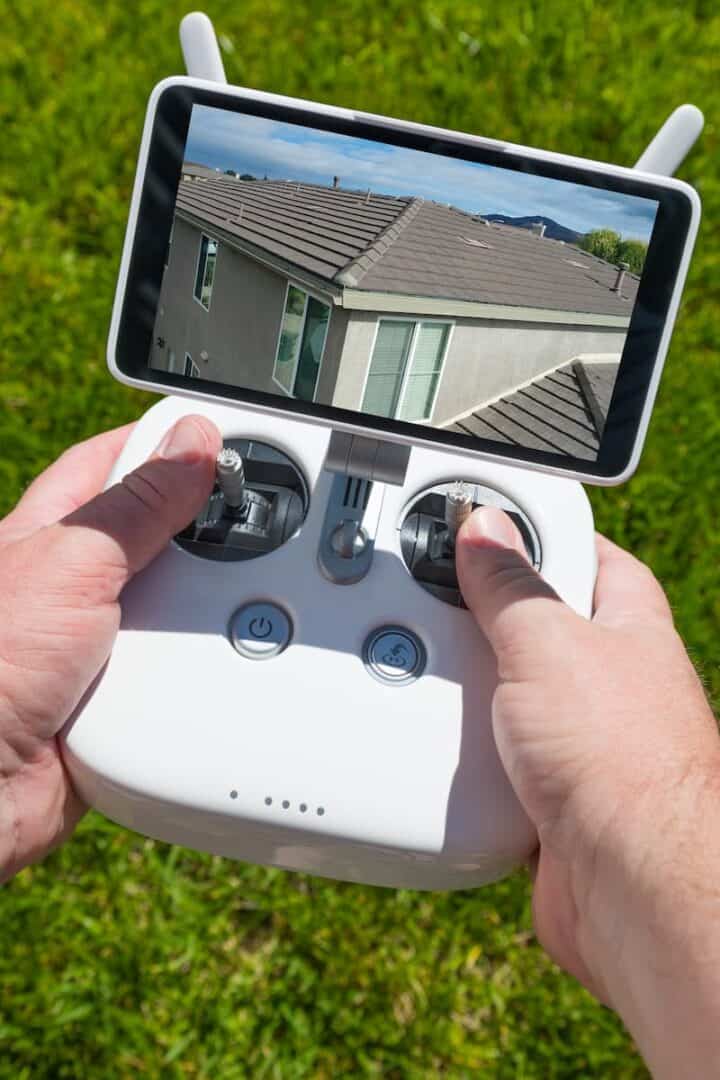 A+ Quality
RoofClaim.com only hires the top 5% of roofing installers in the U.S.
How a Drone Roof Inspection Works
A drone roof inspection is a great way to see if there are any issues in the roof that you may not be able to see from ground level. What can a drone tell me about my roof? You might be surprised what drones have found on roofs!
Most people don't realize how much information a drone can provide when inspecting your roof. A high-quality drone will show details such as missing shingles, damaged tiles or vents, and even potential water leaks. They are even able to maneuver into smaller areas and capture photos, videos of measurements in the process that one could not do otherwise.
Using a drone is safer than a traditional roof inspection because contractors will never have to be on top of an unstable rooftop while taking pictures or measurements. It brings extra transparency to your roofing project because it keeps dishonest roofing contractors off your roof during the inspection process. You also won't have to worry that inspectors will accidentally damage important aspects of your roof like shingles or tiles during a traditional roof inspection.
How Does a Drone Roof Inspection Work?
Drone technology is quickly becoming the norm for inspecting roofs. Not only can drones fly to areas that are difficult or dangerous to reach, they also provide an aerial view of the roof and surrounding area.
After placing an order, one of our expert drone technicians will come out to your home to conduct an inspection. A drone will fly over your roof, taking pictures and measurements as it goes highlighting any potential damage that it might find. The images are then inspected by a team that looks for signs of hail damage, leaks, cracked tiles and even missing shingles.
After a quick drone inspection, you'll have a comprehensive report detailing everything you need to know about your roof, which you'll be able to keep for your records. This includes a comprehensive damage report, all of your roofs measurements and even a claims report you can send to your insurance company.
Features:
Inspect your roof without having anyone climb on top.
Get a bird's eye view of the entire roof with a drone.
Avoid expensive surprises.
Know exactly what you're getting into before signing off on any work.
Drone-Based Roof Inspections vs Traditional Roof Inspections
One of the best new roof inspection tools is a drone – a small aerial device with a high definition camera attached to it.
Drones can maneuver into small areas and can take photos, videos, and even measurements.
Using a drone is safer than a traditional roof inspection and it brings extra transparency to your roofing project because it keeps roofing contractors off of your roof during the inspection.
After a quick drone inspection, you'll have a comprehensive report detailing everything you need to know about your roof, which you'll be able to keep for your records.
If for some reason we're unable to do a drone inspection, we'll do a traditional roof inspection. You'll still get a complete report with photos and you'll still be able to use the report to file a claim with your insurance company.
How much does a Drone Roof Inspection Cost?
The cost of a drone roof inspection can vary depending on how thorough you would like your drone inspection to be. A drone inspection can give you an accurate assessment of the damage and whether or not there is coverage on it from your insurance company. This kind of information is crucial when going to your insurance company with a roof insurance claim. By providing a more detailed damage report, you're giving yourself the best possible chance of getting your insurance claim approved.
A Roof Inspection Will Tell You Whether You Need Roof Repair or Roof Replacement
A question we hear often is, "Do I need to get my roof replaced or can it be repaired?"
While we have to take a few other factors (like the age of your roof) into account, a proper roof inspection will provide a definite answer to that question.
If it's determined that you need roof replacement, roofclaim.com can manage the entire process for you, including your insurance claim.
If all you need is roof repair, we'll connect you with one of our trusted roof repair experts.
We can't do anything until the inspection is done, though, so get your drone roof inspection scheduled as soon as possible.
RoofClaim
Get a FREE professional drone roof inspection from RoofClaim.
OR CALL
1-855-560-3765
Get a Drone Roof Inspection
Every project starts with a free roof inspection. Enter your details to get started.