When you're a homeowner, the first thing to keep in mind is to stay on top of maintaining the fundamental parts of your home. However, you'd be surprised to know most homeowners neglect routine roof care and maintenance, such as using shingle roofing for extra protection. The roof protects your home from extreme weather conditions, provides good insulation, keeps the indoor temperature steady, and is a primary selling point that can increase or decrease your home's value.
Once you encounter serious issues with your roof, it's essential to address them immediately. If you want your roof to stay in place and last longer, updating your shingle roofing is an excellent way to make it more resistant to water, wind, and environmental damage.
Below is a comprehensive guide to the types, costs, and features you need to know about shingle roofing.
Thinking about adding impact-rated shingle roofing to secure your roof? Get started with a free inspection and learn about your options. 
What is Shingle Roofing?
Roofs don't just sit there on their own–they have an added layer of protection to channel pouring water off of the pitched structure in the form of roof shingles and tile strips. Shingle roofing refers to the process of covering pitched roofs with several overlapping or interlocking strips of tiles from the bottom edge to the point of the roof. These shingles are usually flat and rectangular and are made from several materials such as stone, metal, wood, and plastic.
Benefits of Shingle Roofing
Shingle roofing is one of the most common options homeowners take when addressing roof issues and considering a roof replacement. The benefits of shingle roofing are as follows:
Simple installation: The process involves cutting, fastening, and fitting the shingles together (It's still not DIY, though, so choose a reputable installer like roofclaim.com) .
Versatility: Shingles come in several forms and styles depending on the material, so it's an easy way to pull your house's whole look together through a customized color.
Durability: If it's durability you're concerned about, there are a variety of shingle types that can last for decades.
Affordable: Most popular roofing shingles like 3-tab asphalt and rubber are inexpensive, costing anywhere from $1.50 to $5.50 per square foot.
Manageable repairs: Because they're different parts layered over each other, most shingle roofing repairs won't break the bank.
Energy-efficient: Shingles come in different tones to reflect the sun's infra-red radiation, reducing the roof temperature and allowing you to use less energy to cool your home.
Impact and hazard-rated: Most shingle roofings are tested to endure severe weather and offer protection against external fire hazards.
Sound resistance - Shingle roofing insulates sound and offers superior protection from external noises like loud downpours and hail. Some types are significantly quieter than others, depending on the design.
Potential Downsides of Shingle Roofing
Vulnerable to high winds - This depends on your shingle roofing materials. Some types like plastic shingles can be ripped off, while others like slate shingles can hold their ground.
Not weather resistant - Again, this also depends on the materials used. Some shingle roofs can be damaged from sun exposure or can rot over time.
Not easy to find qualified roofing contractors for some types - While most roofing contractors can install 3-tab asphalt shingles, only certain contractors specialize and are allowed to install metal or clay shingles. roofclaim.com can install any type of roof shingle, so choosing us as your roofing installer means you won't be limited in your options.
Not sure where to start when picking out a shingle roofing option? roofclaim.com offers free inspections, and we are with you every step of the way when deciding on the best roof replacement for your home and budget.
How Long Does a Shingle Roof Last (Average Lifespan)?
The average lifespan of shingle roofs depends on what material is used. Some are designed to last longer because they're built from more durable materials, while others require more maintenance. Below is a general list of different types of roof shingles and their average lifespan.
| | |
| --- | --- |
| Type of roof shingle | Average lifespan |
| Asphalt shingles | 15 to 20 years |
| Laminate shingles | 30 to 50 years |
| Metal shingles | 75 to 100 |
| Aluminum shingles | 75 to 100 |
| Wood shingles | 15 to 20 years |
| Shake shingles | 30 to 50 years |
| Tile shingles | 100 years |
| Solar shingles | 25 years |
| Composite shingles | 7 to 20 years |
| Rubber shingles | 15 to 20 years |
Most Popular Types of Shingle Roofing
Each type of roof shingle is characterized by its materials, durability, style, and benefits. The 10 most popular types of shingle roofing include:
1. 3-Tab Asphalt Shingle Roofing (Strip Shingles)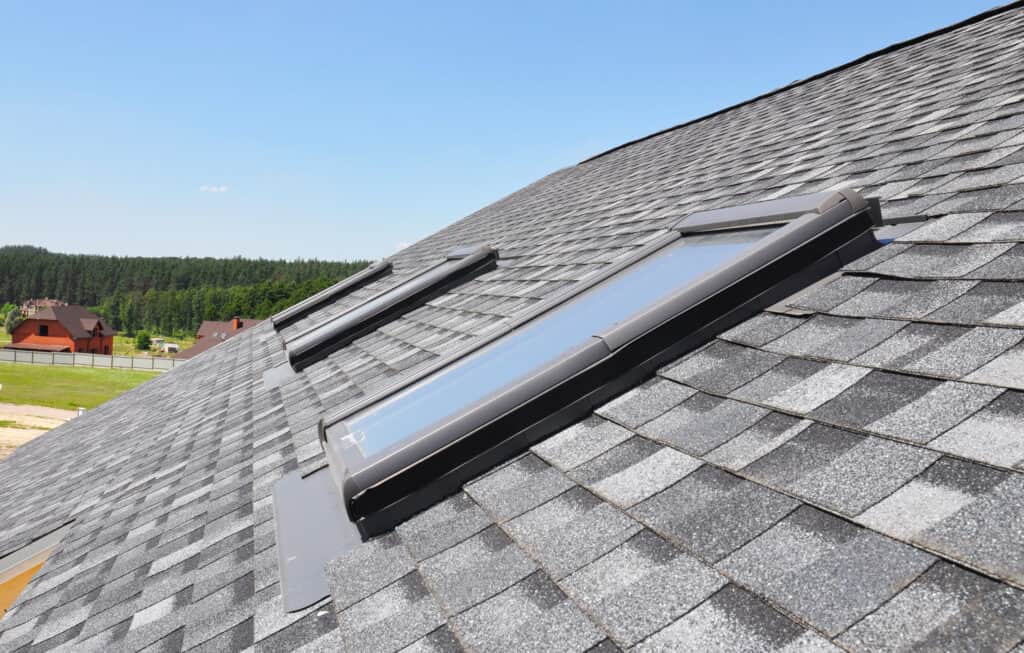 Strip shingles are typically the most affordable type of shingle roofing. They're often used for new roof installations or replacements. They're relatively easy to install, have multiple color options, and last for 15 to 20 years. However, they're inexpensive because they wear out more quickly than other shingle roof types because of their thin and organic-mat paper base.
2. Architectural & Laminate Shingle Roofing (Dimensional)
Architectural shingle roofing looks a bit more elegant in design because there's an extra laminate layer to make it look sculpted. Because they come in luxurious-looking styles, they're more expensive compared to strip shingles. They're also more durable and can last up to 50 years, provided they're well-maintained.
3. Metal Shingle Roofing
Metal roof shingles have one of the most extended shingle roof lifespans and can outlast most other types, lasting from 75 to 100 years. They're metal, so they can be daunting at first, but they're exceptionally lightweight and relatively easy to install. They cost about $275 to $400 per square.
4. Aluminum Shingle Roofing
Aluminum shingle roofing is a sub-type of metal shingle roofing and is the most prevalent metal roofing system. Aluminum shingles are incredibly durable because they're fire, water, wind, and impact resistant. They're also resistant to mildew and algae. The best part is that aluminum is recyclable, which means it can be reused for other things at the end of its roof lifespan instead of contributing to landfill waste. They cost about $315 per square.
5. Wood Shingle Roofing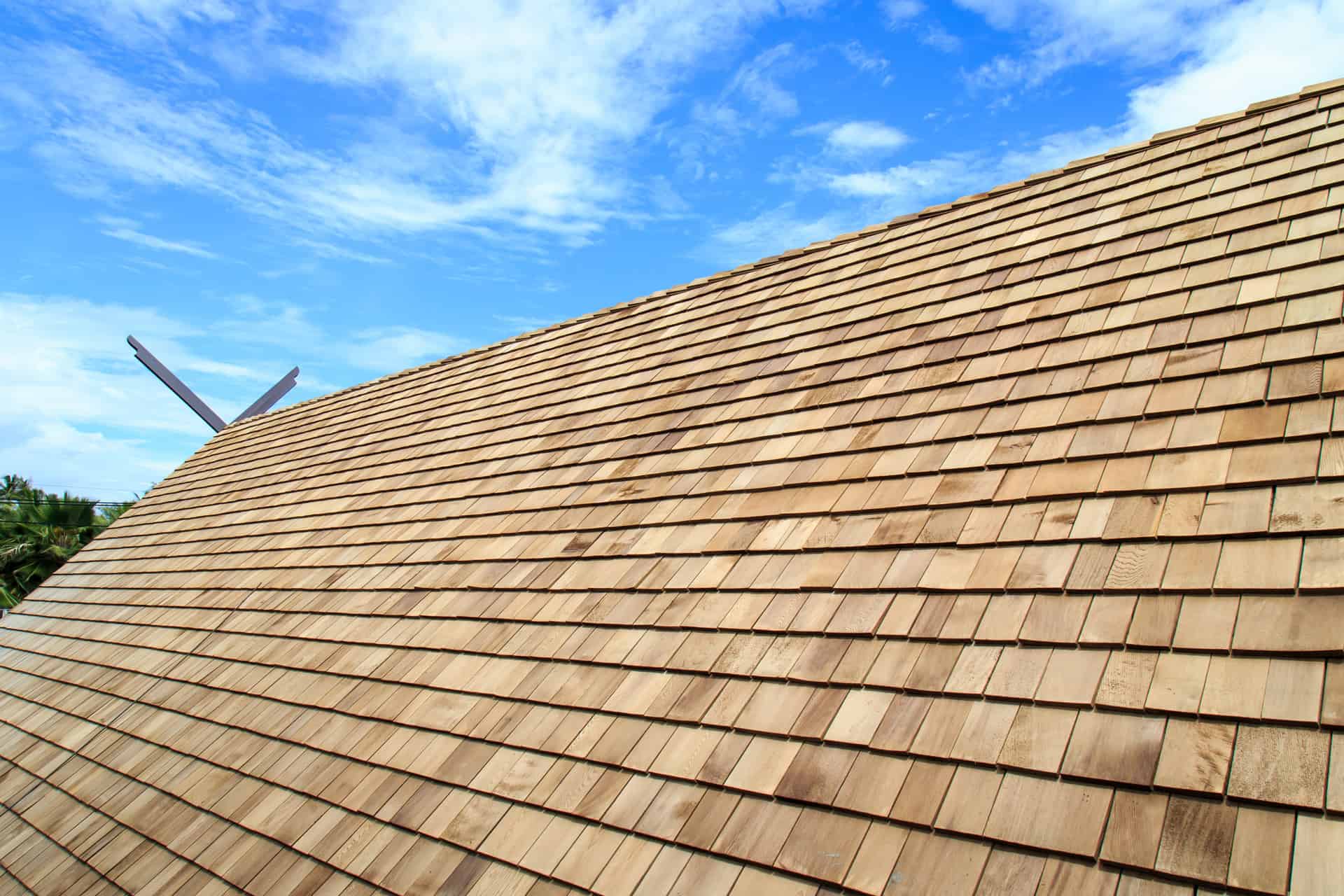 Most wooden roofs are commonly layered with either wood shake and wood shingles. Wood shingles come in perfect rectangular shapes and are made out of different types of light wood split into thin sections and layered onto each other. They last up to 15 to 20 years, depending on what wood was used. The average cost is $450 to $900 per square.
6. Shake Shingle Roofing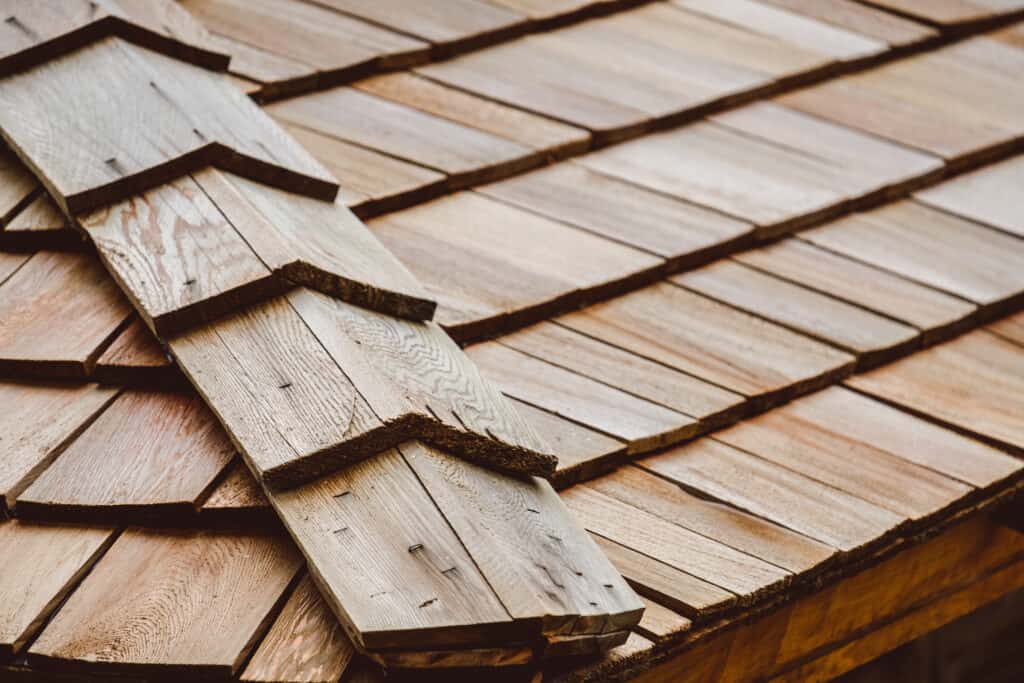 Shake shingle roofing is the other popular wooden roof type. Compared to wood shingles, shakes have a more manual process because they're sawn off from lumber logs and split by hand. They're thicker than wood shingles and have uneven surfaces. Shake shingle roofing is a premium option at $450 per square because they're made to order and don't have any stockpiles. They can last 30 to 50 years with proper maintenance.
7. Tile Shingle Roofing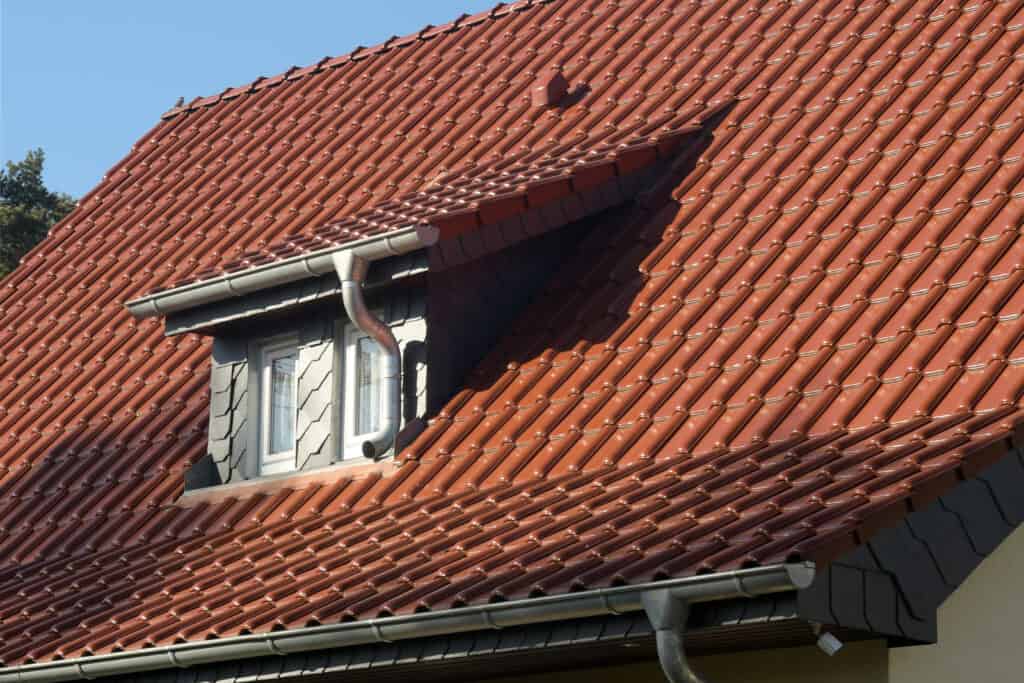 A tile shingle roof is an exceptionally durable roof that can last up to 100 years. Tile shingles can be made from different materials, such as clay, copper, polymer sand, and stone. However, what will make it durable is a meticulous installation using a mortar bed; otherwise, the tiles will slip after about ten years. Some of the tiles are not that expensive, so the most significant expense goes to expert installation. Depending on the tile materials, a tile shingle roof can range from $300 to $1,800 per square. If you opt for tile shingle roofing, you should also make sure that your roof is strong enough to handle the weight of the tile roof.
8. Solar Shingle Roofing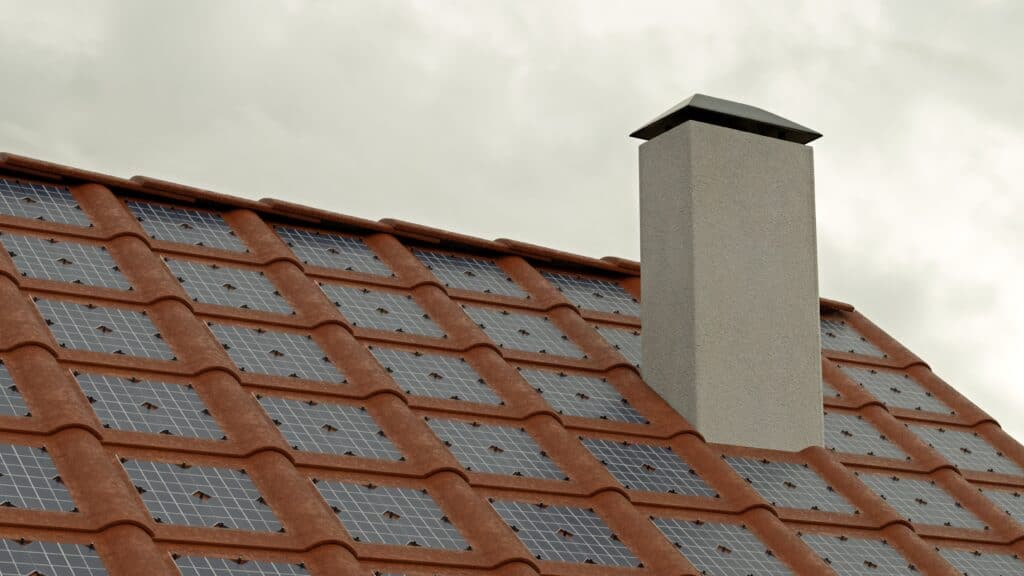 Solar shingles are a more modern type of installed roofing. They utilize modern solar technology and function beyond keeping water from leaking into your home. This makes them thoroughly energy efficient because they generate electricity during the day to power your house at night, saving a significant amount on your electricity bill. They're fairly expensive compared to other roofing types, but you don't need the whole roof to be solar shingles–you only need to replace the ones that have the most sun exposure. Solar shingle roofs can last up to 25 years.
9. Composite Plastic Shingle Roofing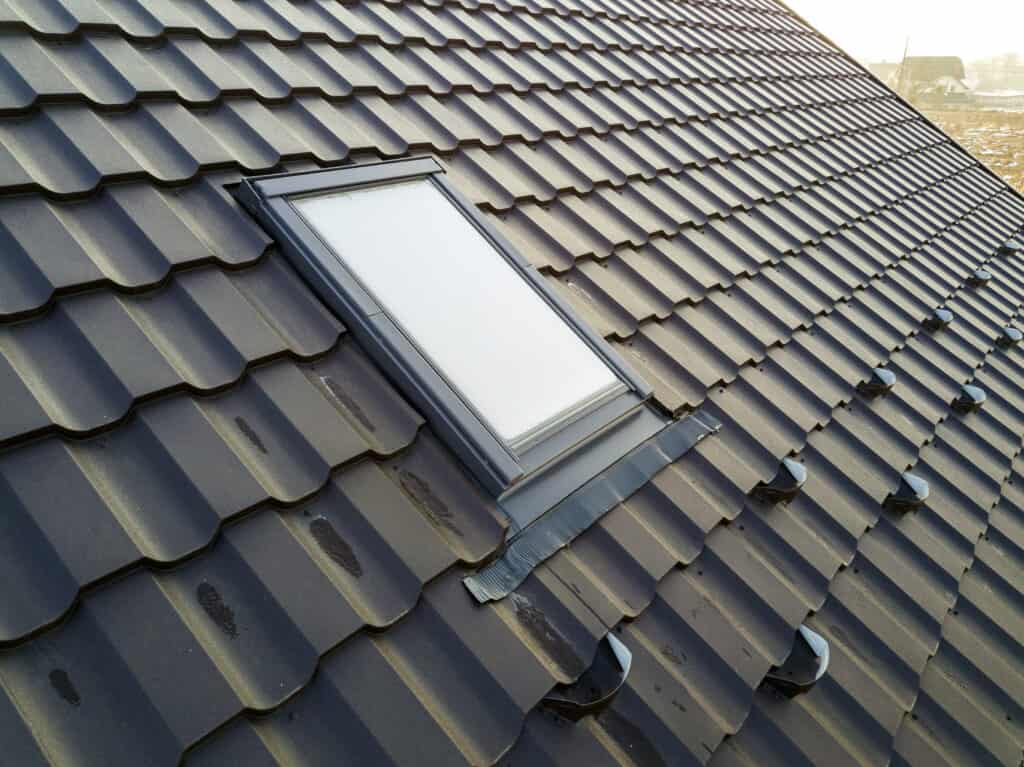 Composite plastic shingles are more environmentally-friendly because they're made out of plastic materials recycled from plastic waste. They are super versatile in design and can come in various styles because they're designed to imitate other shingles, such as stone slate tiles and wood shingles. A composite plastic roof is one of the lightest types, making installation quick and easy. They're also highly affordable, though they're not the most durable in the market because they last 7 to 20 years, depending on the type of recycled plastic.
10. Rubber Shingle Roofing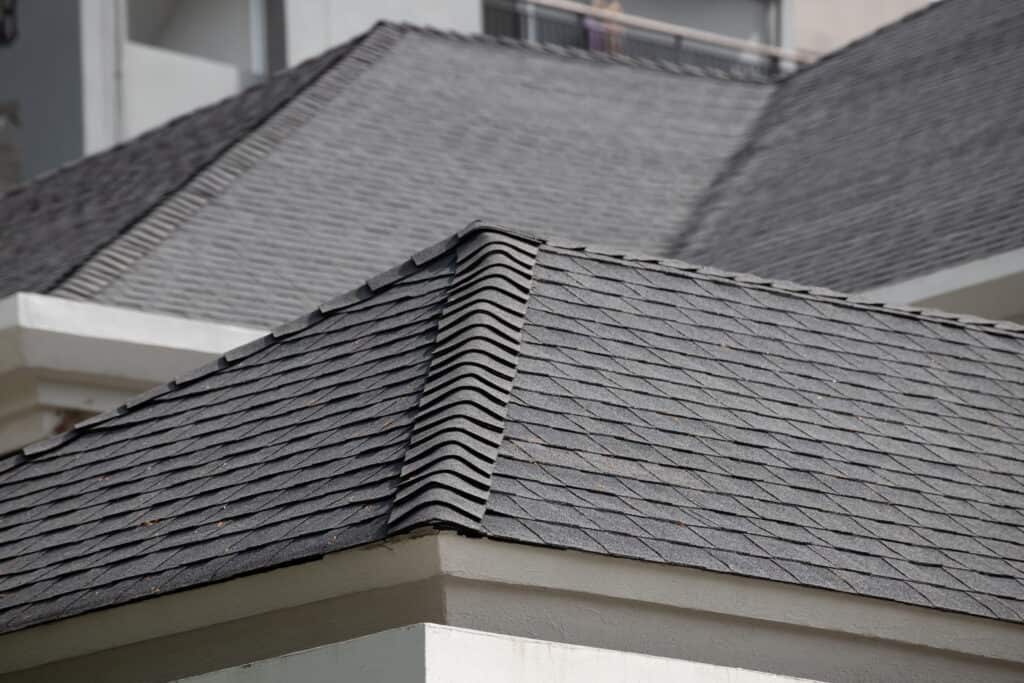 Roof shingles made out of rubber look almost identical to asphalt shingles, though the rubber material is more durable, weather-resistant, and low-maintenance. Rubber roofing is one of the most eco-friendly choices available at a budget-conscious price point. They come in different designs and can be made to look like slate or asphalt. They are, however, more expensive than asphalt shingles, although they have the same 15 to 20-year lifespan as asphalt shingles.
At roofclaim.com, our shingle roofing solutions are provided by a network of licensed, bonded, and insured roofing contractors. Furthermore, we offer a Million Dollar Guarantee to our customers and a two-year labor warranty coverage. Learn more about the simple process you can expect when you choose us as your roofing professionals.
Roof Shingle Colors
When shopping for roof shingles, keep in mind that you should consider their functionality first and appearance second. Once you have the appropriate shingles down, it's time to decide how they affect your house from a more aesthetic-oriented perspective.
Still, roof colors can also affect other factors that have nothing to do with visual impressions. Believe it or not, the color of your roof can go beyond dictating your house's overall aesthetic and can affect your interior's temperature and energy bills. Below are several factors that you should take into account when picking out colors for your roof shingles.
Color Coordination
Everyone can judge a house by its exterior, especially if they've never been inside. Paint and roof colors play a significant part in the house's curb appeal because of color coordination. Some colors naturally go together, while some clash. Refer to this table to see which shingle colors will suit your house's primary color best:
| | |
| --- | --- |
| House color | Suggested shingle color |
| White | Any color |
| Rustic wood finish | Brown, black |
| Beige | Orange, red, brown, black, solid blue |
| Brown | Grey, green, black |
Source: Roofing Calculator
Natural Tints
Roofs can do a lot to make your house look like it belongs to the geographic area. Natural light tints vary per region-- northern cities have a cooler color blend of greys and blues, while areas in the south have a warmer and more orange tint. If your home is located in a sunny spot, use bolder colors instead of light neutral to avoid being washed out.
Architecture Styles
Some home styles already have specific colors associated with them. For example, traditional brick homes usually come in dark neutral colors like gray and have black roofs to maintain a cohesive appearance. Stucco houses in the southwest region are associated with the rusty reds and oranges of clay tiles. Rustic-looking and wood-sided homes surrounded by trees have a blend of green and brown between the walls and the roof, and white beach houses usually have red or blue roofs.
Neighborhood Standards
Some neighborhood associations (HOAs) impose color standards that apply to shingles. For example, some neighborhoods like darker and more conservative colors, while some districts allow homeowners to choose bolder colors. Either way, check with your neighborhood's homeowners association and review the bylaws on exterior home colors.
Temperature & Energy Efficiency
Whether your roof shingles have a light or dark color is vital regarding your electric bill. If you live in a place with a warmer climate, dark shingles can raise the inside temperature by a significant margin, somewhere between 20 to 40 degrees, especially in the attic. Once dark roofs absorb the heat and make the inside of the house even hotter, air conditioners are forced to work harder to keep every room cool.
Light-colored shingles fare better in areas with warmer weather because they deflect heat, and dark colors are more suited to locations with colder climates that need to trap heat inside.
Environmental Codes
Some states have environmental codes to meet "cool roof" standards to improve the home's carbon footprint. Roofing contractors help their clients pick out shingle roof colors that are compliant with building codes. Cool roof-rated shingles are highly reflective and primarily light-colored.
Average Cost of Shingle Roofing in the U.S.
The cost of shingle roofing depends on which materials you're using. Shingle roofing costs are typically calculated per square foot or per "square" (100 ft). Here is a table detailing the cost of shingle roofs made from different materials:
| | |
| --- | --- |
| Roof shingle material | Cost per square |
| Asphalt or 3-tab shingles | $90 |
| Composite shingles | $400 |
| Wood shingles | $350 to $500 |
| Metal shingles | $275 to $400 |
| Rubber shingles | $400 to $825 |
| Cedarwood shake shingles | $450 |
| Clay tile shingles | $300 to $1,000 |
| Concrete tile shingles | $325 to $550 |
| Slate tile shingles | $750 to $1,600 |
| Solar shingles | $2,425 |
| Aluminum shingles | $315 |
Source: Forbes Advisor
In addition, you have to budget for shingle roof installation costs. You can install some shingle types like asphalt, but if you're going for heavier and more complicated shingles, you may need to hire some specialized roofing contractors. The labor work may also consist of tearing off and disposing of old shingles and underlayment.
Popular Shingle Brands
While there are many brands of shingle roofing available, when it comes to durability and customization, we recommend Atlas Roofing. Atlas shingle roofs are resistant to black streaks caused by algae, protected from high winds, and offer Class 4 impact resistance that stands up to powerful storms. They also offer designer shingles that give you the desired look for your home that will look great for years to come.
The Bottle Line: Shingle Roofing
When it comes to taking care of your roof and adding an extra layer of protection, shingle roofing is a cost-effective, practical option. Its versatility to adapt to different architectural styles and environmental benefits offer an excellent value. The best way to choose the right shingle roofing for your home is to partner with roofing professionals with industry expertise and years of experience to get the roof you'll be satisfied with for years to come.
Are you in the market for a new roof? roofclaim.com has you covered from inspection to installation. Contact us today to get a free inspection and explore your options.