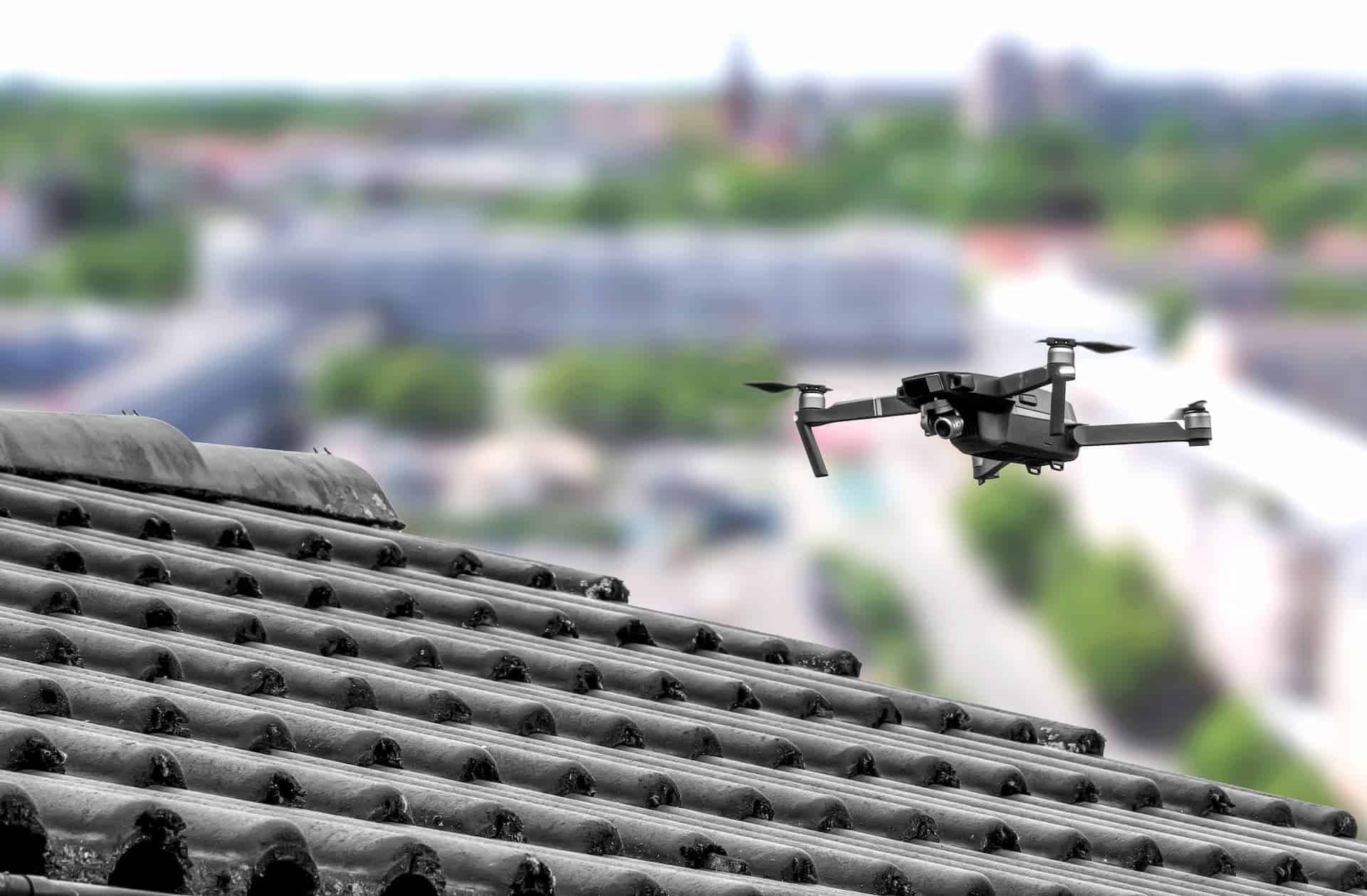 In a drone roof inspection, building professionals or contractors use a small Unmanned Aerial Vehicle (UAV), aka a "drone" to inspect your roof. These drones offer a lot of advantages over traditional roof inspections, which we'll cover in this article.
When you're in need of a roof inspection, you have the option of a traditional roof inspection where a roofing expert climbs up on your roof and does a physical inspection, or a drone roof inspection which is completely "hands off."
But, what's the difference? Is there any benefit to getting a drone roof inspection over a traditional inspection? Let's take a look.
How a Drone Inspection Works
Roof inspection drones have a high-definition camera and can be controlled using a remote as well as a predetermined flight plan.
During the inspection, the drone provides an aerial view of the roof while also having the ability to maneuver into small areas (especially those difficult or more dangerous to reach).
The drone allows the inspector to examine the status of the roof structure, covering materials, gutters, downspouts, vents, flashings, skylights, chimneys, and other roof penetrations while simultaneously capturing high-definition photos and videos.
Additionally, the drones can take accurate measurements, all without requiring an inspector to physically climb the roof.
Why a Drone Roof Inspection is Better Than a Traditional Inspection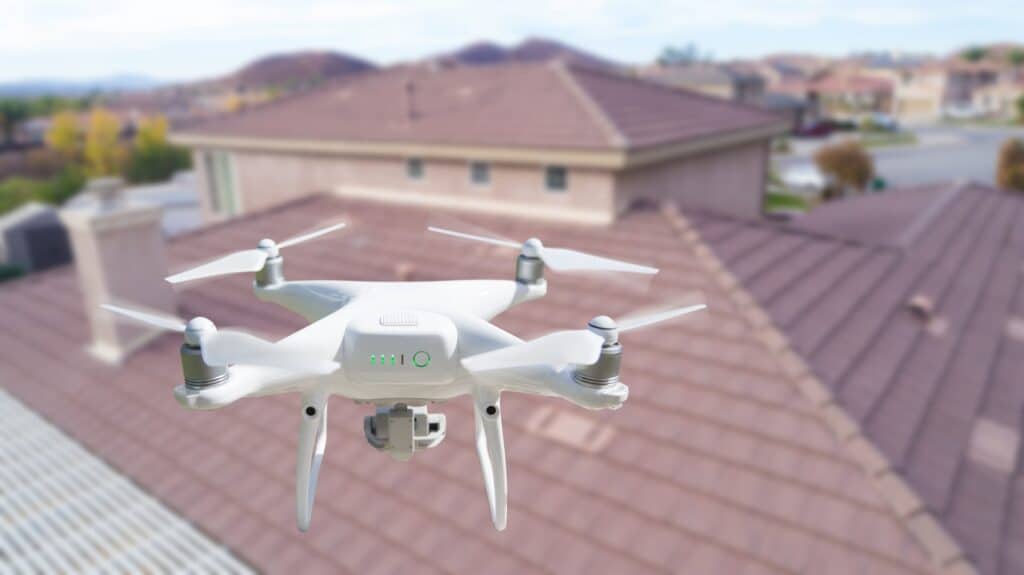 A traditional roof inspection is done manually by trained professionals. While it has been in practice for many years, drone technology offers a better inspection overall. Because of this, drone inspections are becoming the preferred method of most roofing professionals and household owners.
Here's a list of the reasons why drone roof inspection is better than a traditional inspection:
1. Drone Roof Inspections Eliminate the Safety Risk
A drone inspection allows the roofing specialist to stay on the ground during the entire inspection. While our techniques for climbing up on your roof are very safe, there are always risks involved. With a drone inspection, those risks are eliminated.
2. Drone Roof Inspections Save Time
A drone inspection can be done by operating a UAV that will simply fly over the entire roof perimeter and gather the needed information. As a property owner, the sooner we can get out of your way, the better, right? If you value your time, a drone inspection is the way to go.
3. Drone Roof Inspections Provides More Accurate Data
With a drone roof inspection, inspectors can collect more accurate, useful, and comprehensive details by adding relevant sensors and infrared cameras on the drones. These tools help us check insulation for damage, detect indicators of roof leaks, and other roof defects.
In addition, drones capture images or video from the same spot and angle for maximum consistency. This is important, especially when there is a need to confirm or clarify details. Not to mention, this task will only take a few minutes compared to manual inspection methods, making it a lot better than conducting a traditional roof inspection.
4. Drone Roof Inspections Easily Survey Inaccessible Areas
Drones can maneuver into areas not accessible to humans, like small recessed sections or overhanging pieces of the roof. This allows for a more thorough inspection than the traditional method.
5. Drone Roof Inspections Offer Automated Data
Drone surveys are done with the help of a software or mobile application that automates the entire process. The drone captures all the important angles of the roof parameter and leaves no room for human errors.
Moreover, all the images or videos can be synced to a server where they can be processed to make a 3D model and can be downloaded. This ultra-detailed report helps you file a better insurance claim.
Average Cost of a Drone Roof Inspection 
Roof inspection costs depend on the type of inspection. The price ranges from $120 to $320. However, it may fluctuate as high as $600 depending on the roof perimeter, size of the structure, slope, type of the roof material, and the location of the house. 
Most roofing companies will charge you for their roof inspection services. For the traditional method, costs range from about $75 to $200. Drone roof inspections may range from $80 to $150 per hour flight time.
At roofclaim.com, we offer free traditional inspections. All you have to do is fill out a form to book a schedule. But, if you want a better and more accurate drone inspection, we have a standard drone roof inspection package you can choose.
Keep in mind that drone inspection prices change depending on the size of your property and your location, so all provided prices are estimates.
Who Performs the Drone Roof Inspection?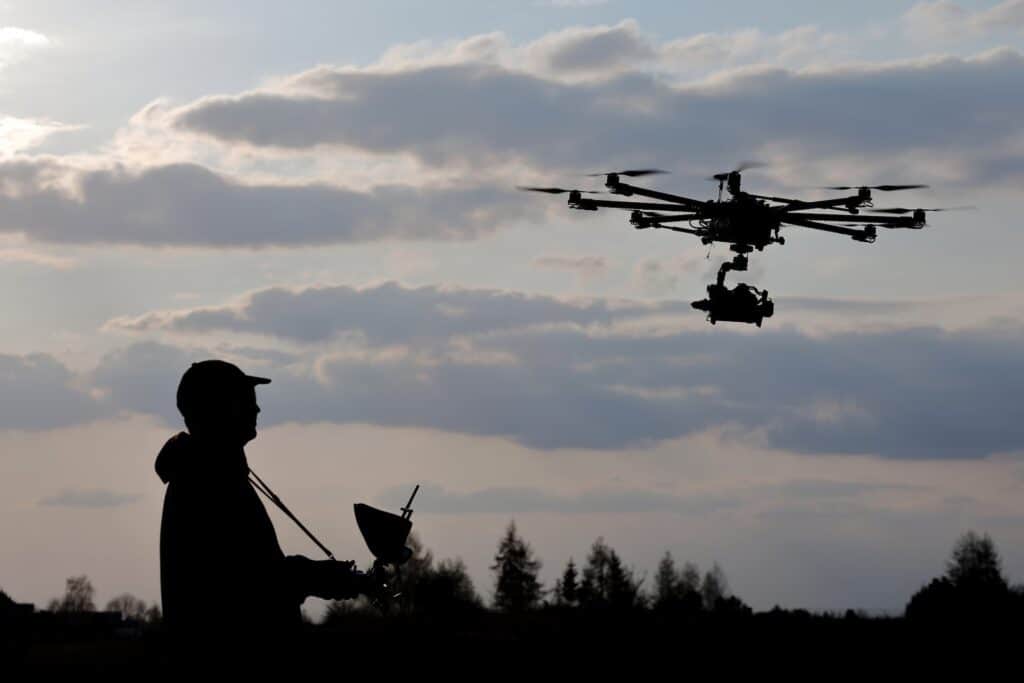 If you're interested in a drone roof inspection, you'll need to hire a certified roofing professional.
Make sure the drone pilot you hire has a valid and current FAA 107 Remote Pilot Certificate and the drone being used to fly is FAA registered. Ensure the drone pilot has drone liability insurance as well. The most common liability insurance policy offered today is one million dollars.
At RoofClaim, we require that all drone pilots have the experience, certifications, and liability insurance required. If you're ready for a drone inspection and want to hire trusted, proven experts, then choose RoofClaim.
We also manage the entire roofing process for you beyond the inspection and we're experts at working with insurance companies to get you the best absolute coverage for your claim.
Does a Drone Roof Inspection Help Your Insurance Claim?
A drone roof inspection definitely helps your insurance claim. The data from a drone inspection can provide an accurate calculation of the damage and will be the basis as to whether or not there is coverage on it from your insurance company.
Providing a detailed damage report will get you a higher chance of getting your roof insurance claim approved. Additionally, drones make it easy to get routine inspections. It's a good idea to order roof inspections regularly, especially after a natural disaster or a significant storm.
Showing proof of regular and timely inspections along with documented records of roof maintenance will give you a higher chance of approval from your insurance company should you need to file a claim.
The Bottom Line: Scheduling a Drone Roof Inspection
Now that you are considering getting your roof checked, you need to hire a trusted roofing company to assist you. If you need expert roofing help or a quality drone roof inspection, we're happy to help.
Order your drone roof inspection today or schedule a free traditional inspection. Either way, we're here to help!