The roof of your home comprises more than just shingles. The underlayment below it is a vital part of the roof, protecting your home from various harmful elements. The underlayment will come up time and again when discussing roof repairs and roof replacements. This article will help you become an informed consumer.
If at any point in time you need an expert roofer, consider roofclaim.com. We start every project with a 100% free inspection and take a guidance-based approach to your roofing needs rather than a sales-based approach.
What Is Roof Underlayment?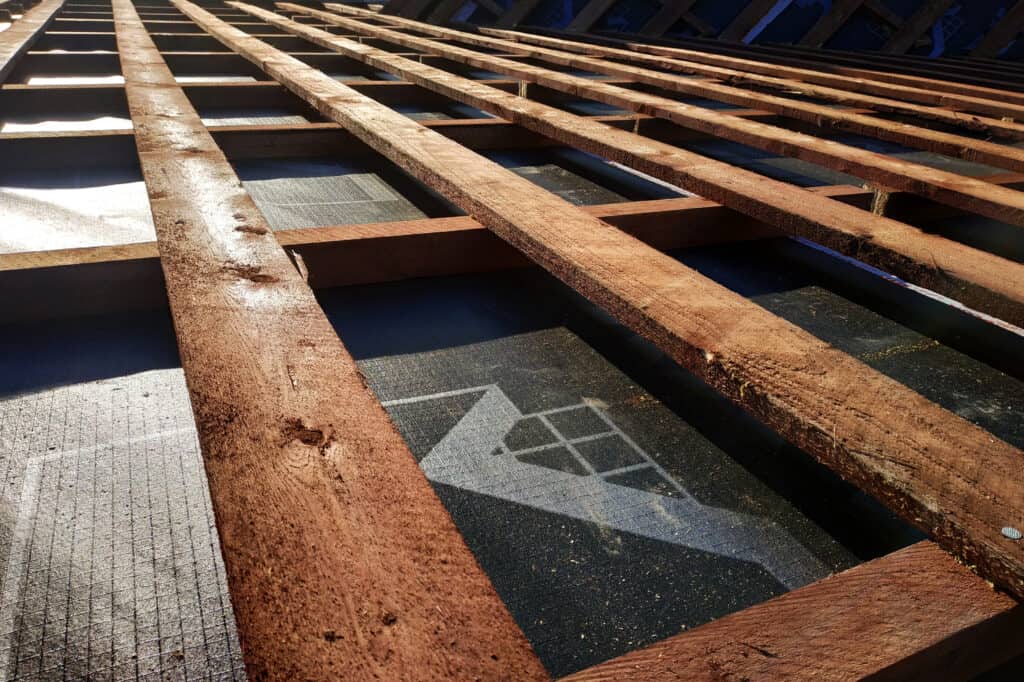 Roofing underlayment is a waterproof or water-resistant barrier material fixed directly onto your roof deck. It is installed beneath the roofing materials as an additional layer of protection against severe weather such as snow, wind, and air.
It provides more protection to your roof, helping the prevention of moisture and leaking issues. They also provide a stable layer for your shingles to rest on. This prevents you from seeing the wooden decking's texture through the shingles, referred to as "picture framing."
Why Roof Underlayment is Important
Many areas require roofing underlayment. It is essential as it works as a moisture barrier, keeping your roof safe from rain and other harsh weather.
It provides your roof with an added layer of protection, supporting the work of your shingles. The underlayment and shingles are your home's first line of defense from harmful elements caused by harsh weather conditions. In addition, they reflect the rays from the sun, block precipitation, and withstand wind.
However, shingles overlap and are not sealed at all corners. As a result, strong winds can lift the shingles, making them vulnerable to infiltration or tear-off by wind-driven rain. Shingles also become brittle as they age. Underlayment is the backup protection when shingles fail.
Types of Roof Underlayment
Roof underlayment has three main types, using different materials:
Rubberized asphalt
Asphalt-saturated felt
Non-bitumen synthetics
Rubberized Asphalt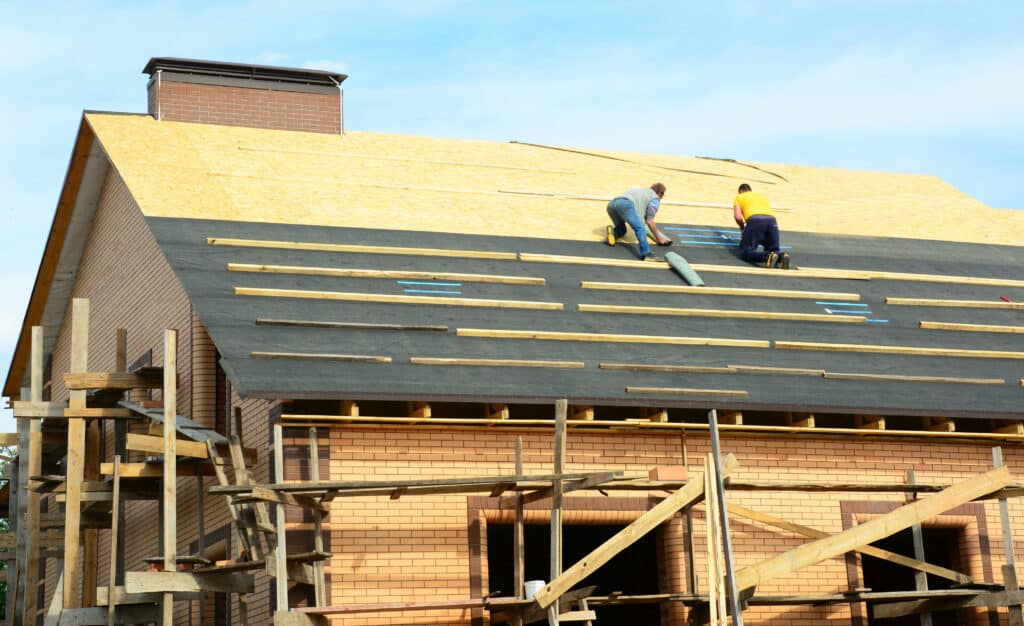 Rubberized asphalt refers to various underlayments sharing the same feature: they look and feel like rubber. However, the majority of these products are peel-and-stick underlayment. Instead of using fasteners, installers must peel off the protective layer to attach them to the roof. Many of these products can self-seal around staples and nails because they are peel-and-stick.
Pros:
This underlayment does an excellent job of protecting a roofing system from water damage, and they are more resistant to heat than asphalt-saturated felt. Hence, they last longer once installed.
Furthermore, rubberized asphalt underlayment can typically be left uncovered for 90 to 180 days.
Cons:
The only drawback of rubberized asphalt is the cost, as it carries a heftier price tag than asphalt-saturated felt. This also requires professional assistance for installation.
Asphalt-Saturated Felt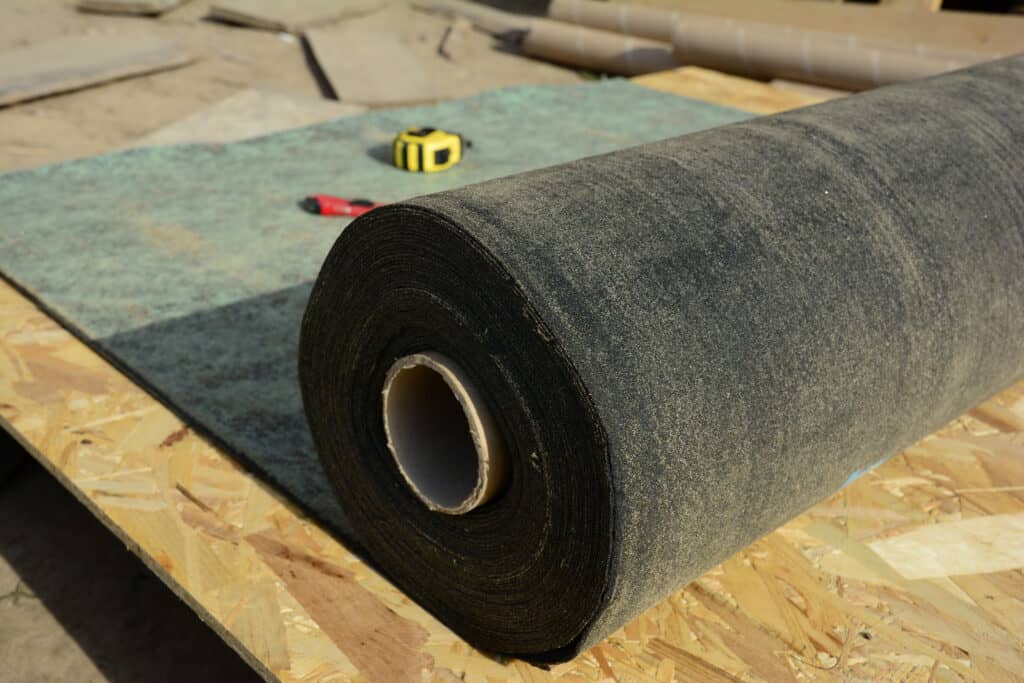 Asphalt-saturated felt is the oldest type of roof underlayment. It is a paper product saturated in crude oil byproducts, protecting it from water. It comes in two different thicknesses: 15-pound and 30-pound, with the 30-pound being the thicker.
Pros:
This type of underlayment is not fully waterproof, but it is water-resistant. A 30-pound felt, in particular, is more resistant to water than a 15-pound felt, which means it will provide a little more protection for the roof. Additionally, this material offers the most affordable pricing, fitting low-budget projects.
Cons:
When installing asphalt-saturated felt, you need to look at a few typical failure points:
When installed, it is not UV resistant, so the primary roofing material must immediately cover it.
Since it easily breaks, it can easily get damaged during installation. You must exercise caution when walking across it or installing fasteners.
Due to volatile compounds that make it water-resistant disperse, it lasts shorter than other types of underlayment. This is especially true in warmer regions.
Non-Bitumen Synthetic
Unlike the first two types of underlayment, synthetic underlayment is different as it is not made of asphalt or rubber. Instead, it is typically made of polypropylene polymers or polyethylene.
Pros:
Synthetic underlayment is much lighter than asphalt underlayment. It also has a much higher tear strength and wind resistance. Moreover, it doesn't degrade over time like asphalt, and it is typically easier to install due to its resilience and lighter weight. Synthetic underlayment is also UV resistant, making them ideal for situations where the roof must be left uncovered.
Cons:
What's the disadvantage? Cost may be an issue since it's among the more expensive types of underlayment on the market.
Not sure which type of underlayment is right for your roof? We can help, so contact us today.
Synthetic vs. Felt Underlayment
The felt underlayment is the most basic roofing underlayment. It is a fabric-like material made of polyester, wood cellulose, or fiberglass. The fabric has been soaked in asphalt to make it stronger and water-resistant.
The two available weights per 100 square feet are 15 pounds and 30 pounds. Typically, a roofer will use the thinner felt on steeply pitched roofs, and the thicker felt on lower-sloped roofs.
On the other hand, roofing felt is not the only choice. Roofing manufacturers now produce synthetic roofing underlayment products that don't use a fabric base.
These synthetic materials have various advantages. They are significantly more water-resistant, and their surface is non-slip, helping roofers walk on them. They also have an adhesive backing, similar to a thick sticker, allowing them to stick to the roof without using staples for better water protection.
Roofing felt is less expensive than synthetic underlayment. However, the latter offers better protection and is commonly used as part of better overall roofing systems. To be eligible for better shingle warranty protection from the manufacturer, you may need to opt for a synthetic underlayment.
How to Choose the Right Roof Underlayment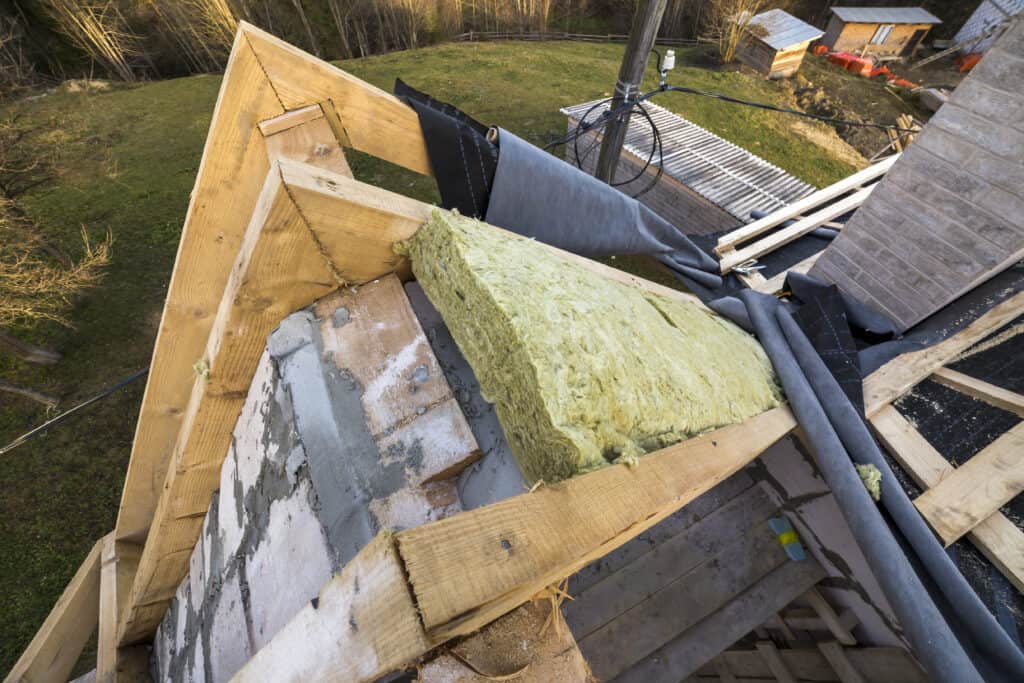 So, how should you go about selecting a roofing underlayment? There are several factors at work, but the type of top layer used on your roof is one of the most important.
Roofing felt typically goes perfectly with traditional shingles–mainly the 15-pound roofing felt that provides sufficient protection while still allowing air to move around. However, if your roof is metal, you may want to use a heat-resistant synthetic layer, as metal roofing easily retains heat compared to other materials.
Climate is also a crucial factor. For example, synthetic underlayment may be better suited to hotter climates or very wet regions. On the other hand, heavy-duty felt may be beneficial if you live in an area prone to windstorms and snow.
Choosing the best underlayment for your roof requires technical knowledge. There are many things to consider aside from the factors that have been mentioned, and this could get complicated if you are not a roofing expert. However, as licensed roofers, we are here to help you decide which type of underlayment is best suited for your roof. 
How Long Can Roof Underlayment Be Exposed?
The length of time that a roof underlayment can be exposed depends on several factors such as the type of underlayment used, the weather conditions, and the length of time the roof will be left exposed.
Generally, most roof underlayment manufacturers recommend that their products not be left exposed for more than 90 days. However, this can vary depending on the specific product and the environmental conditions it is exposed to.
In areas with harsh weather conditions such as high winds, heavy rain, or extreme temperatures, the lifespan of the underlayment may be reduced, and it may need to be replaced sooner.
It is always best to consult with the manufacturer's recommendations and follow local building codes and regulations for roofing installations. Additionally, it is important to inspect the underlayment regularly for signs of damage or deterioration and replace it if necessary.
Top Roof Underlayment Brands & Average Cost
From protecting your roof from harsh winds to ice packs, below is a list of the top roofing underlayment brands.
Roof Underlayment Installation
People usually ask whether or not underlayment is necessary beneath asphalt shingles. Typically, it is a great idea to use underlayment beneath any roof type, like shingles.
Is Underlayment Necessary?
Yes, you should consider underlayment as necessary for a proper, quality roofing job. In many areas, underlayment is required by code. At roofclaim.com, we use underlayment on every roof installation.
Will Underlayment Void the Warranty?
Manufacturers cover their shingle product with a warranty, but they typically require you to meet specific conditions in order for the warranty to be valid. This involves things like authorized fastener types and shingle underlayment. This is another reason why hiring a quality, reputable roofing company like roofclaim.com is important.
Installing Underlayment is Always a Good Idea
A roof can develop a variety of problems over time. For example, rain can be driven beneath shingles by high winds and storms. This rain will saturate the roof deck without underlayment, causing problems such as mold, leaks, and rotting within the home's interior.
In addition, ice dams and snow on roofs, forming along the edge of a roof, can allow water to penetrate beneath shingles.
Underlayment serves as a protection to the deck, keeping moisture from getting past the primary roofing material so it won't damage the deck. While it is an extra expense, it will save money by keeping the wood beneath safe from water damage.
Many homeowners are unaware of the components that comprise their roof and why these components are essential. Though only shingles are visible when you look at your roof, what lies beneath is equally crucial. Underlayment is an essential component of your roof and has a vital role in your home's overall stability and health.
The Bottom Line
Roof underlayment is an integral part of your roof and keeps your home safe. It comes in different types and sizes, offering various protection from other harmful elements. Moreover, each type varies in price and features, so it's essential to enlist the help of professional, trusted roofing contractors.
We offer free roof inspections and guarantee professional service from start to finish. Schedule a free inspection with us so we can inspect your roof, identify any concerns, and offer the best approach to solve your individual roofing issues.
If you have questions prior to scheduling an inspection, feel free to contact us. We're happy to help!