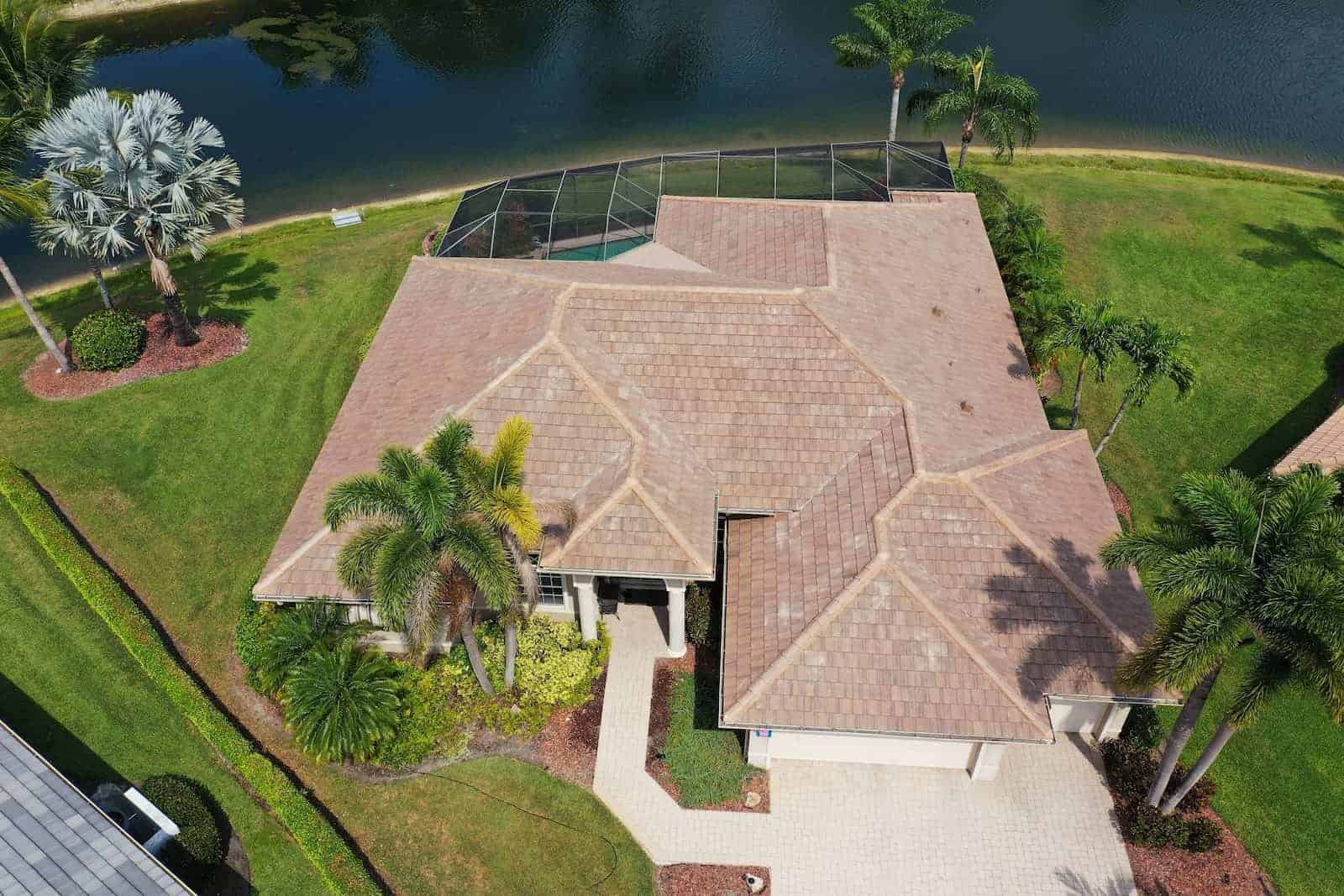 When you're thinking about replacing your roof, you're likely to run into a discussion about shingle type. One of the questions that comes up a lot is "What's the difference between architectural shingles and 3-tab shingles?" Here's our breakdown...
Want to learn more about the right materials for your roof? Contact us to schedule a free inspection and receive our professional recommendation.
What Are 3-Tab Shingles?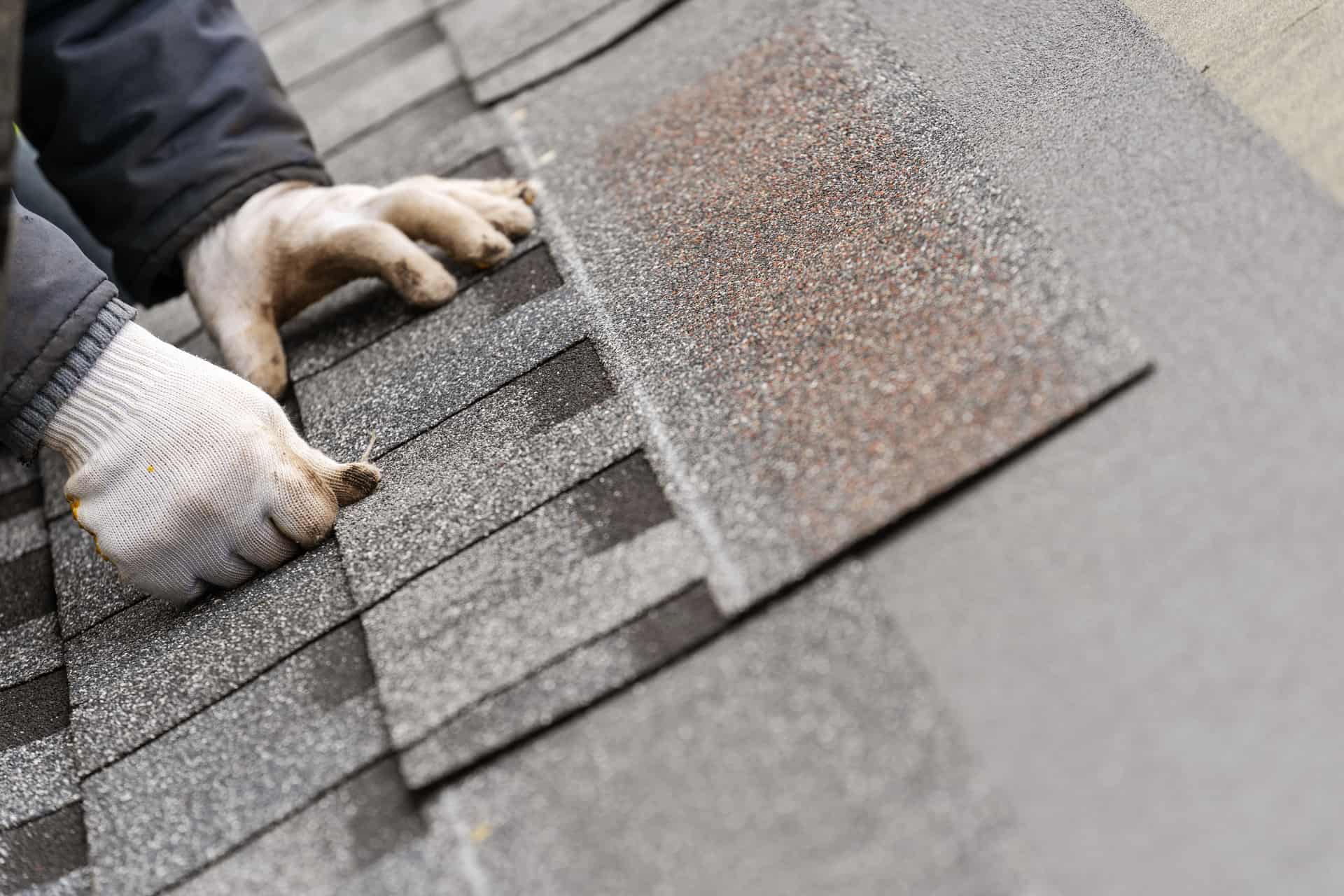 Three-tab shingles are made of a strong, mineral granule-coated, fiberglass base mat. Aside from the various color tones, a 3-Tab shingle is light and can endure 60 to 70 mph winds.
3-tabs appear to be three separate pieces, but it is only one. This design is attractive and gives your roof a clean, polished appearance. 3-tab asphalt shingles are the most basic and cost-effective roofing shingles available.
Pros of 3-Tab Shingles
3-Tab shingles are lightweight, simple to install, and do not have some of the drawbacks that tile roofing, concrete, or clay roofing have.
These types of shingles are incredibly durable and resistant to weather. However, improper or careless installation can put a lot of stress on your roof deck, so it's important to make sure you choose a reputable installer.
Another benefit of 3-tab shingles is that they're relatively inexpensive compared to other roofing materials. This is why most homeowners choose them.
While 3-tab shingles offer simple designs and colors, they don't necessarily make a roof look dull. Rather, 3-tab shingles typically make your roof appear clean and minimalist.
Given the high cost of roof investments, it's understandable that many homeowners prefer a clean, simple, and finished look.
Cons of 3-Tab Shingles
One of the most significant disadvantages of using 3-tab shingles is having thin frames. This makes it susceptible to wind uplifts. And without proper maintenance they can become loose, allowing strong winds to damage your roof.
Remember, a 3-tab shingle can only endure winds of 60 to 70 mph. High-wind zones have wind speeds that exceed 60 to 70 mph. With this in mind, take extra precautions if you live in an area prone to high winds.
If you suspect that your shingles have been damaged or displaced, it's important to get a free roof inspection as quickly as possible to avoid further damage. When shingles are damaged, moved, or missing, they can no longer protect the underlying roof structure and additional, more expensive damage, can occur.
What Are Architectural Shingles?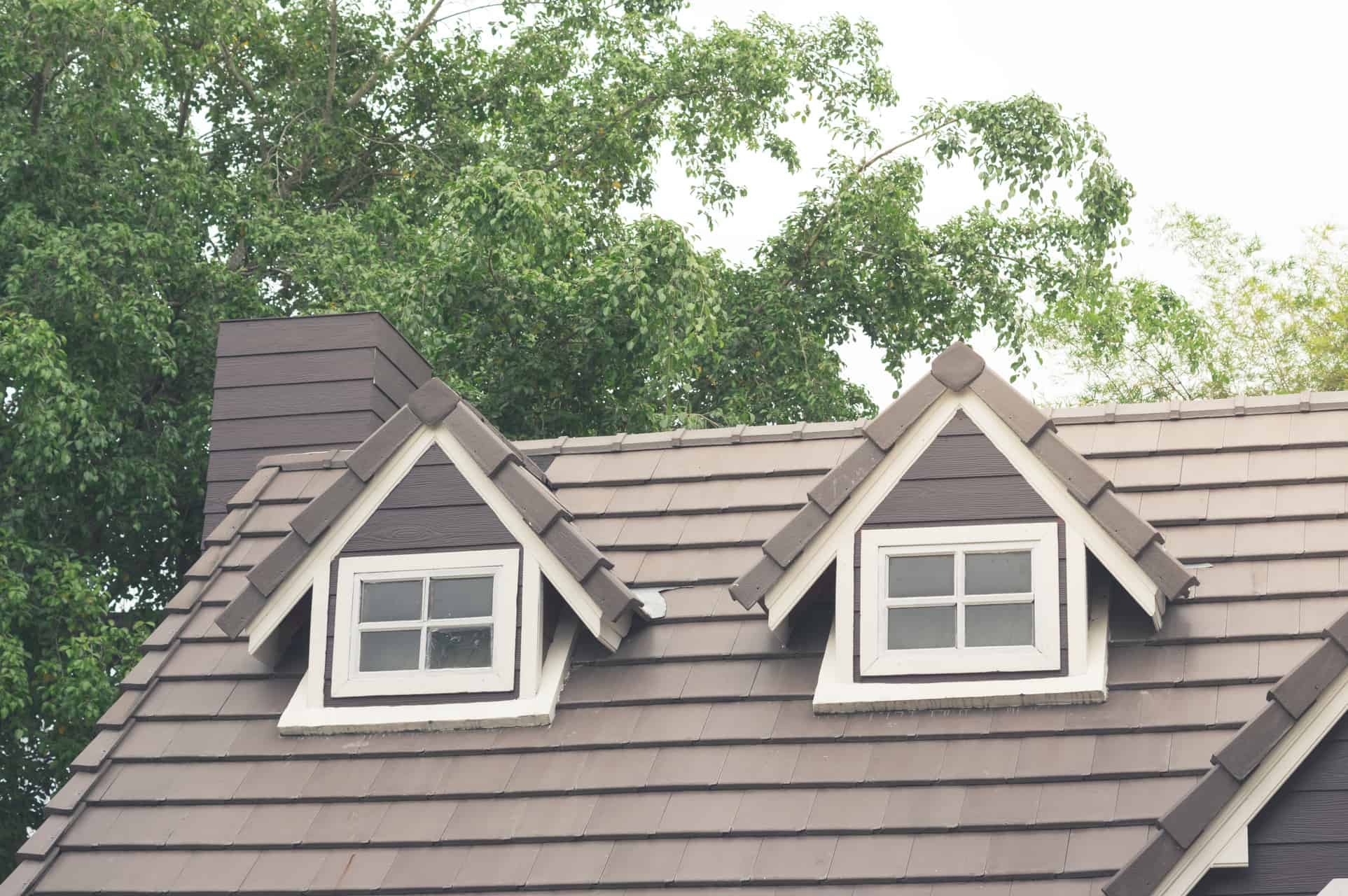 Until the 1980s, the traditional 3-tab shingle was the most popular type of asphalt roof shingle. It remains a cost-effective option for homeowners who value its ease of installation and wide range of color options.
During the 1980s, technological innovations and changing consumer preferences elevated asphalt roofing shingles to a new level. This resulted in architecturally laminated shingles. The name "architectural shingle" refers to a shingle's construction, which comprises two or more basic shingles bonded or laminated together.
Architectural shingles – sometimes referred to as laminated shingles – are specifically engineered to have a unique cut, contour, and dimensional thickness. They are often manufactured to mimic the impressive, sought-after appearance of authentic cedar shakes or natural slate tiles, achieving the same look without the weight, installation, flammability concerns, maintenance, and expenses involved with natural wood and stone roofing materials.
Some architectural laminated shingle manufacturers offer a wide range of colors. However, shingles meant to imitate the look of real wood shakes or natural slate tiles will be limited to the same colors found in nature, such as reddish or earthy browns or light and dark variants of grey to black.
While the primary reason for their use is a high-end look, they come with other advantages as well.
Pros of Architectural Shingles
Architectural asphalt shingles are designed with three-dimensional textures. Tab slots, as in standard 3-tab roofing, are not required. They are stronger and heavier than 3-tab shingles, but they typically don't need extra support built beneath them.
Architectural shingles are made of multiple layers of material, asphalt, and granules, instead of standard asphalt shingles, which have a layer of material over a glass mat. Its asphalt is more durable and refined. They are more wind resistant due to their thickness and composition with some architectural shingles able to withstand winds of up to 120 mph. They are also more fire-resistant than standard composition shingles.
Architectural shingles can be tailored to your specific preferences and their depth and texture giving your home unprecedented curb appeal. They have a dimensional and textured appearance that can mimic the look of more expensive roofing materials, such as wood or slate.
Cons of Architectural Shingles
Architectural shingle weight is up to 50% heavier than 3-tab shingles, which could be an issue for some roofs (an inspection will reveal whether or not architectural shingles are a good fit for your home). They are also more expensive than 3-tab shingles.
Even though they tend to be higher quality and sturdier, architectural shingles can be damaged by bad weather and debris. When damage occurs, architectural shingles are more expensive to repair.
Architectural vs. 3-Tab: Overall Appearance
The difference in appearance is one of the primary reasons you might choose architectural shingles over traditional 3-tab shingles.
Three-tab shingles are flat and have a single tab shape and size. They are uniform, which gives them a matte appearance.
Architectural shingles appear more dimensional. These shingles can mimic the look of more expensive roofing materials like cedar or slate, which can add to the home's curb appeal.
Architectural vs. 3-Tab: Color Options
When it comes to overall variety, architectural shingles easily win over 3-tab shingles. They come in a broader range of colors, textures, shading, and shape options and have the ability to mimic more expensive roofing materials where 3-tab shingles always look like 3-tab shingles.
With that said, 3-tab shingles do offer many different color options and the end result will be a very clean, uniform appearance. Across the various shingle brands, you'll easily have more than 30 different color options to choose from when using 3-tab shingles.
Architectural vs. 3-Tab: Durability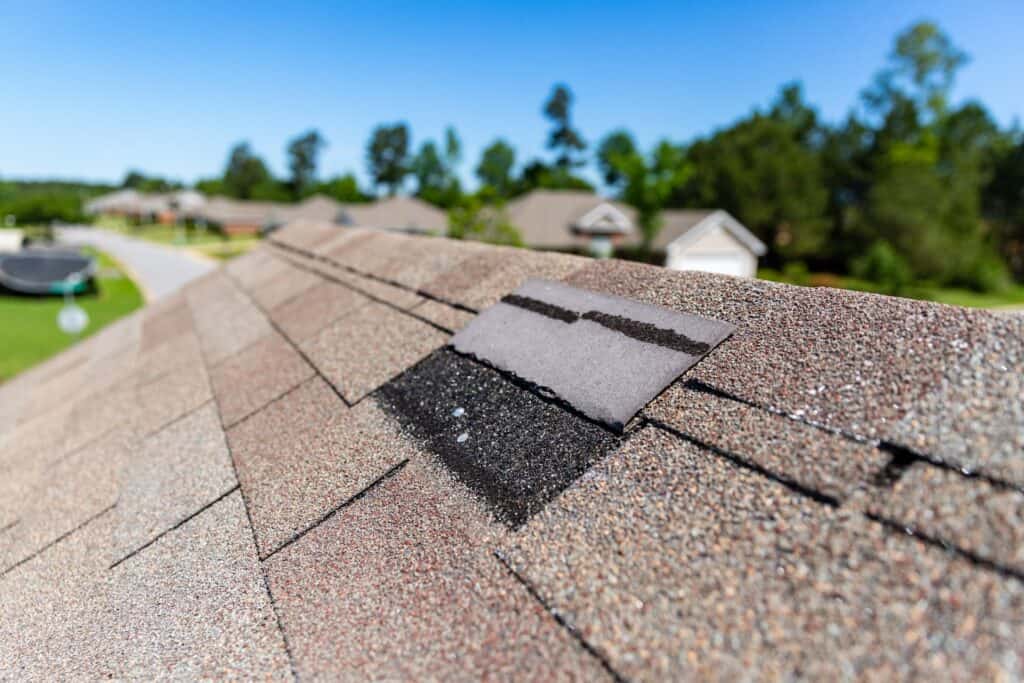 Since 3-tab shingles are made from a single layer of material, they are relatively thin. Architectural shingles, on the other hand, consist of two strips of asphalt shingles laminated together. This overlay results in a more weather-resistant tile.
Furthermore, most 3-tab shingles can only withstand wind speeds of about 60-70 miles per hour. Architectural shingles can typically resist 110 mph with a typical installation and even as high as 130 mph using unique installation materials and procedures.
If maximum durability is what you're after, architectural shingles are the way to go.
Architectural vs. 3-Tabs: Lifespan
Architectural shingles use a stronger and better quality material, so they typically last longer than 3-tab shingles. While a regular 3-tab shingle can last anywhere from 10 to 25 years, a properly maintained architectural shingle can last upwards of 50 years.
Since architectural shingles are more expensive than 3-tab shingles, it's important that you take lifespan into account when comparing pricing. If you're getting over double the lifespan for the money, that's huge.
Architectural vs. 3-Tab: Installation Process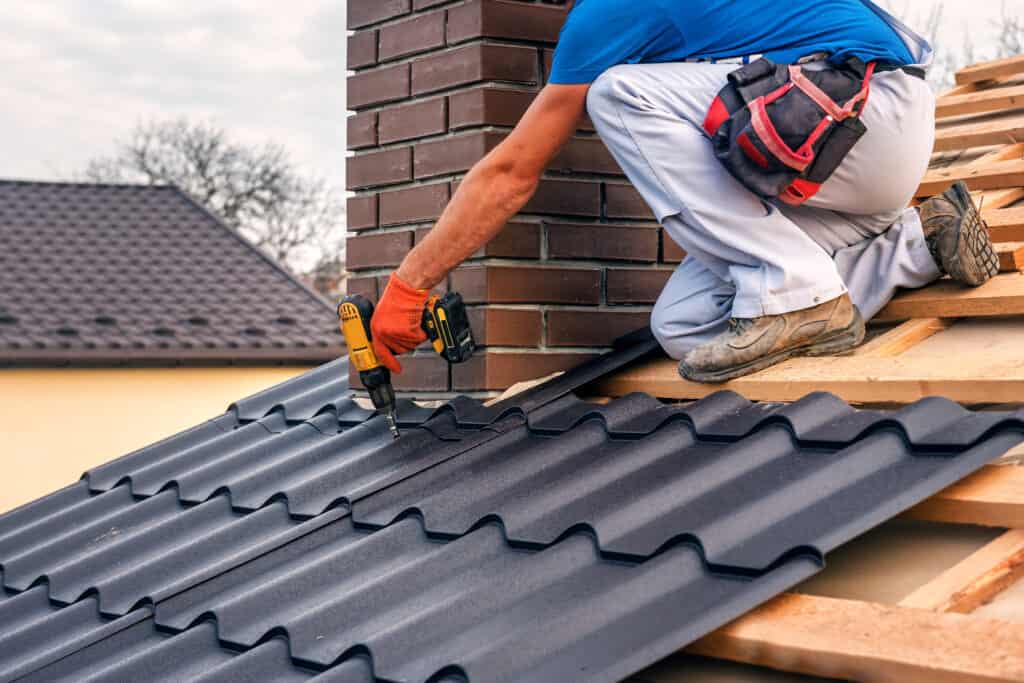 While architectural and 3-tab shingles are both asphalt, they differ in the installation process. Moreover, it is always advisable to contact a professional roofer to install them. At roofclaim.com, we're experts in installing both types of shingles. If you want to get started, schedule a free inspection today.
By and large, architectural shingles are easier to install than traditional 3-tab shingles. They require fewer tools and less hassle. Sometimes this reduces the cost of a new roof, but you'll have to ask your roofing company for details related to your specific roof.
Architectural vs. 3-Tab: Cost
Architectural shingles cost around 40 to 50 percent more than 3-tab shingles. However, they are usually a better option since they are twice as durable as the best-quality 3-tabs.
Spending less money on 3-tab shingles may feel like you're being economical, but you'll likely spend more on installation costs and have to replace your roof much sooner.
Of course, insurance claims often come into the decision making process as well. If you're getting a shingle roof replacement via an insurance claim, your insurance company is only going to pay to replace what you already had. If you want to upgrade to architectural shingles from 3-tab shingles, be prepared to pay the difference out of pocket.
Are architectural shingles worth it? We think so, but it depends on your situation.
Architectural vs. 3-Tab: Warranty
The 3-tab shingle typically has a 20, 25, or 30-year warranty. On the other hand, architectural shingles typically have a minimum guarantee of 30 years. Overall, 3-tab shingles have a shorter life expectancy and can only withstand winds of up to 60-70 mph, whereas architectural shingles can withstand up to 130 mph.
Installation quality also comes into play, which is why it's important to choose a reputable roofing company with a solid track record of success and happy customers.
At roofclaim.com, we back every roof replacement project with an industry-leading Million Dollar Guarantee, so your shingles are covered by a manufacturer warranty and your installation is covered by our fantastic guarantee. That's a win-win scenario.
Are Architectural Shingles Better than 3-Tab?
There are many different points to consider when weighing the choice between architectural shingles and 3-tab shingles. Honestly, it often comes down to your specific home, location, and situation – reading an article probably isn't enough to decide.
If you want our expert advice, we need to take a closer look at your case. We offer free roof inspections and guarantee professional service from start to finish. Schedule a free inspection with us so we can inspect your roof, identify any concerns, and offer the best recommendations to help you make the right choice for your home.
If you have questions, feel free to contact us. We're happy to help!